Now Playing Onstage in Appleton, WI - Week of 2/02/2014
View All Show Listings for Appleton, WI
Click Here to View BroadwayWorld.com Appleton, WI Calendar
AVENUE Q
LAKESIDE PLAYERS INC
1/24-2/8/2014
AVENUE Q is a gut-bustingly hilarious modern musical focusing on a group of unique 20-somethings making their way in the big city, seeking their purpose in life. Although the show addresses humorous adult issues, it is similar to a beloved children's show; a place where puppets are friends, Monsters are good and life lessons are learned.Winner of the Tony "Triple Crown" for Best Musical, Best Score and Best Book, AVENUE Q is part flesh, part felt, and packed with heart. AVENUE Q is a laugh-out-loud musical that tells the timeless story of a recent college grad named Princeton who moves into a shabby New York apartment all the way out on Avenue Q. He soon discovers that although the residents seem nice, it's clear that this is not your ordinary neighborhood. Together, Princeton and his new-found friends struggle to find jobs, dates, and their ever-elusive purpose in life.Puppet RentalBe sure to visit MTI's Prop Shop to see our AVENUE Q puppets to rent!AVENUE Q NEW YORKVisit the official "Avenue Q New York" for NYC ticketing and more information.
Click Here for More Information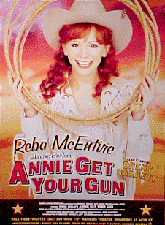 ANNIE GET YOUR GUN (STONE)
Ripon High School
2/6-2/8/2014
ANNIE GET YOUR GUN scored a bulls eye when it returned to Broadway in 1999, starring
Bernadette Peters
and sporting a revised libretto by Tony, Oscar and Emmy winner
Peter Stone
. As Newsday reported, Stone's revisions 'are sweetly ingenious, and the show is a dream.' Stone reshaped the 1946 book to create a Wild West show-within-a-show that frames the ageless 'Anything You Can Do I Can Do Better' love story of sharpshooters Annie Oakley and
Frank Butler
. Stone has added a secondary romance between the younger sister of Frank's bothersome assistant Dolly, and a boy who is (to Dolly's horror) part Native American. 'The book has been updated in ways that pass p.c. muster,' reported Time Magazine, 'without losing all the fun.' Joined to the new book, of course, is that amazing
Irving Berlin
score, featuring hit after hit after hit. '
Irving Berlin
's greatest achievement in the theater,' wrote the New York Post, ANNIE GET YOUR GUN 'will always be a musical for the ages, one of the Broadway theater's enduring triumphs.'Music and Lyrics by
Irving Berlin
; Original Book by
Herbert Fields
&
Dorothy Fields
; As Revised by
Peter Stone
Click Here for More Information
END OF THE RAINBOW
Milwaukee Repertory Theater
1/7-2/9/2014
Quadracci Powerhouse:
Peter Quilter
; dir:
Mark Clements
.
Click Here for More Information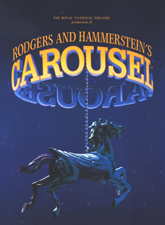 CAROUSEL
Homestead High School
2/6-2/9/2014
In a Maine coastal village toward the end of the 19th century, the swaggering, carefree carnival barker, Billy Bigelow, captivates and marries the naive millworker, Julie Jordan. Billy loses his job just as he learns that Julie is pregnant and, desperately intent upon providing a decent life for his family, he is coerced into being an accomplice to a robbery. Caught in the act and facing the certainty of prison, he takes his own life and is sent 'up there.' Billy is allowed to return to earth for one day fifteen years later, and he encounters the daughter he never knew. She is a lonely, friendless teenager, her father's reputation as a thief and bully having haunted her throughout her young life. How Billy instills in both the child and her mother a sense of hope and dignity is a dramatic testimony to the power of love. It's easy to understand why, of all the shows they created, CAROUSEL was Rodgers & Hammerstein's personal favorite.Music by Rodgers, Richard; Book by
Oscar Hammerstein
II; Lyrics by
Oscar Hammerstein
II; Based on the Play LILIOM by Ferenc Molnar; As adapted by
Benjamin F. Glazer
; Original Dances by
Agnes de Mille
Click Here for More Information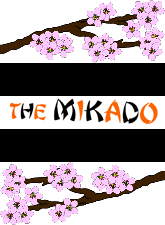 THE MIKADO
Sturgeon Bay High School
2/6-2/9/2014
Gilbert and Sullivan are the undisputed masters of comic operetta and the proud parents of the modern musical. That their works are more in demand today than when they were created over a century ago is ample proof of their lasting brilliance. The hapless lovers in THE MIKADO are mercilessly buffeted by social restrictions, legal inconsistencies, judicial inequities, government stupidities, and that's just the first act! Poor dears - it would be absolutely tragic if it weren't so hysterically funny. Libretto by
W. S. Gilbert
; Music by
Arthur Sullivan
; Orchestration by
Peter Murray
Click Here for More Information
THE SOUND OF MUSIC
Northland Pines High School
2/7-2/9/2014
The final collaboration between Rodgers & Hammerstein was destined to become the world's most beloved musical. When a postulant proves too high-spirited for the religious life, she is dispatched to serve as governess for the seven children of a widowed naval Captain. Her growing rapport with the youngsters, coupled with her generosity of spirit, gradually captures the heart of the stern Captain, and they marry. Upon returning from their honeymoon they discover that Austria has been invaded by the Nazis, who demand the Captain's immediate service in their navy. The family's narrow escape over the mountains to Switzerland on the eve of World War II provides one of the most thrilling and inspirational finales ever presented in the theatre. The motion picture version remains the most popular movie musical of all time.Music by Rodgers, Richard; Lyrics by
Oscar Hammerstein
II; Book by
Howard Lindsay
&
Russel Crouse
; Suggested by `The
Trapp Family Singers
` by
Maria Augusta Trapp
Click Here for More Information
DISNEY'S MY SON PINOCCHIO JR
LOMBARDI MIDDLE SCHOOL
2/6-2/10/2014
Click Here for More Information
ROALD DAHL'S WILLY WONKA
BROWN DEER HIGH SCHOOL
2/11-2/16/2014
Roald Dahl
's timeless story of the world-famous candy man and his quest to find an heir comes to life in this stage adaptation ofCharlie and the Chocolate Factory, which features the songs from the classic family filmWilly Wonka and the Chocolate Factory.
Roald Dahl
's WILLY WONKA, featuring a memorable score by
Leslie Bricusse
(JEKYLL & HYDE, DOCTOR DOLITTLE) and
Anthony Newley
, follows enigmatic candy manufacturer Willy Wonka as he stages a contest by hiding five golden tickets in five of his scrumptious candy bars. Whoever comes up with these tickets will win a free tour of the Wonka factory, as well as a lifetime supply of candy. Four of the five winning children are insufferable brats: the fifth is a likeable young lad named Charlie Bucket who takes the tour in the company of his equally amiable grandfather. The children must learn to follow Mr. Wonka's rules in the factory--or suffer the consequences.This scrumdidilyumptious musical is guaranteed to delight everyone's sweet tooth. With this show's flexible cast size, featuring roles for all ages, your production will take audiences on a fantasy ride into the land of pure imagination!
Roald Dahl
's WILLY WONKA has been created with educators and student performers in mind. This title is ONLY available for amateur groups to license.
Click Here for More Information
DR. SEUSS' THE CAT IN THE HAT
FIRST STAGE CHILDRENS THEATRE
1/25-3/2/2014
From the moment his tall, red-and-white-striped hat appears around the door, Sally and her brother know that THE CAT IN THE HAT is the funniest, most mischievous cat they have ever met.With the trickiest of tricks and craziest of ideas, he is certainly fun to play with. And he turns a rainy afternoon into an amazing adventure. But what will mum find when she gets home...? The National Theatre's production of
Dr. Seuss
's THE CAT IN THE HAT is a lively, engaging "play with sound effects" for performance by adults for young children. Not a word has been touched or added to
Dr. Seuss
's classic, ensuring anyone who's read the story will find themselves transported into the world they've always imagined.
Click Here for More Information
WOODY SEZ: THE LIFE & MUSIC OF WOODY GUTHRIE
Milwaukee Repertory Theater
1/3-3/9/2014
Stackner Cabaret:adapt:
Nick Corley
, Darcie Deaville,
David M. Lutken
,
Helen
Jean Russell
,
Andy Teirstein
; dir:
Nick Corley
.
Click Here for More Information
THE WHIPPING MAN
Milwaukee Repertory Theater
2/5-3/16/2014
Stiemke Studio:
Matthew Lopez
; dir: Brent Hazelton.
Click Here for More Information
View All Show Listings for Appleton, WI
Click Here to View BroadwayWorld.com Appleton, WI Calendar