Coal Mine Theatre Hosts Toronto Premiere of THE FATHER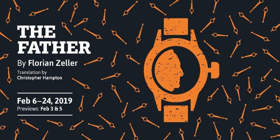 Coal Mine Theatre presents the Toronto premiere of THE FATHER, written by Florian Zeller, translated by Christopher Hampton, directed by Coal Mine Co-Chief Engineer Ted Dykstra, and starring NICHOLAS CAMPBELL in the pivotal role of a man losing himself to Alzheimer's.
Florian Zeller, "one of the hottest literary talents in France" (Independent) is the next playwright to know! Winning the 2014 Molière Award for France's Best Play was the first of many awards and accolades THE FATHER has since received around the world, including a Tony Award nomination for Best Play-and the Tony Award for Frank Langella as the father. Arguably the most lauded play ever written about dementia, THE FATHER is Zeller's first play to be presented in North America.
"One of Canada's best and one of my favourite actors, NICHOLAS CAMPBELL and I have been looking for a theatrical vehicle to work on together," explains director Ted Dykstra. "The Father is it, and the Coal Mine is the perfect place."
Honest and humorous, THE FATHER is a deeply affecting look at the realities of living with Alzheimer's while being cared for by loved ones who are becoming increasingly unrecognizable. An empathetic and experiential journey through the eyes of a man in mental decline, THE FATHER is disorienting, challenging and profound.
Ted Dykstra (The River, Superior Donuts, Rumours), directs the multi-award winning Canadian film and TV star NICHOLAS CAMPBELL in the daunting role of the father, André. Campbell is well-known for playing the title role on the Gemini Award-winning TV drama Da Vinci's Inquest, and his regular collaborations with director David Cronenberg. Recently, Campbell made his return to the stage, after many years away, as part of the award-winning indie theatre production of Jez Butterworth's Jerusalem.
"NICHOLAS CAMPBELL was the obvious choice for the part of the father," attests Diana Bentley, Co-Chief Engineer of Coal Mine Theatre. "Nick possesses a wildly vulnerable quality that, in the intimacy of the Coal Mine, will be both magnetic and frightening!"
The remainder of the cast features Beau Dixon (Ma Rainey's Black Bottom / Soulpepper, Harlem Duet / Tarragon Theatre); Trish Fagan (Tribes / Canadian Stage, Burden of Proof / CTV); Paul Fauteux (Killer Joe / Coal Mine, All But Gone / Canadian Stage & Necessary Angel); Michelle Monteith (Butcher / The Theatre Centre & Why Not Theatre, Idomeneus / Soulpepper); and Oyin Oladejo (TomorrowLove / Outside The March, Noises Off /Soulpepper).
For more info and to purchase tickets, please visit: www.coalminetheatre.com