Click Here for More Articles on OPERA - CANADA
COC to Host the World Premiere of Rufus Wainwright's HADRIAN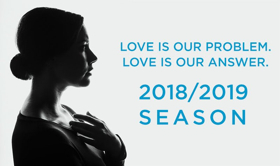 The Canadian Opera Company's 2018/2019 season presents the world premiere of Hadrian, a new opera from composer Rufus Wainwright and librettist Daniel MacIvor, which features the highly anticipated COC debuts of international opera stars Thomas Hampson and Karita Mattila.
The COC's 68th season offers multi-faceted perspectives on love as a contested ground of the human condition. Being presented along with Hadrian in the 18/19 season is a new COC production of Tchaikovsky's Eugene Onegin; returning COC productions of Richard Strauss' Elektra, Mozart's Così fan tutte and Puccini's La Bohème; and a new-to-Toronto production of Verdi's Otello.
"Opera transforms how we perceive the world and, in our 18/19 season, we're challenging ourselves and our audience to look at a fundamental human experience-love-through an unexpected array of works that has the capacity to reshape how we understand our hearts and minds," says COC General Director Alexander Neef. "In undertaking this journey, the COC continues to draw some of the most talented figures in opera, whose exceptional artistry on stage is equally matched by a passionate and committed team behind the scenes. This is nowhere more apparent than in our 18/19 season creative campaign, which features COC staff members from every level of the company representing characters from each opera."
On the world premiere of Hadrian, Neef adds: "We're deeply invested in the notion that the COC should be a space for Canadian creativity, and the premiere of Hadrian marks the third season in a row in which we've featured a Canadian opera as a core part of our programming. I look forward to sharing the world premiere of this sensitively crafted piece with our Toronto audiences, as well as welcoming international opera-goers to experience the strength of Canadian opera in a global context."
In the 18/19 season, the COC welcomes some of the most important opera artists in the world for significant company debuts: Thomas Hampson, Karita Mattila and David Leigh in Hadrian; Atalla Ayan, Angel Blue, Lucas Meachem, Andrzej Filo?czyk, Brandon Cedel and Önay Köse in La Bohème; Ben Bliss and Johannes Kammler in Così fan tutte; and Wilhelm Schwinghammer in Elektra.
The COC also welcomes back voices and visionaries of international note, including: Christine Goerke in the title role of Elektra, with Erin Wall, Susan Bullock and Michael Schade making their role debuts as Chrysothemis, Klytämnestra and Aegisth, respectively; Russell Thomas, Gerald Finley and Tamara Wilson, all appearing in a fully staged production of Otello for the first time; Ben Heppner in the cameo role of Dinarchus in Hadrian; Russell Braun, making his role debut as Don Alfonso, and Tracy Dahl in Così fan tutte; and baritone Gordon Bintner in his role debut as the title character in Eugene Onegin, along with Joyce El-Khoury, Varduhi Abrahamyan, and Joseph Kaiser. Six renowned stage directors also return to the COC this season: David Alden, John Caird, Robert Carsen, Atom Egoyan, Peter Hinton, and James Robinson.
Related Articles
More Hot Stories For You