BWW Review: Tailor made Hometown 'A CHRISTMAS CAROL' at SHAW FESTIVAL
Charles Dickens himself would most likely approve of the charming version of his classic story of miserly Ebeneezer Scrooge and his influence over everyone in a quaint hometown. The Shaw Festival's Artistic Director Tim Carroll has programmed A CHRISTMAS CAROL in their intimate Royal George Theatre for the first time ever this holiday season and by all accounts it was a smashing success even before it opened--the show sold out all of it's near 6 weeks weeks before an audience set foot in the theatre-- and has already started selling tickets for the 2018 production.
This stage version is uncredited, but one can only assume that Mr. Carroll has penned it himself, as he is also the stage director. Creativity abounds making this production like one no one has seen before. The cast mills about before the start, chatting with the audience, then introduces themselves on stage as a local troupe of carolers who start the proceedings with a few songs of the season. An audience sing along gets squashed as Mr. Scrooge makes his way to his office through the audience, breaking up those pesky carolers that Dickens uses to begin the play.
The cast of 10 is imaginatively augmented with a bevy of puppets, ranging from proscenium height Jacob Marley and Christmas Future, to shadow box figures that play scenes behind Scrooge's bed curtains. Puppet designer Mandarava Butlin has fashioned puppets for the Cratchit family children, with a life sized puppet of Tiny Tim that manages to tug on your heartstrings as he attempts to walk, but falters. Kudos to Andrew Lawrie as Bob Cratchit and Marla McLean as Mrs. Cratchit, who are engagingly believable interacting with their puppet family.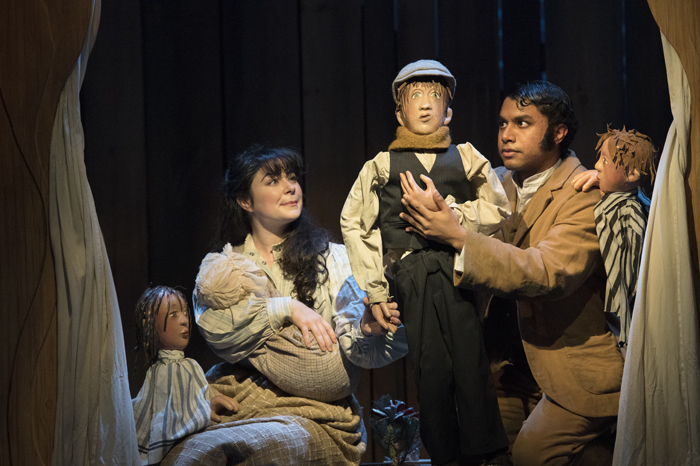 After his success as Bill in last season's ME AND MY GIRL, the multi-talented Michael Therriault takes on everyone's favorite miser. Therriault jumps into the role with abandon but I kept wondering if the part would have been better served by one of the Shaw's many older actors, doing away with grey wig and beard used to try to age a very agile Therriault. That being said, his crusty demeanor was further emphasized by having actors literally play Scrooge's desk or his armchair, elucidating his hate and disregard for humans. Mr. Thearriault finds a balance between disdain and the inherent humor found in Scrooge, while showing genuine fear at the ghosts who visit him.
Mr Carroll succeeds in his vision that include with references to Niagara-on-the-Lake, such as the stage curtain suggesting a snowy Queen Street landscape that also doubles as a lifesize advent calendar of doors and windows. There is also a passing reference to that nice Mr. Greaves, whose jam Scrooge likes so much. Patty Jamieson, a veteran Shaw actress of 20 seasons, played Scrooge's "desk" and his housekeeper Mrs. Dilber. Her facial expressions and cheeky manor allow her to shine, even in the smallest of roles.
Subtle details prove how well thought out this version is- the ghost of Jacob Marley and his chains start to rustle just as Scrooge first starts to count his money. The ghost of Christmas past, lovingly played by Sarena Parmar, flies in on a swing and then allows Scrooge to take her place to watch his past life, swinging like a school boy high above the stage. Jeff Meadows nearly steals the show as the roller skating Christmas Present. His high energy antics coupled with his perpetual short term memory loss had the audience in stitches. Later he makes a thoughtful repeat appearance, old and worn out, further delineating the passage of time right before the ghost of Christmas Future portends Scrooge's demise.
Designer Christine Lohre's costumes are excellent and include bits of whimsy, including hats that include wines glasses for the party scene at young nephew Fred's home, or fully masted ships resting on someone's head. Her imaginative set places a huge round window high above the stage that show changes in the weather, but her coup is a four poster canopy bed that swirls, opens and transforms into multiple various playing areas.
The two act play passes by quickly in a brief 90 minutes, including lovely sung carols throughout, with the talented cast often found in all parts of the theatre and balcony. Mr. Carroll has a penchant for engaging the audience as fully as possible and to this end the evening concludes with opportunities for the audience to join some of the cast on stage after the production to take a few photos. The Shaw festival has a charmer of a production that is sure to serve them well for years to come. Obviously, based on ticket sale alone, audiences wanted to love this play even before it started, and happily all of the talent and innovation involved plus the picture perfect setting of Niagara-on-the-Lake makes for an event even old Ebeneezer would find hard to resist at Christmas.
Related Articles View More Toronto

Stories

Shows