BWW Previews: New Tampa Players Bring THE ADDAMS FAMILY MUSICAL to University Area CDC
It doesn't matter if you're from that generation or not, when you hear the theme song and the snap-snap, these characters need little introduction.
Just in time for Halloween, New Tampa Players is bringing THE ADDAMS FAMILY MUSICAL to University Area CDC on October 20.
With direction and choreography by Jarrett W. Koski and musical direction by G. Frank Meekins, THE ADAMS FAMILY MUSICAL stars Craig Hartfield as Gomez Addams, ChElsie Smith as Morticia Addams, Darrah Barsness as Wednesday Addams, Maddox Padgett as Pugsley Addams, Joshua Eberhart as Uncle Fester, Kari Ann Stamatoplos as Grandma, Adam Shoemaker as Lurch, James Cass as Mal Beineke, Karli Gundersen as Alice Beineke, Kyle Billington as Lucas Beineke, and the Ancestors are rs: Piper Allen, Angelina Anderson, Andrew Blizzard, Samantha Colon, Diana Diaz, Zoe Donofrio, Rowan DuPriest, Reagan Farmer, Rebecca Fuller, Ryan Farnworth, Graham Higginbotham, Gwyneth Higginbotham, Ralph Higginbotham, Rachel Higginbotham, Charis Lavoie, Monica Paine, Kaeden Quillian, and Monica Tellez-Daly.
THE ADDAMS FAMILY MUSICAL tells the tale of Wednesday Addams, the ultimate macabre princess of doom and gloom, who has fallen in love with a normal young man, the antithesis of everything Gomez and Morticia wanted for their little girl. Wednesday has asked for the families to meet and for her father to keep a huge secret from his beloved Morticia. Everything will change for the whole family on the fateful night they host a dinner for Wednesday's boyfriend and his parents.
"I grew up with the Addams Family, reruns on television and the movies, so playing Gomez has been an enormous thrill," said Craig. "The director, costumer, set designer, lighting crew and all the rest of the production team have truly recreated the world of Addams Family with every creepy, kooky, mysterious, spooky, and altogether ooky detail."
Director/Choreographer Jarrett said that The Addams Family is a cult classic and a brilliant challenge to take on.
"The words are witty and the music is sharp helping bring these iconic characters to life. I love every moment this story tells and it is a thrill to bring it to life," he said. "It has been such a joy to bring The Addams Family to life. It is a challenge to take on such an iconic piece of work. One cannot go on this journey alone, and I certainly did not. I am so blessed to be surrounded with such talented people on stage and off. I am excited for audiences to see what we have created!"
If you want to know the secret Gomez is forced to hide from the dark queen of his heart, patrons have 8 chances to see how Wednesday deals with her crazy, loving family, especially deceiving her mother.
Chelsie explained, "She isn't just the matriarch of the family...She is a creature of Power, Grace, and Beauty. Morticia is darkness itself and what an honor it is to awaken this character once again for New Tampa Players."
THE ADAMS FAMILY MUSICAL runs Friday, October 20 through Sunday, October 29 at the University Area CDC: 14013 N. 22nd Street, Tampa. Performances are Friday, October 20 at 8PM, Saturday, October 21 at 2PM and 8PM, Sunday, October 22 at 2PM, Friday, October 27 at 2PM, Saturday, October 28 at 2PM and 8PM, and Sunday, October 29 at 2PM. Tickets are available at http://www.newtampaplayers.org/ and at the door.
| | |
| --- | --- |
| Vote Now for the 2022 BroadwayWorld Tampa Awards | |
| voting ends in | |
A twice-published author, multi-time award-winning playwright, magazine writer, theatre reviewer, and newspaper journalist with 30+ years in journalism and business copywriting, Deb was a 2019 Reci... (read more about this author)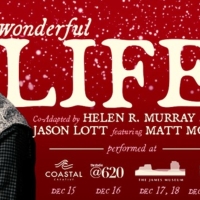 Previews: WONDERFUL LIFE (ONE-MAN SHOW) at American Stage Pop Up

December 6, 2022

While it is not a regular occurrence to add a show mid-season, new producing artistic director Helen Murray wanted to do something fresh for the holidays. She and Jason Lott co-adapted the familiar story. Helen is directing what has been described as 'a stripped-down, raw, and emotional look at George Bailey's life.'
---
Previews: LIGHTS, CAMERA, CHRISTMAS! at Hillsborough High School Theater

December 5, 2022

The audience should expect a tap-dancing spectacular featuring Tampa Bay's premier tap company, Rhythm, and Sole, with the new Youth Tap Crew. Performers will be dancing, singing, and acting in scenes from 'Elf,' 'Polar Express,' and 'The Grinch.'
---
Previews: SANTA'S ZOMBIE APOCALYPSE at Straz' Teco Theatre

November 29, 2022

Twenty-two Patel Conservatory students, ages 10 to 18, perform in this action-packed holiday play, assisted by eight apprentices. The student apprentices design most of the show, from full costumes to the colorful video-game-influenced set.
---
Previews: PLAID TIDINGS at Straz Center

November 21, 2022

In this sequel, a heavenly phone call from Rosemary Clooney inspires The Plaids to return for a posthumous Christmas performance to bring a little harmony to a discordant world. With music from the 50s and 60s combined with traditional holiday standards, this "heaven-sent" holiday confection promises to fill the audience with nostalgia for a bygone era.
---
Previews: THE NIGHT BEFORE at FreeFall Theatre Company

November 21, 2022

The Night Before imagines four friends snowed in Florida on December 23. They make the best of an odd weather situation, gathering around the piano for a night of fun, music, and games, accompanied by a surly house cat named Stephen Sondheim.
---