BWW Previews: AFTER PANDEMIC POSTPONED, THE PEOPLE DOWNSTAIRS HAS WORLD DEBUT at American Stage
On pause for 18 months, local playwright Natalie Symons has global premiere on September 15.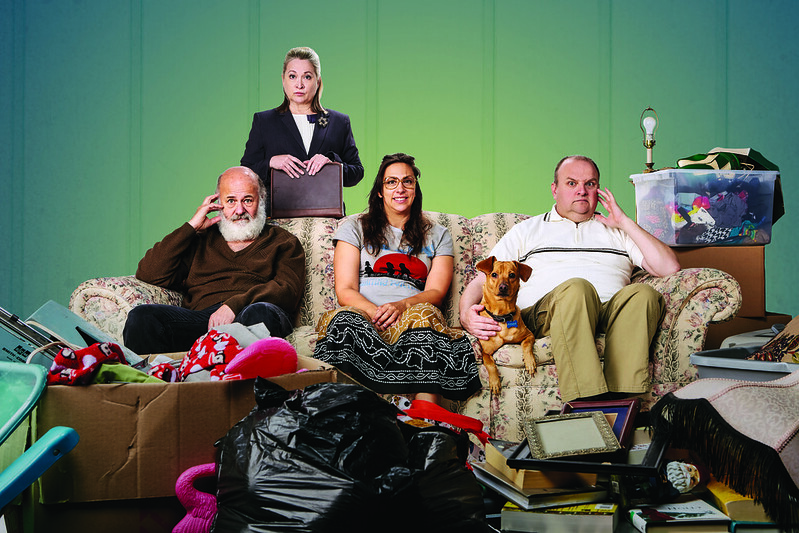 Returning after an extended pause, on September 15 and running through October 3 at American Stage is the world premiere of The People Downstairs. Written by local playwright Natalie Symons, this is the story of Mabel, a lonely, middle-aged shut-in, visually impaired woman who lives with her funeral home custodian father, Miles in Buffalo, NY. When a court-appointed guardian threatens to put them in a nursing home, Miles sets out to find true love for his daughter.
The People Downstairs stars Sara Oliva (Mabel Lisowski), Don Walker (Miles Lisowski), Teri Lazzara (Shelley Williams), and Matthew McGee (Todd Schneider).
The St. Petersburg-based playwright developed the play in collaboration with American Stage leadership and artists, selected from 2019's 21st Century Voices: New Play Festival to be a part of the 2019-2020 American Dreamscape season.
And then pandemic shut the world down.
After over a year, Natalie is excited to see her play finally having its global debut at American Stage.
"It's very interesting and almost eerie that people will be seeing a play that almost foreshadowed what happened to everybody during this pandemic. In some way, we all experienced isolation, loneliness, and grief. That's what all of these characters are going through and for it to be a comedy, it's almost as if I wrote on purpose or knew it was half coming. It resonates more now than eighteen months ago when we shut down. Human connection and laughter are healing."
Natalie explained that the inspiration behind The People Downstairs was partly written as an ode to her father and from an image she visualized.
"I had the image of an old man in his 70s mopping a floor in a prep room in a funeral home. I thought what was that life? What does he go home to? It was the idea of being around death every day how that would change somebody," Natalie paused and quipped, "Believe it or not, this is a comedy. I built the story around this aging man who was working as a custodian in a funeral home."
When director Chris Crawford read the script for Natalie Symons' dark comedy, he was in awe by how relatable the content was.
"Whenever I read a new play, I'm looking for how universal the themes are. Will this be a period piece in a few years or stand the test of time? What l love about Natalie's writing is she writes about what it's like to be a human being. I was so moved by the play because, in essence, it's about the forgotten people, people who don't feel seen or known," he said. "No matter where you are in your walk of life, you will identify with something in this play. There's something for everybody."
Scenic Designer Scott Cooper enjoyed bringing the family's home to life.
"When I first read the play, I said this is a set designer's dream play. It is a hoarder's house in Buffalo. After talking to the director and Natalie, they kept saying the word 'sitcom,' so I reviewed old sitcoms like All in the Family, Roseanne, and Dick Van Dyke. I thought what if I took that structure and built it into filling it up with all the things these people loved. There are little nods to sitcoms all over the place," he said. "I think this play speaks to why we protect ourselves and why protection can be good and can be bad. As a set designer, this idea of them surrounding themselves with stuff, it was sort of their armor. The play was so well-written. I knew the characters the moment I read it and then to see the actors. It's been really fun to see the actors living in my really realistic set."
When asked to describe the play in three words, Natalie took only a moment.
"Love, loss, and laughter."
Scott added, "Poignant, funny, and brave."
The relaunch of The People Downstairs is September 15 - October 3 at American Stage, 163 3rd St N, St. Petersburg. Performances are Wednesdays and Thursdays at 7 pm, Friday & Saturday Evenings at 8 pm, and Saturday and Sun Matinees at 2 pm. For more information, visit americanstage.org/PEOPLEDOWNSTAIRS. The show features adult language and theme. For patron, performer, and staff safety, American Stage requires masks at all times, temperature checks, no food or drink in the theatre, and is at 75% capacity.
A twice-published author, multi-time award-winning playwright, magazine writer, theatre reviewer, and newspaper journalist with 30+ years in journalism and business copywriting, Deb was a 2019 Reci... (read more about this author)
Previews: SANTA'S ZOMBIE APOCALYPSE at Straz' Teco Theatre

November 29, 2022

Twenty-two Patel Conservatory students, ages 10 to 18, perform in this action-packed holiday play, assisted by eight apprentices. The student apprentices design most of the show, from full costumes to the colorful video-game-influenced set.
---
Previews: PLAID TIDINGS at Straz Center

November 21, 2022

In this sequel, a heavenly phone call from Rosemary Clooney inspires The Plaids to return for a posthumous Christmas performance to bring a little harmony to a discordant world. With music from the 50s and 60s combined with traditional holiday standards, this "heaven-sent" holiday confection promises to fill the audience with nostalgia for a bygone era.
---
Previews: THE NIGHT BEFORE at FreeFall Theatre Company

November 21, 2022

The Night Before imagines four friends snowed in Florida on December 23. They make the best of an odd weather situation, gathering around the piano for a night of fun, music, and games, accompanied by a surly house cat named Stephen Sondheim.
---
Previews: A NUMBER at Off-Central Players

November 11, 2022

'Most every script you pick up begins with some sort of description, by the author, about the setting, time, place, etc. With A Number, Ms. Churchill gave us three words: 'Where Salter Lives' - that throws the door open to virtually any possibility,' said junior director Alan Mohney.
---
Previews: A DOLL'S HOUSE, PART 2 at Tampa Repertory Theatre

November 8, 2022

Under the direction of Stephanie Gularte, this award-winning comedy features a recognized cast of L. Peter Callender (Torvald), Emilia Sargent (Nora), Karla Hartley (Anne Marie), and Bria Matthews (Emmy.)
---