Comedian Dena Blizzard Is ONE FUNNY MOTHER At The Playhouse at Westport Plaza!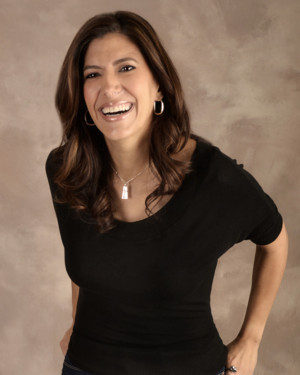 Creator of the wildly popular viral videos "Chardonnay Go!" and the "Back to School Rant," comedian Dena Blizzard returns to St. Louis with her hilarious one-woman show ONE FUNNY MOTHER October 3-7 at the Playhouse @ Westport Plaza. Tickets may be purchased through MetroTix at www.metrotix.com or by calling 314/534-1111. Additionally, tickets will be available at the Playhouse @ Westport Plaza box office one hour prior to show time. All seats are $60. Groups of 10 or more should call 314-616-4455 for special rates.
A former Miss New Jersey, and mother of three, Blizzard has created a show about the trials and tribulations of motherhood and marriage. An outrageous and side-splitting 80 minutes of sass that follows Blizzard on a hilarious journey through her day as she prepares for her long-awaited girl's night out. Along the way, she laments how her life and marriage have changed since becoming a mother of three; wrestling with the eternal question "have I gone crazy since having these kids?"
ONE FUNNY MOTHER is an Off-Broadway hit currently touring the United States, has been licensed overseas, and was named "Best One-Woman Show" at the 2015 United Solo Festival in New York City. ONE FUNNY MOTHER is a perfect show for anyone that IS a mom, HAS a mom, or is MARRIED to a mom. A sneak peek of the show and more information can be found at www.onefunnymother.com.
Critics agree this show is a hit! "Comedic Gold...a flawless piece of entertainment!" wrote Theatrescene.net. "Rib-ticklin', laugh-a-minute, wacky, zany, off-the-wall, a scream, rich, priceless!" raved Time Square Chronicles. "Pee-In-Your-Pants Funny and stingingly (in a good way) honest!" wrote Theatre's Leiter Side. "Dena is the prettiest girl in the whole world!" enthusiastically exclaimed Dena's mom.
"Dena is a world-class household goddess, a member of the continuum begun by Erma Bombeck and branded by Roseanne Barr. She's observational but respectively sexier than Bombeck and less aggressive and angry than Barr. Being slender, pretty and smart is a help. Dena puts her 'crazy' out there, for you to equate with your 'normal'." Said Theaterpizzazz.com
The Playhouse @ Westport Plaza is located at 635 Westport Plaza in Maryland Heights, Missouri and is a venue filling a niche for a variety of Broadway and Off-Broadway entertainment that would otherwise not find its way to the St. Louis area. Programming at the venue is offered at affordable ticket pricing so that anyone can have dinner at one of the many restaurants in the area as well as see a great show. For additional information on upcoming events or to download hi-res photos, please visit www.playhouseatwestport.com.
Related Articles View More St. Louis

Stories

Shows
More Hot Stories For You