SHOW
DATES
THEATRE

HOT PICK!





Spells of the Sea


Finley Frankfurter is the 15-year-old daughter of a heroic fisherman, but who herself so far has been terrible at fishing. H.S. Crank is a grumpy



New Musical




2/5 - 3/5/2023


Grandel Theatre
3610 Grandel Square, St. Louis, MO 63103
St. Louis

A Gentleman's Guide To Love And Murder


Old Globe Theatre: - book: Robert L. Freedman; lyrics: Robert L. Freedman, Steven Lutvak; music: Steven Lutvak; dir: Darko Tresnjak.
2/8 - 2/11/2023

Parkway South Theatre
801 Hanna Rd
Manchester

Disney's The Little Mermaid


In a magical kingdom fathoms below, a beautiful young mermaid longs to leave her ocean home to live in the world above. Adapted from Disney's
2/9 - 2/11/2023

Park Hill South Theater
4500 River Pk Dr
Riverside

Freaky Friday


When an overworked mother and her teenage daughter magically swap bodies, they have just one day to put things right again before mom's big wedding.
2/9 - 2/11/2023

Blue Springs Perf.arts Center
Blue Springs

Chitty Chitty Bang Bang

1/27 - 2/12/2023

Springfield Little Theatre
311 E Walnut St
Springfield

The Hunchback Of Notre Dame

2/9 - 2/12/2023

Kevin Kline Theatre
500 S Mason Rd
St Louis

Eleri Ward - The Tender Tour


Since her sold-out debut at Blue Strawberry last year, Eleri Ward's star has only continued to rise. Her name and her "hauntingly beautiful" indie-folk Sondheim covers
2/15

Blue Strawberry
364 N. Boyle Ave.
St. Louis

9 To 5, The Musical


9 TO 5: THE MUSICAL is a hilarious story of friendship and revenge in the Rolodex era. 9 TO 5: THE MUSICAL tells the story
2/11 - 2/19/2023

Raintree Arts Council
815 Olive St UNIT 16
Clarksville

Godspell-2012 Revised Version


Godspell book by John-Michael Tebelak music & lyrics by Stephen Schwartz conceived & originally directed by John-Michael Tebelak based on The Gospel According to St.
2/16 - 2/19/2023

The Joseph Schulte Theater
St Louis

Putting It Together '1999 Broadway Version

1/27 - 2/19/2023

Catherine B. Berges Theatre At Coca
6880 Washington Ave
St. Louis

Side By Side By Sondheim


FOR IMMEDIATE RELEASE   Media Contact: Amy Burger  press@repstl.org 314-265-1372   The Repertory Theatre of St. Louis Kicks Off the New Year with an Evening
1/29 - 2/19/2023

Repertory Theatre of St. Louis
6880 Washington Avenue.
St. Louis

Disney's High School Musical Jr.


Learning Stage: book: David Simpatico; lyrics: Greg Cham, Ray Cham, Andy Dodd, Matthew Gerrard, Faye Greenberg, Jamie Houston, David N. Lawrence, Bryan Louiselle, Robbie Nevil,
2/23 - 2/24/2023

Barton Theatre
24 S Main St
Webb City

Disney's Beauty And The Beast


Back by Popular Demand following its sold-out 2010 engagement.
2/23 - 2/25/2023

Lindbergh District Auditorium
4900 S Lindbergh Blvd
St Louis

Roald Dahl's Matilda The Musical


A joyous girl power romp! This is the story of an extraordinary girl who, armed with a vivid imagination and a sharp mind, dares to
2/23 - 2/25/2023

Ladue Horton Watkins Hs Pac
1201 Warson Rd
Saint Louis

Mary Poppins


Mary Poppins is bringing its own brand of Broadway magic to theaters across the country, which has Variety raving, "This is the rare touring production
2/9 - 2/26/2023

Historic Owen Theatre
205 S Commercial St
Branson

The Addams Family


Visual content only
2/9 - 2/26/2023

Columbia Entertainment Company
1800 Nelwood Dr
Columbia

The Last Five Years

2/17 - 2/26/2023

.zack Theatre
3224 Locust St
Saint Louis

Claybourne Elder


In this candid show, one of Broadway's brightest (and hunkiest!) stars, Claybourne Elder, shares his favorite songs – from Sondheim to French pop – along
3/2

Blue Strawberry
364 N. Boyle Ave.
St. Louis

Seussical


Celebrate Dr. Seuss's birthday and promote excitement in reading and literature with Seussical! This whimsical musical is based on the books of Dr. Seuss and
3/2 - 3/4/2023

Incarnate Word Academy Auditorium
2788 Normandy Ave
St Louis

Shrek The Musical Jr


Beauty is in the eye of the ogre in Shrek The Musical JR., based on the Oscar-winning DreamWorks Animation film and fantastic Broadway musical. It's
3/2 - 3/4/2023

Liberty Performing Arts Theatre
1600 S Withers Rd
Liberty

Something Rotten!

3/2 - 3/4/2023

Rose Theatre
9301 State Line Rd
Kansas City

Confederates


An enslaved rebel turned Union spy and a tenured professor in a modern-day private university are having parallel experiences of institutionalized racism, despite existing more
2/11 - 3/5/2023

MAINSTAGE: LORETTO-HILTON CENTER
130 Edgar Road
St. Louis

Disney's The Little Mermaid


In a magical kingdom fathoms below, a beautiful young mermaid longs to leave her ocean home to live in the world above. Adapted from Disney's
3/2 - 3/5/2023

Nerinx Hall Hs
530 E Lockwood Ave
Webster Groves

Roald Dahl's Willy Wonka

3/3 - 3/5/2023

The Missouri Theatre
717 Edmond St
St Joseph

The Desert Song


The Desert Song is an operetta with music by Sigmund Romberg and book and lyrics by Oscar Hammerstein II, Otto Harbach and Frank Mandel. Winter
3/3 - 3/5/2023

Kirkwood Performing Arts Center
210 S. Monroe Ave.
Kirkwood

Once

3/2 - 3/12/2023

Warwick Theatre
3927 Main St
Kansas City




Back to the Main Page | Browse Local Theatres
---
Latest St. Louis Reviews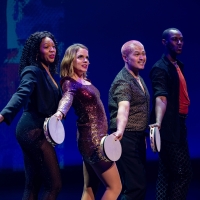 Review: SIDE BY SIDE BY SONDHEIM at The Catherine Berges Theatre At The Center For The Creative Arts (COCA)
by Rob Levy - February 05, 2023
Although Side by Side by Sondheim provides audiences with a dose of light musical entertainment, those familiar with the composer's prolific output may not be satisfied. This is because when these songs are taken out of the context of their full productions, some of the magic wanes....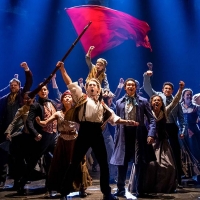 Review: LES MISERABLES at Fox Theatre, St. Louis
by Rob Levy - January 18, 2023
This exuberant and tragic production of Les Misérables is a breathtakingly epic reminder that the power of theater lies in its ability to capture the essence of the human spirit.at did our critic think of LES MISÉRABLES at Fox Theatre, St. Louis?...
Review: DEATH OF A SALESMAN at The Black Rep at The Edison Theater on the Washington University Campus
by James Lindhorst - January 14, 2023
In The Black Rep's current production of DEATH OF A SALESMAN, director Jacqueline Thompson helms an emotional narrative that is propelled by excellent performances from a stellar cast. She uses Dunsi Dai's and Lily Thomasic's multi-leveled static set design effectively to intersperse Willy's flashba...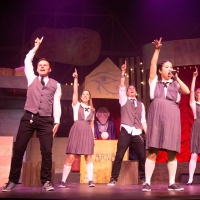 Review: RIDE THE CYCLONE at Tower Grove Abbey
by Rob Levy - December 04, 2022
What did our critic think of RIDE THE CYCLONE at Tower Grove Abbey? A tragic rollercoaster ride and a cryptic prophecy from a mechanical fortune teller set the stage for a thrill ride season finale from Stray Dog Theatre. From the onset Ride the Cyclone, establishes itself as a quirky musical with e...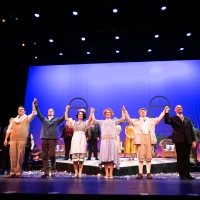 Review: LA RONDINE at Winter Opera
by Steve Callahan - November 25, 2022
Winter Opera has presented a truly gorgeous production of Puccini's La Rondine (The Swallow). Puccini is the supreme master of romantic melody, and in Rondine he outdoes himself. I love this opera, my heart having been beguiled early by one lilting, gently syncopated romantic waltz refrain that recu...
Review: THE GOOD SHIP ST. LOUIS at Upstream Theater
by Steve Callahan - November 14, 2022
The world premiere of 'The Good Ship St. Louis' is beautiful, theatrical, stylish, poetic, rich. It's a gracefully told tale of doomed refugees....
Review: PRIVATE LIVES at Catherine B. Berges Theatre At COCA
by Rob Levy - October 13, 2022
The Rep's superb production of Noël Coward's Private Lives is directed by Meredith McDonough. This emotionally raw drama pulls no punches in depicting the intense passion and constant divisiveness that haunts Amanda and Elyot's relationship. Alternating between sexually charged and emotionally abusi...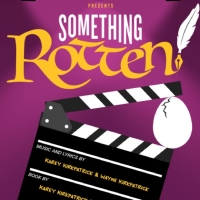 Review: New Line Theatre's SOMETHING ROTTEN at The Marcelle Theatre
by James Lindhorst - October 09, 2022
This production of SOMETHING ROTTEN is terrific. New Line Theatre's production delivers a robust number of laughs from a script filled with nonsense musical theatre references. Director Scott Miller has taken a big, overblown musical and effectively shrunk the performance to a smaller stage with a s...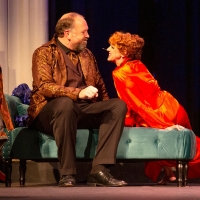 Review: A LITTLE NIGHT MUSIC at Tower Grove Abbey
by Rob Levy - October 07, 2022
Filled with vim and vigor from start to finish. Stray Dog Theatre's A Little Night Music is an energetic and passionate treat. This frolic filled morsel of musical theater is a pure delight that is not to be missed....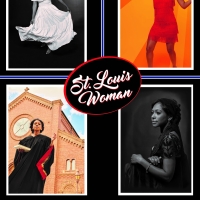 Review: ST. LOUIS WOMAN at The Midnight Company At .Zack Theatre
by James Lindhorst - October 07, 2022
Hanrahan's script provides a nostalgic look at St. Louis through the 1900s and the compelling lives of incredibly talented woman. His script is more than just a historic look at some famous St. Louis Women. It is an important lesson in St. Louis Black history, examining the lives of strong African A...