SHOW
DATES
THEATRE

The 25th Annual Putnam County Spelling Bee

3/17 - 3/24/2023

Macklanburg Playhouse
Columbia

Godspell

3/17 - 3/25/2023

Third Baptist Church
620 N Grand Blvd
Saint Louis

Godspell-2012 Revised Version


Godspell book by John-Michael Tebelak music & lyrics by Stephen Schwartz conceived & originally directed by John-Michael Tebelak based on The Gospel According to St.
3/17 - 3/25/2023

Third Baptist Church
620 N Grand Blvd
Saint Louis

Nine


Genius filmmaker Guido Contini is having a very messy nervous breakdown. And you're invited!Based on filmmaking legend Federico Fellinis legendary (semi-)autobiographical film 8 1/2, this
3/2 - 3/25/2023

New Line Theatre at the Marcelle
3310 Samuel Shepard Drive
St. Louis City

Disney's Frozen Kids


Available September 2019
3/25 - 3/26/2023

Skyline Theater
20663 US-65
Urbana

Lianne Marie Dobbs: Why Can't A Woman...?


An evening of Broadway Leading Men's songs & sassy standards served Up with a twist of SHE. New York stage & screen actor, Lianne Marie Dobbs, returns
3/31

Blue Strawberry
364 N. Boyle Ave.
St. Louis

Circus Harmony Juggling Ball 2023


YOU are invited to the 2023 Circus Harmony Juggling Ball to support the work of Circus Harmony! Just buy a ticket or ten or become
4/1

City Museum
750 N 16th St, St. Louis, MO 63103
St. Louis

Disney's Beauty And The Beast Jr


The Brainy and Beautiful Belle yearns to escape her provincial life...and her brute of a suitor, Gaston. However, Belle gets more adventurous than she wanted
3/31 - 4/1/2023

Grace Classical Academy
2438 E Cherry St
Springfield

Disney's Frozen Jr


For the first time in forever the theatrical take on a modern classic, Disney's FROZEN JR is set to be performed right here in the
3/30 - 4/1/2023

East Middle
Joplin

How I Became a Pirate Younger@Part


Visual content only
4/1

Jabberwocky Studios
Columbia

Junie B. Jones Jr.


Synopsis:  Created by Marcy Heisler and Zina Goldrich, the team that brought you Dear Edwina, comes Junie B. Jones, The Musical – a delightful adaptation of four of
3/31 - 4/1/2023

Stg Studio
Lees Summit

Matt Doyle


The Cabaret Project of St. Louis  is excited to present the St. Louis solo debut of Tony Winning Broadway star Matt Doyle.  All proceeds benefit
4/1

SHELDON
3648 WASHINGTON BOULEVARD
SAINT LOUIS

An Inspector Calls


An Inspector Calls Join us for a three-act feast of the unexpected!   Feb 24, 25 and March 3, 4 at 7:30pm March 5, 2023,
2/24 - 4/2/2023

Florissant Performing Arts Center
1 James J Eagan Drive
Florissant

Every Brilliant Thing


By Duncan MacMillian with Johnny Donahoe Directed by Ellie Schwetye Starring Will Bongfiglio We have all been in a difficult place. We all long for
3/16 - 4/2/2023

The J's Wool Studio Theatre
2 Millstone Campus Drive, St. Louis, MO 63146
St. Louis

Grand Horizons


Moonstone Theatre Company presents Grand Horizons by Bess Wohl, running March 16 – April 2. The Broadway comedy is Sophisticated, funny, delightfully – and sometimes
3/16 - 4/2/2023

Moonstone Theatre Company
Kirkwood Performing Arts Center, 210 E. Monroe Ave, Kirkwood, Mo 63122
St. Louis

Madagascar Jr


Take a journey out of the zoo and onto the stage with your favorite crack-a-lackin' friends from the blockbuster DreamWorks film.
3/31 - 4/2/2023

The Ruby Theatre
615 S 10th St
Saint Joseph

Tootsie


Call it musical comedy heaven (Rolling Stone). Call it the most uproarious new musical in years! (The Hollywood Reporter). Call it TOOTSIE! This laugh-out-loud love
3/21 - 4/2/2023

The Fabulous Fox Theatre
527 N Grand Blvd
St. Louis

Ordinary People


Clayton Community Theatre (CCT - www.placeseveryone.org) continues its 24th season with Ordinary People by Nancy Gilsenan, adapted from the novel by Judith Guest and directed
3/23 - 4/3/2023

Washington University South Campus Theatre
6501 Clayton Road
Clayton

13th Annual St. Louis Teen Talent Competition Finals


Bi-state area high school students compete for scholarships & prizes at a FREE family event at The Fabulous Fox on Saturday, April 8th at 7:30
4/8

The Fabulous Fox Theatre
527 N Grand Blvd, St. Louis, MO 63103
St. Louis

AGATHA CHRISTIE'S MURDER ON THE ORIENT EXPRESS


It's 1934, just after midnight, and a snowstorm has stopped the opulent Orient Express sleeper train in its tracks. A wealthy American businessman is discovered
3/17 - 4/9/2023

MAINSTAGE: LORETTO-HILTON CENTER
130 Edgar Road
St. Louis

Little Women

4/6 - 4/9/2023

University Of Central Missouri
116 W South St
Warrensburg

Murder on the Orient Express


It's 1934, just after midnight, and a snowstorm has stopped the opulent Orient Express sleeper train in its tracks. A wealthy American businessman is discovered
3/17 - 4/9/2023

Repertory Theatre of St. Louis
130 Edgar Road Webster Groves, MO 63119
St. Louis

Disney's The Little Mermaid


In a magical kingdom fathoms below, a beautiful young mermaid longs to leave her ocean home to live in the world above. Adapted from Disney's
4/13 - 4/15/2023

Reininger Theatre
100 Wentzville Bluffs Dr
Wentzville

Fiddler On The Roof

4/13 - 4/15/2023

Cor Jesu Academy Auditorium
Saint Louis

James And The Giant Peach Jr.


Celebrate the 100th birthday of one of the world's most beloved children's authors - Roald Dahl - with a fantastical tale of a boy, his
4/13 - 4/15/2023

St. Pius Gym
Kansas City




Back to the Main Page | Browse Local Theatres
---
Latest St. Louis Reviews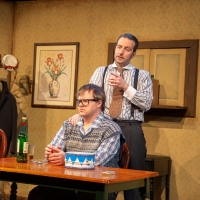 Review: THE BIRTHDAY PARTY at Kranzberg Black Box Theater
by James Lindhorst - March 19, 2023
Albion's extraordinary production of Pinter's work is grounded in Suki Peter's sharp direction, brisk pacing and her collaboration with her actors. The performances she elicits from each of the cast members are balanced perfection. Her use of the space within Brad Slavik's smartly appointed period s...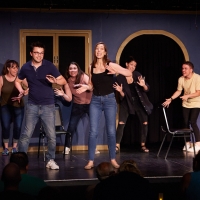 Review: THE ONE FOUR FIVES at The Improv Shop
by James Lindhorst - March 12, 2023
Meeting at the intersection of improvisation and musical comedy is THE ONE FOUR FIVES, a comedy troupe that performs at The Improv Shop in St. Louis. THE ONE FOUR FIVES are made up of four women and three men who create two entirely original musicals at each performance. This performance of the fer...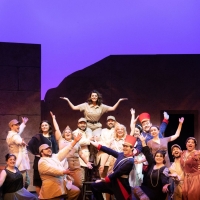 Review: THE DESERT SONG at Winter Opera
by Steve Callahan - March 07, 2023
A stellar cast brightens a Romberg favorite. Operetta, as a genre, arose in the 1850's and swelled into a widely beloved form of entertainment. In America its chief luminaries were Sigmund Romberg, Victor Herbert, and Rudolf Friml. From the 1920's to the '40's the modern musical gradually drove oper...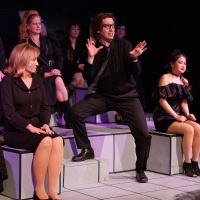 Review: NINE at The Marcelle Theatre
by James Lindhorst - March 04, 2023
New Line Theatre has again put together an overall performance that is entertaining and enjoyable. This production of NINE succeeds because of the quality performances of every member of the cast and their ability to deliver strong vocals....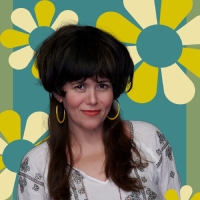 Review: JUST ONE LOOK at Midnight Company At The Blue Strawberry Showroom And Lounge
by James Lindhorst - March 02, 2023
JUST ONE LOOK is just one night of exceptional music. It's a rock 'n roll cabaret performance that is uniquely driven by a theatrical narrative and it works on every level....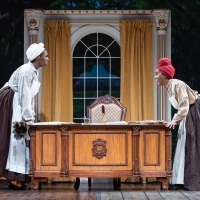 Review: CONFEDERATES at Loretto-Hilton Center For The Performing Arts
by Rob Levy - March 01, 2023
Executed with poignancy, The Rep's production of Confederates, guided by Dominique Morisseau's vison and executed by director Elizabeth Carter comes to life through the work of an incredible cast....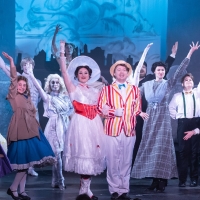 Review: DISNEY'S MARY POPPINS at Historic Owen Theatre
by Theresa Bertram - February 28, 2023
What did our critic think of DISNEY'S MARY POPPINS at Historic Owen Theatre?...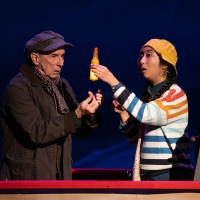 Review: SPELLS OF THE SEA at Metro Theater Company
by Steve Callahan - February 14, 2023
'Spells of the Sea' shows polished professionalism. The marvelous Metro Theater Company has launched it's 50th season of fine theater for children. They open with a world premiere of a musical play, Spells of the Sea, by Guinevere Govea (with contributions by Anna Pickett). It's playing at the Grand...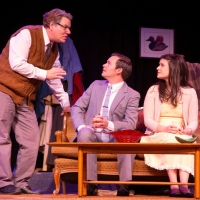 Review: WHO'S AFRAID OF VIRGINIA WOOLF? at Tower Grove Abbey
by Rob Levy - February 13, 2023
Ugly and combatative, Who's Afraid of Virginia Woolf? is a well-acted drama that lingers with audiences long after the final curtain. This fearless Stray Dog production pulls no punches in bringing marital dysfunction to audiences numbered by its emotional resonance. Impolite conversation has never ...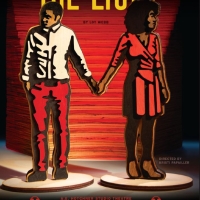 Review: THE LIGHT at The Hotchner Studio Theatre On The Washington University Campus
by James Lindhorst - February 09, 2023
THE LIGHT, the current offering at The Black Rep, is Loy A. Webb's two-character play that takes on the painful topic of sexual assault and the victim's devastation. Newly engaged couple Genesis and Rashad are celebrating when Genesis speaks a painful truth and Rashad deflects to protect the aggress...