STAGE TUBE: Presentación de DAUGHTERS OF BILITIS en Barcelona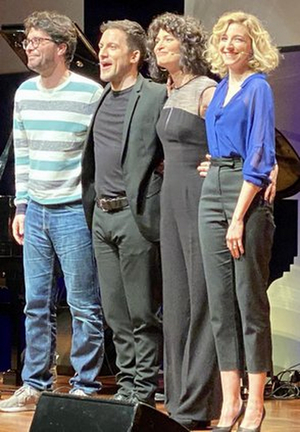 El pasado 6 de marzo tuvo lugar en el Teatre del Liceu de Barcelona la presentación del nuevo musical DAUGHTERS OF BILITIS dentro de la cuerta edición del ciclo de conciertos Off Liceu - Diálogos Musicales.
El musical cuenta con música de Andreu Gallén y letras de David Pintó, y está protagonizado por Elena Gadel y Anna Moliner, a las que podemos ver en el vídeo acompañadas por Gallén.
El musical, del que anoche se pudieron escuchar cuatro canciones en primicia, nace de un viaje de Andreu Gallén a Nueva York donde conoció, a través de una exposición del 50 aniversario de StoneWall, la historia de Del Martin y Phyllis Lyon, las dos primeras mujeres que celebraron una boda del mismo sexo en San Francisco en los años 50.
Feministas, activistas y fundadoras en el año 56 de Daughters of Bilitis, asociación pionera en la defensa de los derechos de las lesbianas en Estados Unidos. "Andreu quedó impactado con esta historia," cuenta David Pintó, "porque en aquella época la homosexualidad estaba penada."
Off Liceu - Diálogos musicales es una oportunidad para conocer las últimas creaciones de compositores nacionales actuales.
Acompañados por diferentes formaciones musicales, audiovisuales y poéticas, y con la voz como nexo en común, los creadores estarán presentes en la sala para generar un posterior debate enriquecedor que permita al público tener una visión poliédrica de la realidad musical de hoy.
Podéis ver la presentación a continuación y activar los subtítulos en castellano.

Related Articles View More Spain

Stories

Shows