BWW Interviews: El equipo de IN THE HEIGHTS celebra las nominaciones a los Helen Hayes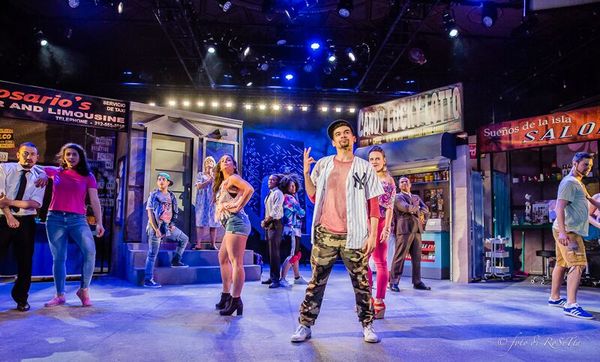 El pasado 5 de febrero se anunciaron las nominaciones a los Helen Hayes Awards de Washington DC y la producción de IN THE HEIGHTS de GALA Hispanic Theatre y Salgado Productions, dirigida y coreografiada por Luis Salgado, recibió 18 nominaciones. Esta fue la primera versión del musical de Lin-Manuel Miranda que se hacía en Español en Norte América. "Es una validación muy grande a un equipo que trabajó con mucho empeño y que sin duda dió todo su amor al barrio de IN THE HEIGHTS," comenta Salgado. "Hacerlo en español fue un reto y una bendición. Honramos la idea de familia y ensemble durante todo el proceso y, si bien es cierto que jamás me imaginé que lograríamos tantas nominaciones, también es verdad que me llena el corazón ver a la gran mayoría de nuestro equipo y elenco ser celebrados."
Las 18 nominaciones a In The Heights de GALA incluyen: Producción sobresaliente en un musical: TEATRO GALA, Dirección sobresaliente en un musical: Luis Salgado, Coreografía sobresaliente en un musical: Luis Salgado, Dirección musical sobresaliente: Walter "Bobby" McCoy, Destacado diseño de vestuario : Robert Croghan, diseño de iluminación excepcional: Christopher Annas-Lee, diseño excepcional del conjunto: Elizabeth Jenkins McFadden, Ensamble Sobresaliente en un Musical: In The Heights TEATRO GALA, Mejor Actor de Reparto en un Musical: Rafael Beato y Felix Marchany, Actriz Sobresaliente en un Musical: Shadia Fairuz, Gabriella Pérez, Scheherazade Quiroga y Michelle Ríos. Mejor actor principal en un musical: Juan Luis Espinal y Vaughn Ryan Midder, actriz principal sobresaliente en un musical: Verónica Álvarez y Laura Lebrón.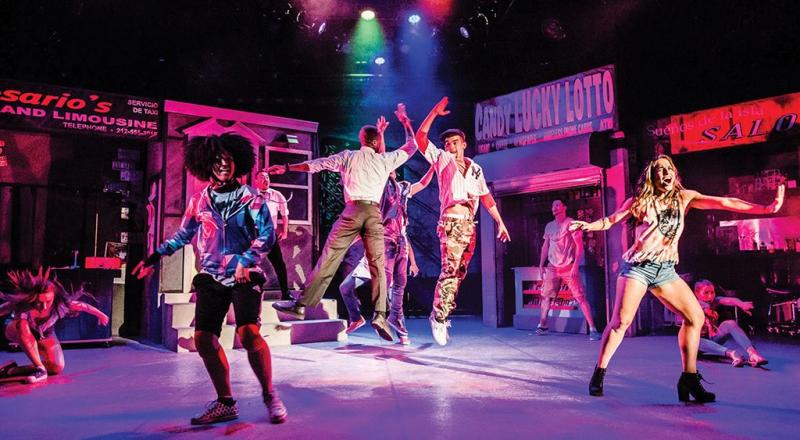 En esta versión Luis Salgado volvió a trabajar con su asistente de dirección habitual, Valeria Cossu, que cuenta con un largo recorrido ya en Nueva York y en España. "Presentar en Washington DC un show como éste en la realidad socio-política que Estados Unidos está viviendo hoy tiene una misión muy especifica, sobre todo si piensas que nuestra versión es al 70% en Español," destaca Cossu. "¡El idioma se ha convertido en un personaje muy importante de la producción! Debido a las exigencias de un publico bilingüe y a un español más s neutral, tuvimos que readaptar la version dominicana de Amaury Sánchez, creando una versión n bilingüe Ingles-Español. Establecer las reglas del juego, a nivel dramaturgo, de cuando utilizar un idioma o el otro fue un reto muy grande. Ojalá podamos verlo en mi querido Madrid algún día."
El español Aarón Cobos formó parte de esta producción y también de la versión que se estrenó en Nueva Jersey el año pasado. "No paro de sentirme agradecido, merece la pena el trabajo duro y honesto, como actor y artista," nos cuenta ilusionado el actor. "Sabía que IN THE HEIGHTS nos daría muchas alegrías, no solo en cada función con el teatro a rebosar sino un año después nos sigue sorprendiendo con las nominaciones a los Helen Hayes. ¡Esperemos que en mayo nos den más noticias, y veamos cuántos de esos premios nos llevamos!"
Justamente en 2018 se celebran 10 años del estreno del musical en Broadway, del cual formó parte Luis Salgado como ensemble y como asistente de baile latino. "Fue increíble retomar perspectivas y sensaciones de hace ya 10 años de una manera nueva, con un punto de vista aun mas elevado en la raíz de mi ser y de mi verdad latino americana. En todo este tiempo he afianzado mi labor en Latino America con R.Evolución Latina y Salgado Productions, sin duda alguna muchas de las historias de estas personas que he conocido dieron color y forma a la visión del proyecto y al balance idiomático que exploramos," relata emocionado el director.
Ahora la siguiente aventura de Luis Salgado y Valeria Cossu será capitanear la producción de RAGTIME en el AxelRod Center de Nueva Jersey, un musical que explora el comienzo del siglo XX en Nueva York, escrito por Lynn Aherns y Stephen Flaherty con guión de Terrence McNally. "La justicia/injusticia, la segregación racial y social, son temas que me tocan el corazón, y lógicamente siendo yo una inmigrante en Estados Unidos, me siento en conexión con Tateh y su afán por tener una vida mejor y realizar "The American dream", cuenta Valeria Cossu. "Para mi es mágico poder seguir dando voz a los emigrantes o a aquellos que han sufrido de injusticias en nuestra historia politico social. RAGTIME es una oportunidad de exploración muy necesaria tanto para nuestros artistas como para mi y mi equipo creativo. Estamos lanzándonos a aguas profundas mezclando códigos de teatro experimental con la base fundamental que hace la "formula" del teatro musical," subraya Luis Salgado.