Hamilton (And Peggy Company) - 2019 - US Tour
HAMILTON is the story of America's Founding Father Alexander Hamilton, an immigrant from the West Indies who became George Washington's right-hand man during the Revolutionary War and was the new nation's first Treasury Secretary. Featuring a score that blends hip-hop, jazz, blues, rap, R&B, and Broadway, Hamilton is the story of America then, as told by America now.
Schedule
Running Time: 2 hours and 45 minutes with one intermission
(Calgary, )
1415 14th Avenue N.W. Calgary, AB T2N 1M4
Calgary,
Hamilton (And Peggy Company) US Tour Cast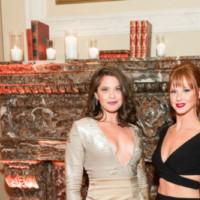 by Julie Musbach - February 22, 2019
The company of HAMILTON on tour recently celebrated opening night in San Francisco, check out the photos below!

by Marika O'Hara - November 23, 2018
As previously reported by BroadwayWorld, the cast of HAMILTON's three-week long engagement in Puerto Rico will launch a third national tour of the musical phenomenon. The show's creator, Lin-Manuel Miranda will play the title character in Puerto Rico, with Julius Thomas III (The Scottsboro Boys, Motown the Musical) taking over at the tour's next stop in San Francisco. Donald Webber Jr. (Motown the Musical, Holler if Ya Hear Me) will play Hamilton's nemesis, the formidable Aaron Burr.