Gettin' the Band Back Together - 2018 - Broadway
The Tony Award-winning director of Urinetown returns to Broadway with Gettin' The Band Back Together, a hilarious new musical comedy that The New York Times calls, "A feel-good class act! A playful, irreverent, and genuinely funny musical."
He always wanted to be the next Bon Jovi, but Mitch Papadopoulos (Mitchell Jarvis, Rock of Ages) left those daydreams behind for a day job. When this big-shot banker is handed a pink slip on his 40th birthday, he's forced to move back in with his mom (five-time Golden Globe nominee Marilu Henner, "Taxi") in New Jersey.
A run-in with his former music rival leads to a threat of foreclosure on Mitch's family home, unless he can win The Battle of the Bands- a rematch over 25 years in the making. So he dusts off his guitar, gathers his old gang, and sets out to win back his house, his pride- and maybe even the high school sweetheart he left behind- proving it's never too late to give your dreams one last shot.
Video preview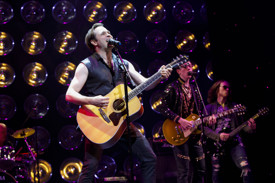 Photo preview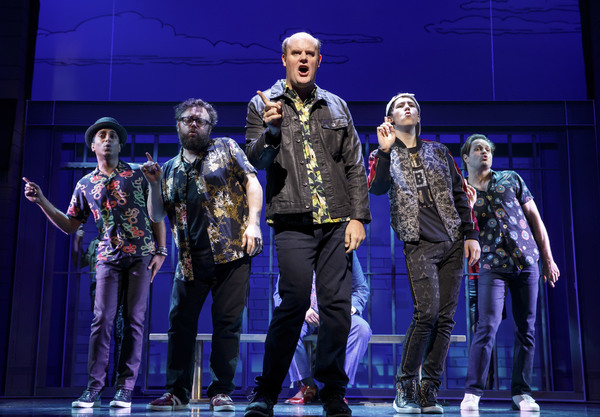 Schedule
Running Time: Two hours and 25 minutes, with one intermission
Featured Reviews For Gettin' the Band Back Together
'Gettin' the Band Back Together' review: New musical is a Broadway embarrassment - amNY
Originality (as in not being based on a pre-existing film or song catalog) turns out to not be the equivalent of quality in "Gettin' the Band Back Together," a tacky, witless and amateurish new pop-rock musical set in Sayreville, New Jersey, that might have been commendable had it been written and performed by high school students from Sayreville, but is a total embarrassment to find on Broadway.
Gettin' the Band Back Together' Broadway Review: They Were Better Off Going Solo - The Wrap
That song, titled "Bart's Confession" and delivered with real gusto by Klaitz, almost makes you forget the previous dozen songs by Mark Allen that too accurately capture the homogeneous anonymity of garage bands, lounge acts and wedding singers. There's also an exuberant dance-off between the two bands, cleverly choreographed by Chris Bailey, that's far more imaginative than the final contest.
Gettin' the Band Back Together Broadway Cast