Gettin' the Band Back Together - 2018 - Broadway
The Tony Award-winning director of Urinetown returns to Broadway with Gettin' The Band Back Together, a hilarious new musical comedy that The New York Times calls, "A feel-good class act! A playful, irreverent, and genuinely funny musical."
He always wanted to be the next Bon Jovi, but Mitch Papadopoulos (Mitchell Jarvis, Rock of Ages) left those daydreams behind for a day job. When this big-shot banker is handed a pink slip on his 40th birthday, he's forced to move back in with his mom (five-time Golden Globe nominee Marilu Henner, "Taxi") in New Jersey.
A run-in with his former music rival leads to a threat of foreclosure on Mitch's family home, unless he can win The Battle of the Bands- a rematch over 25 years in the making. So he dusts off his guitar, gathers his old gang, and sets out to win back his house, his pride- and maybe even the high school sweetheart he left behind- proving it's never too late to give your dreams one last shot.
Video preview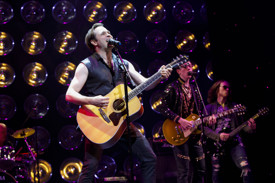 Photo preview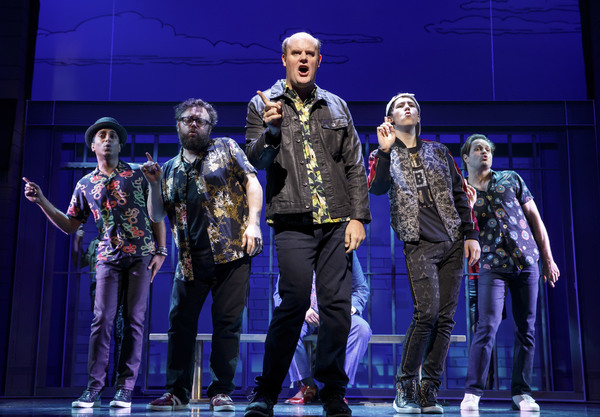 Schedule
Running Time: Two hours and 25 minutes, with one intermission
Featured Reviews For Gettin' the Band Back Together
Gettin' the Band Back Together' review: Rice Krispies, but no snap, crackle or pop - Newsday
You can't say the new musical "Gettin' the Band Back Together" doesn't try hard. At one point somebody shoots T-shirts into the audience from a cannon. Marilu Henner, who plays the lead's mom, passes along Rice Krispies Treats during the intermission. Throughout, the game cast sells the action with undeniable energy - if Broadway quality was measured in sweat, "Gettin' the Band Back Together" would be a shoo-in for a Tony. Unfortunately, other factors must be considered. The show is a willfully silly piece of cheese, but that stuff is actually hard to pull off - and "Gettin' the Band Back Together" is no "Head Over Heels" or "Rock of Ages."
Theater Review: Direct From Exit 9, It's Gettin' the Band Back Together - Vulture
But this is the universe of Gettin' the Band Back Together: one where you cango home again, one where you are the rock-and-roll god you always thought you were, and one where, to quote Kurt Vonnegut, the destructive myth that "it is very easy for any American to make money" is cheerfully upheld. The show's denouement - and the salvation of Mitch, his mom, and his buddies - involves a big check delivered out of the blue, in the ultimate deus ex rockina. It's one big American fantasy - Hey, you too might recapture your youthful glory and randomly become a millionaire! - being marketed to folks who couldn't afford to see Springsteen on Broadway and came to this instead. And if the cheers that surrounded me are any measure, plenty are happily buying in.
Gettin' the Band Back Together Broadway Cast