Ain't Too Proud - 2021 - Broadway Tickets, News, Info & More
It was a sound that would change music history. Ain't Too Proud is the electrifying new musical that tells the story of The Temptations from the streets of Detroit to the Rock & Roll Hall of Fame.
With their signature dance moves and unmistakable harmonies, everybody knows the Temptations' hits, but Ain't Too Proud brings the rest of the rocky history to life; how the founding members met, the unbelievable heights that they hit, and how personal and political conflicts threatened to tear the group apart as the country fell into civil unrest.
With a book by Dominique Morisseau, choreography by Sergio Trujillo, and direction by Des McAnuff, this musical tells the thrilling story of brotherhood, family, loyalty, and betrayal, featuring the toe-tapping hits hits like "My Girl," "Just My Imagination," "Papa Was a Rolling Stone," and many more.
Video preview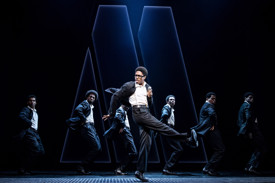 Photo preview
Schedule
Running Time: Two hours and 30 minutes, with one intermission
Featured Reviews For Ain't Too Proud
Review: An All-Star Team in the Temptations Musical 'Ain't Too Proud' - New York Times
While honoring all the expected biomusical clichés, which include rolling out its subjects' greatest hits in brisk and sometimes too fragmented succession, this production refreshingly emphasizes the improbable triumph of rough, combustible parts assembled into glistening smoothness.
BWW Review: The Temptations Balance Crossover Success and Racial Identity in Dominique Morisseau's AIN'T TOO PROUD - BroadwayWorld
While the great Motown songs like "Just My Imagination," "Get Ready" and "Papa Was a Rollin' Stone" may be AIN'T TOO PROUD's main attraction, Morisseau's well-crafted storytelling proves just as important as the musical memories. This is the Broadway debut for the MacArthur Genius Grant recipient whose brilliant Off-Broadway contributions have included SKELETON CREW, PIPELINE and the trio of plays making up THE DETROIT PROJECT. Perhaps the next time her work appears on Broadway, the main attraction will be the music made by this exciting playwright's words.
Ain't Too Proud Broadway Cast
Buy at the Theatre Shop
T-Shirts, Mugs, Phone Cases & More