Ain't Too Proud - Broadway
It was a sound that would change music history. Ain't Too Proud is the electrifying new musical that tells the story of The Temptations from the streets of Detroit to the Rock & Roll Hall of Fame.
With their signature dance moves and unmistakable harmonies, everybody knows the Temptations' hits, but Ain't Too Proud brings the rest of the rocky history to life; how the founding members met, the unbelievable heights that they hit, and how personal and political conflicts threatened to tear the group apart as the country fell into civil unrest.
With a book by Dominique Morisseau, choreography by Sergio Trujillo, and direction by Des McAnuff, this musical tells the thrilling story of brotherhood, family, loyalty, and betrayal, featuring the toe-tapping hits hits like "My Girl," "Just My Imagination," "Papa Was a Rolling Stone," and many more.
Video preview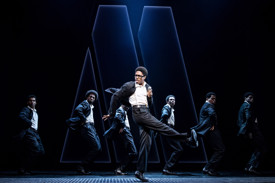 Photo preview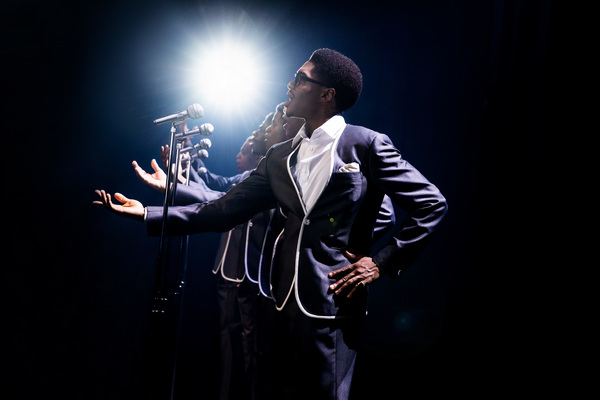 Schedule
Running Time: Two hours and 30 minutes, with one intermission
Tuesdays: 7:00pm
Wednesdays: 2:00pm and 8:00pm
Thursdays: 7:00pm
Fridays: 8:00pm
Saturdays: 2:00pm and 8:00pm
Sundays: 3:00pm
(New York, NY)
249 West 45th St.
Seating Chart
Featured Reviews For Ain't Too Proud
'Ain't Too Proud,' the tale of The Temptations, needed to tell its own story - NY Daily News
"Ain't Too Proud" has a wholly conventional structure, as if everyone involved didn't want to run any kind of counter-narrative to that of Williams or upset Berry Gordy (Jahi Kearse), whose persona here is exactly like his persona in "Motown the Musical." Fascinating issues like the band's appeal to white audiences, its need to tour in the South, its internal debates over whether it should sing Smokey Robinson ballads or Norman Whitfield soul, the drug use among many of its members and the complexity of Williams' own personal life are brought up but quickly and often awkwardly dismissed. Such are the perils of doing legacy-creating shows about living people with ownership interests in the material.
'Ain't Too Proud' Broadway Review: The Temptations, Saved By Song - Deadline
Ain't Too Proud - The Life and Times of The Temptations is further proof, as if we need it, that the term "jukebox musical" just isn't fair - to jukeboxes. Feed a juke some cash and it delivers music, free of the blunt exposition that passes for librettos in so many of these stage biographies. Even with source material as glorious as "My Girl," "Just My Imagination," "Papa Was A Rolling Stone" and the song that gives this production its title, the result feels less celebratory than ruthlessly efficient, like the treadmill device that's forever moving the ever-changing Temptations line-up on, off and around the Imperial Theatre's stage.
Ain't Too Proud Broadway Cast