Emmett Montgomery and 18th & Union Present SUGAR PLUM GARY
The play will spread the true and terrible meaning of Christmas and the real life Santa (who may or may not be an unspeakable monster who lords over time and space)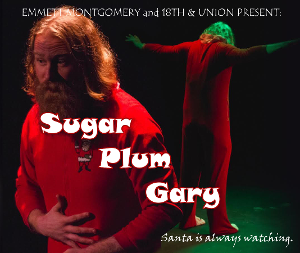 Make your holidays more delightfully ho-ho-horrific! Sugar Plum Gary is returning to 18th & Union for the fifth year to deliver the gift of Christmas fear and cheer for live and livestream audiences alike.
Named "Seattle's Best Holiday Arts Tradition" by Seattle Weekly, Sugar Plum Gary is an interactive solo show centered around the titular Gary - a bearded man in Santa footie-pajamas. Every day is Christmas (literally!) for Gary, a gentle-hearted "Santanist" who has been possessed by the Holiday Spirit since Santa came to visit and Gary was the only survivor.
Through conversation with the audience, the real reason for the season begins to take shape. Gary's guests ask questions about the terrifying and ancient truths of Christmas, and how best to survive the night. This year, you can join Gary in-person (vax required) or from your home (if you know how Zoom works).
Asking simply, "Does anyone have a question about Christmas?" Gary unfolds an evening of hilarious and twisted holiday glee. Gary gives impromptu answers to any questions the audience throws out. It makes each show a unique treat, so come prepared to be inquisitive. (Interaction is encouraged but isn't required to have a great time.)
Sugar Plum Gary is presented by Seattle stand-up comedian and weirdo art scene guru Emmett Montgomery. The bearded raconteur runs three local havens for creative oddballs: Weird and Awesome with Emmett Montgomery at Annex Theatre, The Magic Hat at Rendezvous, and Joketeller's Union at Clock-Out Lounge. Emmett has been voted Best Seattle Comedian by readers of Seattle Weekly so often that he legitimately finds it frustrating.
Sugar Plum Gary has been running seasonally in Seattle for nearly a decade. During 2020, the show was livestreamed for the first time, reaching audiences on four continents. While Emmett and Gary have never been seen in the same place at the same time, people have claimed they bear a strikingly similar resemblance.
During this season of giving, Gary and Emmett and 18th & Union are proud to be partnering with Be:Seattle, a local organization that champions tenants' rights and advocates for our unhoused populations.
We will be accepting donations of essential needs items (socks, hygiene items, etc.), as well as monetary donations to support Be:Seattle.
Visit beseattle.com to learn more about this amazing organization.