San Francisco Symphony Announces 2017 Holiday Concerts - Seal, Peaches Christ & Armistead Maupin; A Charlie Brown Christmas Live, Peter and the Wolf & More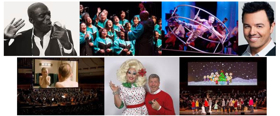 San Francisco Symphony's (SFS) 2017 holiday season A. Davies Symphony Hall offers a festive array of concerts for all ages, from traditional Christmas classical concerts including Handel's Messiah, J.S. Bach's Christmas Oratorio andHoliday Brass to family-friendly events including A Charlie Brown Christmas-Live!, the circus feats of Cirque de la Symphonie, the Orchestra's annual Deck the Hall concerts, and the SF Symphony Youth Orchestra's annual performance of Prokofiev's Peter and the Wolfwith Zachary Quinto narrating. Beloved comedy classic Home Alone is projected on the big screen with the SFS performing the score live. British soul singer Seal performs selections off his new album, Mariachi Sol De México® de José Hernàndez presents A Merry-achi Christmas, the Oakland Interfaith Gospel Choir brings an uplifting program of gospel, soul, and jazz favorites in Holiday Soul, and Armistead Maupin is the featured guest artist in Holiday Gaiety with the SFS. On December 31, Seth McFarlane joins the San Francisco Symphony to celebrate New Year's Eve.
Grammy Award-winning vocalist Seal and the San Francisco Symphony kick off the Holiday festivities on November 30 with iconic jazz and swing classics and selections from Seal's highly-anticipated new album "Standards." The album comes out November 10 on Republic Records and pays tribute to legends including Frank Sinatra, Ella Fitzgerald, and Nina Simone. On December 8, Holiday Gaiety with Armistead Maupin and the SFS features San Francisco's premiere drag sensation Peaches Christ as a co-emcee with conductor Edwin Outwater, in addition to award-winning novelist Armistead Maupin and guest artists Cheyenne Jackson, Bob the Drag Queen, Melissa King, and The Sisters of Perpetual Indulgence, in a program that is sure to be full of fabulous surprises and dazzling performances. On December 12-13 the Oakland Interfaith Gospel Choir, conducted by Charles Floyd, joins the SFS to present Holiday Soul-an uplifting program of gospel, soul, and jazz favorites. The choir is joined by vocalists Cece Winans, Edwin Hawkins, and Paula West.
This holiday season the SFS continues the tradition of presenting classical music associated with the Christmas season. Members of the SF Symphony brass section, led by Edwin Outwater, present Holiday Brass on December 3 and Masaaki Suzuki conducts Bach Collegium Japan in J.S. Bach's Christmas Oratorio with soprano Sherezade Panthaki, countertenor Jay Carter, tenor Zachary Wilder, and bass Dominik Wörner on December 9. Ragnar Bohlin conducts the SFS in performances of Handel's Messiah December 14­-15, featuring soprano Layla Claire, mezzo-soprano Tamara Mumford, tenor Leif Aruhn-Solén, and bass Morris Robinson.
Once again, the Symphony's holiday line-up includes programs well-suited for children and families, starting with two Deck the Hall concerts on December 3. This festive children's concert and party features Symphony musicians and special guests, including the San Francisco Boys Chorus, Young Women's Choral Projects, San Francisco Ballet School trainees, and the San Francisco Children's Musical Theatre. December 7-8, the acrobats, strongmen, and performing artists of Cirque de la Symphonie join the SF Symphony musicians for a special holiday show, executing their jaw-dropping feats to the thrilling music of composers like Tchaikovsky, Vivaldi, Bizet, and others, mixed with plenty of holiday hits. On December 10, the San Francisco Symphony Youth Orchestra (SFSYO) performs Prokofiev's Peter and the Wolf with guest narrator Zachary Quinto, led by Wattis Foundation Music Director Christian Reif. Also on December 10, the ever-popular presentation of A Merry-Achi Christmas returns, with Mariachi Sol De México® de José Hernàndez performing its blend of Mexican and American holiday favorites. December 16-17 concerts present classic holiday favorite Home Alone, with John Williams' charming and delightful score performed live to picture by the SFS.
A Charlie Brown Christmas-Live! returns December 21­-24 with seven performances by the Orchestra of Vince Guaraldi's score for this special stage show, with singers, actors, and dancers all bringing Charles Schulz's beloved Peanuts characters and the Christmas classic animated TV special to life. The decked-out lobby of Davies Symphony Hall features kid-friendly refreshments and Peanuts-themed activities.
The Symphony's annual New Year's Event on December 31 features Academy and Grammy Award-nominated singer, songwriter, actor, producer, and director Seth MacFarlane, with Edwin Outwater conducting.
Throughout the month of December, the lobbies of Davies Symphony Hall are transformed into a holiday wonderland, complete with towering trees decorated with handmade ornaments made by children and volunteers from local schools and community groups.
Tickets for all holiday concerts are on sale now at sfsymphony.org, by phone at 415-864-6000, and at the Davies Symphony Hall box office on Grove Street between Franklin Street and Van Ness Avenue.