Choreographer Alonzo King And Musician V N- Nh Vanessa V Collaborate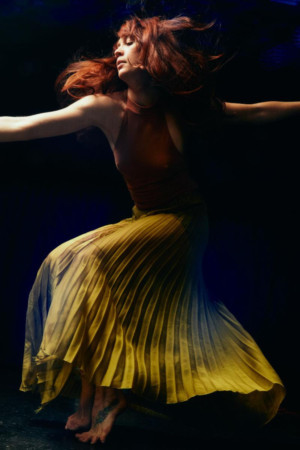 Alonzo King LINES Ballet, the San Francisco-based, internationally celebrated contemporary ballet company, is pleased to announce a new collaboration with Emmy award-winning Vietnamese musician and composer Vân-Ánh Vanessa Võ.

Choreographer Alonzo King and Võ come together for the first time to create a new work that draws from global traditions, and pushes the boundaries of their respective disciplines. Performances take place at Yerba Buena Center for the Arts, April 12-21, 2019. The season will also feature the company's annual fundraiser, its Spring Gala, on April 13, 2019.

As artists, King and Võ are simpatico. They share a mastery of traditional forms as well as a drive to continually experiment with new ideas. A master of the dan tranh zither, Võ is celebrated for her immense knowledge of traditional Vietnamese instruments and musical styles; at the same time, she is one of the only artists in the world using these traditions as a stepping stone to create entirely new sounds and musical ideas. King creates works that draw on a diverse set of deeply rooted cultural traditions--and extend the possibilities of creative expression in dance, channeling the powerful understanding that ballet is part art, part science, and part primal intuition. His choreography shows us the way that art connects us to each other and the world around us.

Both King and Võ are interested in exploring notions of the homegrown and of identity - and how they shape us as individuals and as societies. They are interested in investigating characteristics that are shared across communities, such as modes of storytelling and food traditions.

The Season will also feature a revival of King's 2016 work, Art Songs, and a LINES Family Experience on Saturday April 20, 12pm.

About Alonzo King LINES Ballet
Since 1982, Alonzo King LINES Ballet has collaborated with noted composers, musicians and visual artists from around the word to create performances that alter the way we look at ballet today. The Company is guided by a unique artistic vision that adheres to the classical form-the linear, mathematical and geometrical principles that are deeply rooted in the preexisting East-West continuum. LINES Ballet's spring and fall home seasons and global tours share this vision of transformative, revelatory dance with 40,000+ audience members worldwide every year. It has been featured at venues such as the Venice Biennale, Monaco Dance Forum, Maison de la Dance de Lyon, the Edinburgh International Festival, Montpellier Danse, the Wolfsburg Festival, the Holland Dance Festival, and most recently Théâtre National de Chaillot in Paris.

Alonzo King has been honored by the dance world's most prestigious institutions for his impact on the cultural fabric of the company's home in San Francisco, as well as nationally and internationally for over more than three decades. Named a Master of Choreography by the Kennedy Center in 2005, King is the recipient of the Doris Duke Foundation Artist Award, the NEA Choreographer's Fellowship, the Jacob's Pillow Creativity Award, the Irvine Fellowship in Dance, the US Artist Award in Dance, and the National Dance Project's Residency and Touring Awards. King has works in the repertories of San Francisco Ballet, the Royal Swedish Ballet, Frankfurt Ballet, Béjart Ballet Lausanne, Les Ballets de Monte-Carlo, Joffrey Ballet, Alvin Ailey American Dance Theater, Hong Kong Ballet, and Hubbard Street Dance Chicago, among others.

"Alonzo King is one of the few ballet choreographers working today who is genuinely thinking and asking his dancers to think, too. Who would have thought that ballet-so historically Western, hierarchical, and white-could be renewed by an African American child of the civil rights movement whose aesthetic vision and inquiring mind are pushing it out of its provincial state into the world" (Jennifer Homans, The New Republic).
Vân-Ánh Vanessa Võ is a master of the ?àn tranh zither and Emmy Award-winning composer known for bringing Vietnamese traditional music to a wider audience through new collaborations and approaches. From Hanoi, Vietnam, Võ grew up in a family of musicians and began studying the 16-string zither at age four. She graduated with distinction from the Vietnam Academy of Music, where she later taught, and founded and directed the ??ng N?i Ensemble, a traditional music group. Võ won a national championship title for her instrument in 1995.

Since moving to the Bay Area in 2001, Võ has collaborated with musicians from diverse genres to create work that marries the sounds of Vietnam with other traditions. Her accomplishments include the 2009 Emmy Award-winning soundtrack for the documentary Bolinao 52, which she co-composed and recorded, and the soundtrack for the 2003 Academy Award nominee Daughter from Danang. Võ has performed in 14 countries with notable performances at Carnegie Hall, Zellerbach Hall, Lincoln Center, Kennedy Center, and the Olympic Games 2012 Music Festival with collaborators Kronos Quartet. In 2016, Võ was the first Vietnamese artist invited to play at The White House under President Obama's Administration. A multi-instrumentalist, Võ also performs as soloist on the monochord (?àn b?u), the 36-string hammered dulcimer (?àn tam th?p l?c), the bamboo xylophone (?àn t'rung), the open-ended bamboo tubes (?àn K'lông pút), traditional drums (tr?ng), and Chinese zither (guzheng).
Related Articles View More San Francisco

Stories

Shows
More Hot Stories For You