Artist to Perform for 37-Hours in San Francisco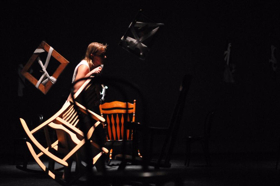 A woman moves slowly across a dimly lit stage. There is a pool of dried blood on her collarbone. This image opens Citation, a boundary- pushing performance by RAEGAN TRUAX programmed at CounterPulse on September 22, 2017. With a daunting duration of 37 hours, Citation is an exhaustive work that traces queer and feminist performance lineages. It will be the first durational performance of this magnitude to occur on the CounterPulse stage. "CounterPulse has always been a body- based experimental space interested in the archive tradition of art-making," says CounterPulse Artistic Director Julie Phelps. "Raegan literally embodies this tradition without erasing the struggle involved in bringing queer and feminist histories to the surface."
TRUAX, whose work has been featured by the Marina Abramovic Institute, has been making durational performances for nearly a decade. Her most recent performance, Sloughing, lasted 28-days and was featured by American Theater's coverage of "Not my President's Day," naming TRUAX a groundbreaking feminist performance artist among Holly Hughes, Karen Finley, and Penny Arcade. With Citation, TRUAX foregrounds the artistic body as embedded within and creating from its archive and experience. An act of remembering and excavation, the performance recalls the work by feminist and queer artists from the 1960s to our present moment. Without re-performing them, TRUAX explores these citations as recognizable, exhaustive, and ephemeral structures of meaning.
"The performance requires slowing down," says TRUAX, "expanding the senses, and getting, quite literally, beyond the quick pace of our society. Performance may not appear to be "activist" work in a traditional sense, but Citation is political not only in the history it conjures but in the use of the durational medium at the core of my artistic practice. On a very basic level, there is a seemingly simple invitation to the audience, which proves itself difficult; I am asking that you give time, not only to me but to the lineage of feminist and queer artists Citation evokes." Once the performance begins, TRUAX will not leave the stage, sleep, or take breaks. She will be silent, and without a clock.
About the artist:
RAEGAN TRUAX's durational performances have been included within The Marina Abramovic Institute's Immaterial archive and presented at Zentrum fur Kunst und Urbanistik (ZKU) in Berlin, SOMarts in San Francisco, grüntaler9 in Berlin, Berlin Art Week, and Performance Studies International. She has additionally performed at Centro Negra with AADK in Blanca Spain, Dance Theatre Workshop in New York City, the Performance Arts Institute in San Francisco, and The New Museum in New York City. Her most recent work, Sloughing, occurred across 19 different locations in the Bay Area over 28-days. TRUAX was recently awarded a prestigious residency with La Cité Internationale des Arts, Paris to create a new performance using archival materials from Centre Pompidou and Musée des Beaux Arts (upcoming 2018).
She received her PhD from The Department of Theater and Performance Studies at Stanford University. She holds an MA in Humanities and Social Thought with a concentration in Gender Politics and an MA in Performance Studies from New York University. She is currently faculty at California College of the Arts, teaching Performance Theory and Practice. Learn more at www.raegantruax.com
About CounterPulse:
CounterPulse is building a movement of risk-taking art that shatters assumptions and builds community. We provide space and resources for emerging artists and cultural innovators, serving as an incubator for the creation of socially relevant, community-based art and culture. CounterPulse acts as a catalyst for art and action; creating a forum for the open exchange of art and ideas, catalyzing transformation in our communities and our society. We work towards a world that celebrates diversity of race, class, cultural heritage, artistic expression, ability, gender identity & sexual orientation. We strive to create an environment that is physically and economically accessible to everyone. Learn more at counterpulse.org
Photo Credit: Stefanie M. Okuda
Related Articles View More San Francisco

Stories

Shows
More Hot Stories For You