Photo Flash: First Look at Intrepid Shakespeare Company's THE 25TH ANNUAL PUTNAM COUNTY SPELLING BEE
Intrepid Shakespeare Company closes its season with this winning production of the TONY Award and the Drama Desk Award winning musical for Best Book, The 25th Annual Putnam County Spelling Bee, which has charmed audiences across the country with its effortless wit and humor. Featuring a fast-paced wildly funny and touching book by Rachel Sheinkin and a truly fresh and vibrant score by William Finn, this bee is one unforgettable experience.
An eclectic group of six mid-pubescents (played by adult actors) vie for the spelling championship of a lifetime. While candidly disclosing hilarious and touching stories from their home life, the tweens spell their way through a series of [potentially made-up] words hoping to never hear the soul-crushing, pout-inducing, life un-affirming "ding" of the bell that signals a spelling mistake. Six spellers enter; one speller leaves! A riotous ride complete with audience participation, The 25th Annual Putnam County Spelling Bee is a delightful den of comedic genius.
The show is directed by Kathy Brombacher, choreographed by Jill Gorie, and musically directed by Dr. Terry O'Donnell. The cast features Geno Carr*, Nancy Snow Carr*, Sarah Errington, Kevin Hafso-Koppman, Rae K. Henderson (Kelly Peak u/s), Benjamin Roy, Amy Perkins, Omri Schein*, and Shaun Tuazon.
*Members of Actors Equity
The 25th Annual Putnam County Spelling Bee is now playing through March 15, 2015 at the San Marcos High School Theater.
Tickets and information can be found at: www.intrepidshakespeare.com.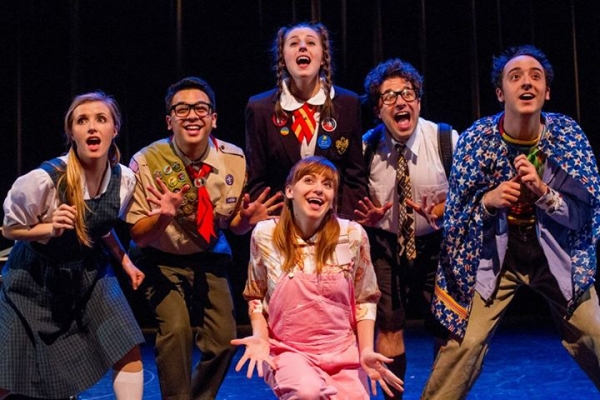 Kelly Peak (u/s for Rae Henderson), Shaun Tuazon, Amy Perkins, Sarah Errington, Omri Schein*, Kevin Hafso-Koppman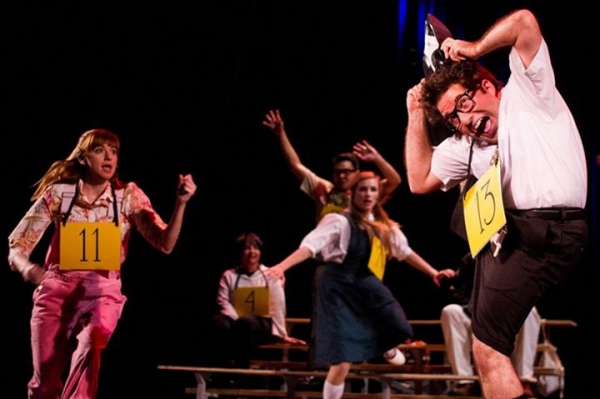 Omri Schein* as Barfee shows off his "Magic Foot" in Intrepid Shakespeare Company's The 25th Annual Putnam County Spelling Bee

Banjamin Roy as Mitch Mahoney, Omri Schein* as William Barfee, Nancy Snow Carr* as Rona Lisa Peretti, & Geno Carr* as Doug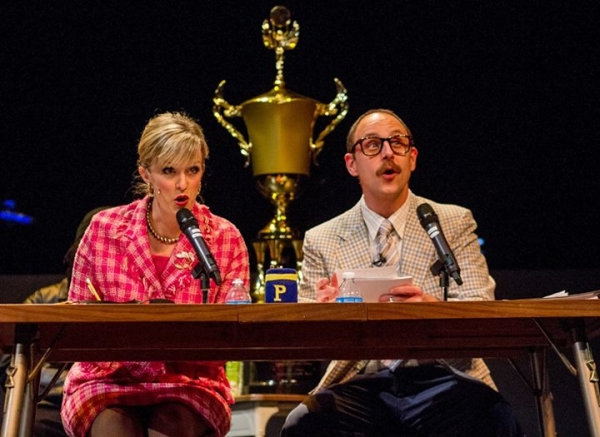 Nancy Snow Carr* & Geno Carr*, as Rona Lisa Peretti and Douglas Panch in Intrepid Shakespeare Company's The 25th Annual Putnam County Spelling Bee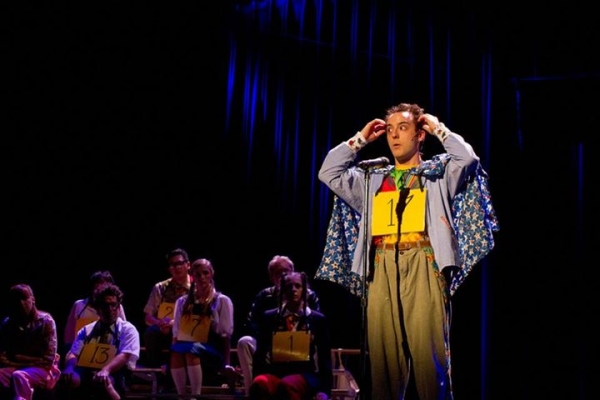 Kevin Hafso-Koppman as Leaf Coneybear in Intrepid Shakespeare Company's The 25th Annual Putnam County Spelling Bee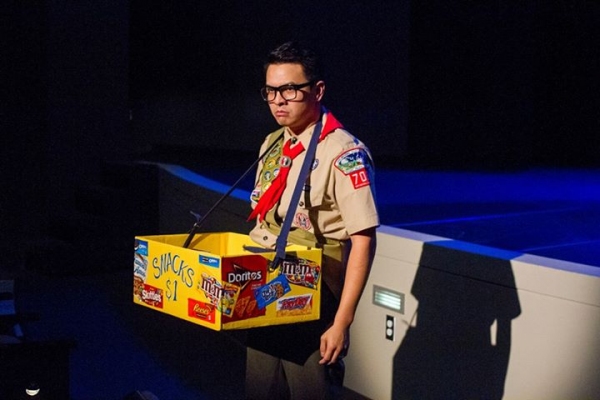 Shaun Tuazon as Chip Tolentino in Intrepid Shakespeare Company's The 25th Annual Putnam County Spelling Bee