Pakistan's Sachal Ensemble Brings Unique World Music to Folsom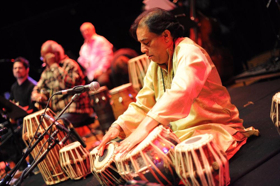 How did an esteemed group of Pakistani musicians - living under the influence of the Taliban - come to America to play the music of Dave Brubeck, Duke Ellington and The Beatles? Invited in 2014 to collaborate with Wynton Marsalis, their intense but ultimately jubilant experience was captured in Song of Lahore, an award-winning documentary. The Ensemble is now touring America, and coming to the Harris Center in Folsom on November 18. "God willing, this will help the entire world see that Pakistanis are artists, not terrorists" (Sachal Ensemble's Nijaat Ali).
"Of all the offerings in the Harris Center season this year, this is the one that I am perhaps most excited about," notes Harris Center Executive Director Dave Pier. "It's an amazing story of how music can transcend language and politics, bridge across borders and bring people together."
The Sachal Ensemble will perform Saturday, November 18, 2017 at 7:30 pm. Tickets for the concert are $24-$49; Premium $54. Students with ID are $12. Tickets are available online at www.harriscenter.net or from the Harris Center Ticket Office at 916-608-6888 from 12 noon to 6 pm, Monday through Saturday, and two hours before show time. Parking is included in the price of the ticket. The Harris Center is located on the west side of Folsom Lake College campus in Folsom, CA, facing East Bidwell Street.
A jazz song from the late-50s, an Oxford-educated financial advisor and a group of once-celebrated but unemployed musicians - some of whom no longer even owned an instrument - are not the standard ingredients from which global hits are made.
But then the story of The Sachal Ensemble of Lahore, Pakistan, is not a standard one.
The 10-piece group, touring the United States for the first time this October / November, combines conventional Western instruments (such as piano, bass, drums) with traditional Pakistani ones, such as tabla, dholak (a two-headed hand drum) and sarangi, a bowed string instrument. Its repertoire on this tour will mix traditional Sufi music, ragas and beloved Pakistani film songs (such as " Ranjha Ranjha," from the movie Raavan) with uniquely South Asian spins on Western classics, including The Beatles' "Eleanor Rigby," R.E.M.'s "Everybody Hurts," Michel Legrand's "The Windmills of Your Mind," and, of course, their highly distinctive take on Dave Brubeck's hit "Take Five," a video of which became a YouTube hit with over 1 million views.
The international sensation created by the Brubeck "Take Five" video led to, among other things, an invitation in 2013 for The Sachal Ensemble to collaborate with trumpeter and composer Wynton Marsalis and the Jazz at Lincoln Center Orchestra. The musicians' extraordinary journey from Lahore to Lincoln Center was captured in Song of Lahore, a documentary film by Andy Schocken and two-time Academy Award-winning director Sharmeen Obaid-Chinoy ("Giving voice to those who cannot be heard, Obaid-Chinoy has made over a dozen award-winning films ... She celebrates the strength and resilience of those fighting against seemingly insurmountable odds - and winning." Time Magazine, naming her one of the world's 100 Most Influential People). The Harris Center will screen the documentary for free Sunday, October 29, 2017 at 7 pm. Advance tickets are advised.
An album, Song of Lahore - a fully integrated East-meets-West companion album inspired by the sounds and story of the film - was released last year. It was produced by Grammy Award-winner Eli Wolf (Norah Jones, Robert Glasper).
For all the big names across the international spectrum to have intersected with the band, the story of The Sachal Ensemble is uniquely Pakistani.
The Sachal Ensemble was created by Izzat Majeed, a Pakistani investor turned philanthropist and music producer. Born in Lahore in 1950, it was Majeed's singular dream to revive the soundtrack of his childhood. His hometown, the second largest city in Pakistan, was once a cultural and artistic center on the Indian subcontinent. In the 1960s and '70s, Lahore was at a peak as the home of "Lollywood," the Pakistani equivalent of India's Bollywood. Films featured between 10 to 15 songs and the industry employed a substantial number of musicians, composers and arrangers. Music was essential to the life of the city.
Izzat's father, Abdul Majeed, was the chairman of the film producers association of Pakistan and a music lover who would take his son to hear all the touring American jazz musicians passing through Lahore. That's how an 8-year-old Majeed got to hear pianist Dave Brubeck at a hall near his family home. Brubeck was still a year away from recording "Take Five," which would become the biggest selling jazz single ever. For the young Izzat, the concert had a profound impact. "That's where I got hooked on jazz," says Majeed.
But following a military coup in July 1977, General Muhammad Zia-ul-Haq became president and his dictatorship set out to "cleanse" Pakistan's cultural landscape. Most non-religious music was declared sinful and the film industry, weighed down by religious bans, collapsed. In Lahore, even virtuoso musicians had to become taxi drivers or shopkeepers just to keep food on the table.
"These great musicians - from both folk and classical schools - were left hungry and jobless," said Majeed in a recent interview. "We were losing our instruments, losing our musicians, losing our culture - something had to be done about it."
Long a patron of the arts and a lover of poetry (he is a published poet himself), Majeed founded Sachal Studios, named after the Sufi poet Saeein Sachal Sarmast, in 2003, on Waris Road, once the center of Lahore's film studios. He then sought out the city's great musicians, many of whom had put away their instruments. In fact, Majeed had to buy instruments for several players.
Initially, Majeed and The Sachal Ensemble focused on the region's classical and folk music. But then he started to dream about the possibility of jazz being played on local instruments, and once he introduced the sounds and concepts of jazz, the musicians "took to it very naturally." As they searched for a broader audience and looked outside Pakistan, they began to explore cross-cultural versions of Western jazz standards, pop and film classics.
Improbably, The Sachal Ensemble had a breakthrough when a video of their interpretation of Brubeck's Paul Desmond classic "Take Five" went viral. Brubeck, who died in December, 2012, actually got a chance to listen to it, calling it "the most interesting recording of it I have ever heard."
It's only fitting that the song that opened a world of music for Majeed has now opened the world to The Sachal Ensemble, and that this group will be performing in Folsom, just a few miles from where Dave Brubeck grew up.
SACHAL ENSEMBLE MUSICAL LINEUP:
Baqar Abbas - bansuri (flute)
Nadeem Abbas - bass
Rafiq Ahmad - daff (frame drum)
Asad Ali - guitar
Danish Ali - piano
Najaf Ali - dholak (hand drum)
Zohaib Hassan - sarangi (bowed string instrument)
Ijaz Hussain - tabla (hand drum)
Ali Shaiba - drums
Nijat Ali - conductor