JAZZ NIGHT! to Kick Off Hoff-Barthelson Music School's Faculty Concert Series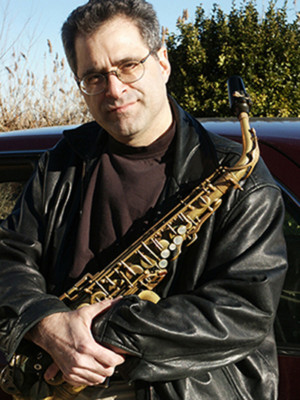 Members of Hoff-Barthelson Music School's Jazz Department take the stage to kick off the 2017-2018 Faculty Concert Series on Friday, October 27, 2017, at 7:30 pm with Jazz Night! An evening of improvisations and jazz standards.
Listeners will be treated to performances by Ed Palermo, saxophone; James Weidman, piano; Rolf Sturm, jazz guitar; William Komaiko, piano; and Glenn Rhian, percussion.
Included on the program are Au Private (Charlie Parker), Autumn Leaves (Prévert/Kosma), Uptown Vibes (James Weidman); Stella by Starlight (Victor Young), Body and Soul (Johnny Green) Sonnymoon for Two, and Oleo (Sonny Rollins).
Admission to the concert is $20, $15 for seniors (65+) and free of charge for students. Tickets can be ordered by calling 914-723-1169, or e-mailing hb@hbms.org and are available for purchase at the door. Program and performers subject to change. For additional information, visit www.hbms.org.
ABOUT THE ARTISTS:
Ed Palermo is a New York-based arranger and alto saxophonist. For over 30 years Ed and his band (The Ed Palermo Big Band) have been playing and honing the music of Frank Zappa, as well as the works of other composers, in monthly performances at the Iridium nightclub in New York City and at bimonthly concerts at The Falcon in Marlboro, NY.
Ed was recently listed as one of the top 40 "intriguing musicians to watch out for" by the online magazine, The Daily Beast; a recent album, One Child Left Behind, was listed as one of the best albums of 2016 in Downbeat Magazine. His current release, The Great Un-American Songbook, garnered rave reviews as well. He has arranged music for many notables including one of James Brown's final concerts at the Hollywood Bowl in Los Angeles.
Pianist JAMES WEIDMAN is indisputably an essential addition to whatever bandstand he graces. A partial list of Weidman's affiliations is staggering in depth and breadth: Max Roach, Woody Herman, Archie Shepp, James Moody, Greg Osby, Bobby Hutcherson, Slide Hampton, Jay Hoggard, Marvin "Smitty" Smith, Gloria Lynne, Dakota Staton, mbase Collective, and Cassandra Wilson.
Adroit in myriad styles, Weidman's resourcefulness has served him well. "The more genres you're comfortable with, the deeper your understanding of music," is how Weidman characterizes his broad range of associations. Such versatility has helped Weidman develop his brilliant technique.
Weidman has been a welcomed presence on the world's major venues and festivals including the Montreux, Monterey, Newport, North Sea and JVC Jazz Festivals, Carnegie Hall, Birdland, Blue Note, Sweet Basil, Village Vanguard, Iridium and Jazz Standard.
ROLF STURM has been a full time NYC guitarist since 1984. He appears on over 60 CDs including recordings that feature David Johansen (NY Dolls/Buster Poindexter), Jorma Kaukonen (Jefferson Airplane, Hot Tuna), Ike Willis (Frank Zappa), Roswell Rudd, Anthony Braxton, Tony Trischka, and members of the Grateful Dead. He has toured the United States, Germany, France, Belgium, Sweden, Austria, Hungary, Canada, and the UK, performing at dozens of jazz, jam band/rock, folk, and blues festivals. He has performed at Lincoln Center, the Kennedy Center, and on soundtracks for both film and television. His music has been featured on National Public Radio's All Songs Considered.
WILLIAM KOMAIKO, pianist/composer has a dual background in classical and jazz performance. In this regard his style is cited for "Beautiful shifting colors - like a Calder mobile" (The Village Voice), and compared to "Glenn Gould, Ahmad Jamal, and Thelonius Monk" (John S. Wilson, The New York Times). His music has been presented by conductors and organizations including Pierre Boulez, Christian Badea, Paul Dunkel, the Ravinia Festival, Serious Fun at Lincoln Center, CBS Sony, and American Ballet Theater at the Metropolitan Opera House. He is the recipient of a National Commission, appearing as composer/piano soloist/conductor in contemporary/jazz/classical music combined, with the National Symphony Orchestra celebrating the 25th anniversary of The Kennedy Center. Komaiko holds B.M. and M.S. degrees with doctoral studies from The Juilliard School where he was awarded The Gershwin Memorial Prize among nine scholarship awards. He is the recipient of an outstanding artist-teacher award from The White House.
Glenn Rhian received his Master's Degree at The Julliard School. A faculty member at Hoff-Barthelson since 1999, he is known as a career Broadway musician who has played for Gypsy, Guys and Dolls, A Funny Thing Happened On the Way To The Forum, and The 25th Annual Putnam County Spelling Bee, to name a few. His film recordings include The Hunchback of Notre Dame and In and Out. His jazz credits include performances with Aretha Franklin, Al Martino and Clay Aiken. He is the percussionist for the Greenwich Symphony Orchestra.
ABOUT THE FACULTY CONCERT SERIES:
Hoff-Barthelson faculty comprises some of the nation's most distinguished performers and educators. Many hold chairs in prominent New York orchestras, are members of world-class chamber ensembles, perform in major Broadway productions and are in international demand as solo artists. Others teach at leading conservatories including The Juilliard School, Manhattan School of Music, and Mannes College of Music. Hoff-Barthelson prides itself on providing access to these outstanding artist-educators in the heart of Westchester. Our superb faculty has contributed to the Music School's national recognition for unsurpassed leadership in music education, performance and community service. Hoff-Barthelson is proud to present these distinguished performers on its annual Faculty Concert Series. Held in Scarsdale, these concerts guarantee riveting music making of the highest caliber, in an intimate setting, at prices far below those in New York's major concert halls. Additional concerts will be held on February 9, March 9, and April 20, 2018.
ABOUT HOFF-BARTHELSON MUSIC SCHOOL:
Hoff-Barthelson Music School has achieved national recognition as a premier community music school for its unsurpassed leadership in education, performance and community service. With a faculty drawn from the region's most talented teachers and performers, the School has long been one of Westchester County's most cherished cultural resources. Open to people of all ages and abilities, Hoff-Barthelson serves as a center where anyone can pursue their interest in music and reach their highest potential. Students encounter a vibrant, nurturing community of music-makers, often forming relations that last a lifetime. The School will celebrate its 75th anniversary in 2019-2020.
Pictured: Ed Palermo, saxophone

Related Articles View More Rockland / Westchester

Stories

Shows
More Hot Stories For You