Head Trick Presents MUCH ADO ABOUT NOTHING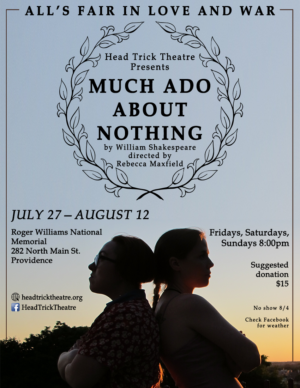 "Sigh no more, ladies"...Sparring lovers Beatrice and Benedick are tricked into falling for each other in Shakespeare's classic battle of wits, set against the backdrop of a darker story of romantic betrayal and prejudice. The return of the soldiers from war heralds two things: the resumption of a less life-and-death "merry war" between the witty Benedick and her equally witty ex Beatrice, and a fairytale engagement between Claudio and Hero. What better way to pass the time before the wedding than by setting their old friends up? Sometimes even very clever people will believe anything they hear...
"I can't tell you how excited we are at Head Trick to be returning to classic Shakespeare," says artistic director Rebecca Maxfield. "Over the past few years we've really enjoyed introducing our audiences to some more obscure works that speak to contemporary ears, but it's always fun to find our own take on a play that everyone has an opinion on, and now seemed like the right time to do a play that's about believing women and to cast it with two female leads." Head Trick's Much Ado About Nothing takes a feminist approach to the original screwball comedy in a production that both delights and challenges the audience: your ticket is your invitation to the party! Join us on summer nights at the Roger Williams National Memorial.
Much Ado About Nothing opens Head Trick's 2018-19 season, "Making a World", which asks audiences to join Head Trick's performers in creating new worlds through innovative approaches to three classics. "This season grew out of the idea of escapism and fantasy," Maxfield says. "We wanted to ask: Is there a world we're running to, when we say a play is escapist? And does that world look the same if you're a woman, or gay, or a person of color? It's really about the purpose of the stories we tell each other and ourselves."
Head Trick Theatre is a performing group based in Providence, RI that puts on innovative productions of classic plays with a focus on the importance of liveness. Recent work includes God of Vengeance, Sholem Asch's controversial drama about a good Jewish daughter who falls in love with a prostitute employed by her father, and Gabriel, George Sand's feminist parable performed by a cast of female and non-binary actors. Outdoor summer productions include The Knight of the Burning Pestle (2017) and The Revenger's Tragedy (2016).
For more information, visit http://www.headtricktheatre.org or email headtricktheatre@gmail.com.
Related Articles View More Rhode Island

Stories

Shows
More Hot Stories For You