SHOW
DATES
THEATRE

Seussical


Celebrate Dr. Seuss's birthday and promote excitement in reading and literature with Seussical! This whimsical musical is based on the books of Dr. Seuss and
6/2 - 6/4/2022

Barrington Christian Academy
Barrington

The Voice of Gertrude Stein


On Thursday May 26th and Saturday June 4th at 7 PM in Wakefield, RI, The Contemporary Theater Company will present The Voice of Gertrude Stein,
5/26 - 6/4/2022

Contemporary Theater Company
327 Main St, South Kingstown, RI 02879
Wakefield

The Last Five Years


Wheeler Hall
6/7

Wheeler Hall
Providence

PVDFest


Mayor Jorge O. Elorza, the City of Providences Department of Art, Culture+ Tourism and founding partner FirstWorks will once again host PVDFest, Providences free outdoor
6/10 - 6/12/2022

Downtown Providence
275 Westminster St, Suite 501
Providence

Seussical


Celebrate Dr. Seuss's birthday and promote excitement in reading and literature with Seussical! This whimsical musical is based on the books of Dr. Seuss and
6/3 - 6/12/2022

Rise - Rhode Island Stage Ensemble
Woonsocket

Rent


RENT: DOWNTOWN LA takes place in a warehouse in industrial downtown Los Angeles, where an artistic renaissance is underway in the vein of 1990s Alphabet
6/9 - 6/19/2022

Academy Players Community Theatre
Providence

Disney's Aladdin Kids


Welcome to the marketplace of Agrabah, where we?re about to begin the fantastic tale of the street rat who became a prince! This stage adaptation
6/22

Enrichri
Cranston

Disney's Moana Jr.


Available January 2020
6/22

Cranston Public Library
Cranston

Roald Dahl's Willy Wonka Kids


Roald Dahl's timeless story of the world famous candy man and his quest to find an heir comes to life in this stage adaptation of
6/22

Stadium Theatre
Woonsocket

Disney's Beauty And The Beast Jr


The Brainy and Beautiful Belle yearns to escape her provincial life...and her brute of a suitor, Gaston. However, Belle gets more adventurous than she wanted
6/25 - 6/26/2022

North Kingstown Arts Council
North Kingstown

Disney's Moana Jr.


Available January 2020
7/8

Zabinski Music Studio
Pawtucket

Roald Dahl's Matilda The Musical


A joyous girl power romp! This is the story of an extraordinary girl who, armed with a vivid imagination and a sharp mind, dares to
7/8 - 7/9/2022

Johnston Dance And Performing Arts
Johnston

Freaky Friday


When an overworked mother and her teenage daughter magically swap bodies, they have just one day to put things right again before mom's big wedding.
7/15 - 7/17/2022

Stadium Theatre
Woonsocket

Annie Jr


It's upbeat plot and flamboyant characters have made Annie one of the most beloved musicals in history--what girl hasn't dreamed of performing the title role
7/23

Newport Childrens Theatre
Bristol

Roald Dahl's Matilda The Musical Jr


El Dorado Middle School
7/22 - 7/23/2022

Rhode Island Youth Theatre
Cranston

Shrek The Musical


SHREK THE MUSICAL, based on the Oscar®-winning DreamWorks film that started it all, brings the hilarious story of everyone's favorite ogre to life on stage.
7/7 - 7/24/2022

Renaissance City Theatre
Westerly

Disney's Frozen Jr


For the first time in forever the theatrical take on a modern classic, Disney's FROZEN JR is set to be performed right here in the
7/29

Camp Tbts / Theatre By The Sea
Wakefield

Mamma Mia!


MAMMA MIA! is the ultimate feel–good show that has audiences coming back again and again to relive the thrill. Now it's your turn to have
7/28 - 7/31/2022

The Harrop Theater
Warwick

Disney's Camp Rock The Musical One Act Edition


Based on the hit Disney Channel movies, two bands battle it out in a rockin' summer they will never forget.
8/5 - 8/7/2022

Academy Players Community Theatre
Providence

Disney's The Lion King Kids


Introduce theatre to your classroom today! Explore, Create and Share the arts with this easy-to-use, multi-media program.
7/22 - 8/12/2022

Weekapaug Chapel Society
Westerly

Hair


Visual content only
8/13

West Bay Community Theater
North Kingstown

Hair


Visual content only
8/13

West Bay Community Theater
North Kingstown

The Music Man Jr


From the Broadway stage to schools nationwide, this American classic is still sweeping the country! You'll have no "trouble" convincing kids to perform in this
8/19 - 8/20/2022

Rhode Island Youth Theatre
Cranston

Newsies


Read all about it! Paper Mill Playhouse is proud to present the premiere of a brand new musical, NEWSIES, adapted for the stage from the
8/19 - 8/21/2022

Step In Time Dance Academy
Coventry

Kinky Boots


Theatre By The Sea
8/17 - 9/11/2022

Matunuck Live Theater - Theatre By The Sea
Matunuck



Back to the Main Page | Browse Local Theatres
---
Latest Rhode Island Reviews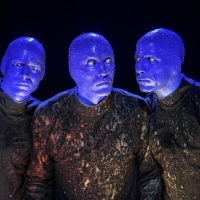 BWW Review: BLUE MAN GROUP- at Providence Performing Arts Center
by Jay Pateakos - May 23, 2022
Packing in a load of humor, music, spontaneity and spectacular staging, Blue Man Group has been a phenomenon for nearly 35 years for a reason and it won't take long to realize why....
BWW Review: A MIDSUMMER NIGHT'S DREAM at The Gamm Theatre
by John McDaid - May 17, 2022
Shakespeare warns early in the first act of Midsummer Night's Dream that 'the course of true love never did run smooth.' In that warning lies the comedic core of the show, and the Gamm Theatre delivers a visually stunning, delightfully playful production that fully captures the Bard's vision. It's a...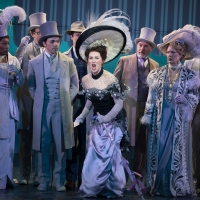 BWW Review: MY FAIR LADY at Providence Performing Arts Center
by Barb Burke - May 13, 2022
This production has a mega-talented color-blind cast that turns every song into a showstopper....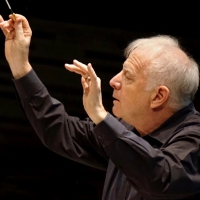 BWW Review: BWW REVIEW: A stirring BEETHOVEN'S NINTH with RI PHIL, PROVIDENCE SINGERS at VETS Auditorium
by Jill Kimball - May 07, 2022
Listen: These are tough times. COVID-19 cases are on the rise again. Americans are bitterly divided over whether the Supreme Court should overturn its 1973 decision on Roe v. Wade, as it seems poised to do. The war in Ukraine rages on. And we still haven't found a way to halt catastrophic climate ch...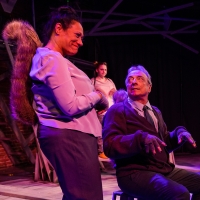 BWW Review: THE SQUIRRELS at Burbage Theatre Company
by John McDaid - April 24, 2022
A show where all the characters are squirrels? Yes. Playwright Robert Askins puts a warning in the mouth of the scientist who opens the show: 'Buckle up, you discerning patron of the arts.' And you should. Because this cleverly written, brilliantly acted, and flawlessly executed production takes aud...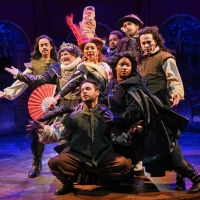 BWW Review: SUEÑO at Trinity Rep
by John McDaid - April 14, 2022
The source material of Sueño may be 400 years old, but a brilliantly updated script, combined with the stunningly beautiful production currently onstage at Trinity Rep make this a fresh, relevant -- and darkly funny -- must-see experience....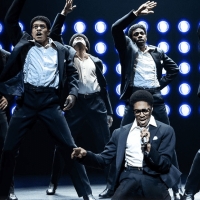 BWW Review: AIN'T TOO PROUD at Providence Performing Arts Center
by John McDaid - April 13, 2022
The music needs no introduction: all the hits that made The Temptations a household name are represented in this energetic and enjoyable national tour of 'Ain't Too Proud.' But what this jukebox musical adds is the story behind the songs, told with deft, impressionistic touches that will resonate lo...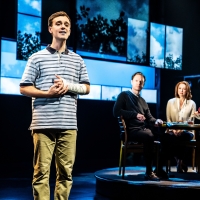 BWW Review: Heartfelt DEAR EVAN HANSEN at Providence Performing Arts Center
by Andria Tieman - April 06, 2022
We've probably all been in a situation where a white lie or a misunderstanding ballooned into something bigger and unexpected.  DEAR EVAN HANSEN takes this idea and turns it up to eleven when teenage Evan Hansen becomes linked to a classmate who commits suicide.  It's an interesting examination of h...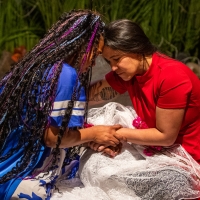 BWW Review: ANTIGONX at Wilbury Theatre Group
by John McDaid - April 03, 2022
Playwright Shey Rivera Ríos has vividly refreshed this work as a story for our time and AntigonX, at the Wilbury Theatre, is vibrant and visually stunning....
BWW Review: FINISHED WAITING by Bread And Puppet Theater tours Eastern US
by John McDaid - March 24, 2022
It begins with a painted door labeled 'Here,' and a giant groaning ear spitting out the names of current conflict hotspots. For the next hour and a half, the iconic Bread and Puppet Theater combines spoken word, movement, music, banners -- and, of course, puppets -- in an evening of powerful, engagi...