BWW Review: PRIDE AND PREJUDICE at Pittsburgh Public Is a Game Worth Playing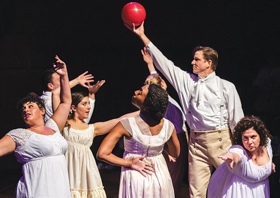 There are plenty of ways of describing Jane Austen's Pride and Prejudice. Sophisticated, approachable, elegant, witty. But very few would describe it as wacky... unless those lucky few had seen Kate Hamill's production, as directed by Desdemona Chiang at the Pittsburgh Public Theater. I can't remember the last time I had quite as much fun at a "classical" period piece, even while realizing that this was certain to be one of the most divisive shows in PPT history. Throughout the evening I heard audiences laughing, clapping, even cheering the production's gleeful ingenuity, while at intermission I heard several people complain that "it's a wonderful production of a stupid play" and that they "thought it would be more Masterpiece Theatre."
First let's talk about the story, and then about the play- in this case, they are very different animals. If you've ever had ninth grade English or watched an Emma Thompson movie that didn't have wizards, you're probably familiar with the plot of Pride and Prejudice. Thoroughly average-looking Lizzy Bennett (Simone Recasner) has neither the looks of her sister Jane (Ashley Bufkin) nor the vivacious good-times spirit of her sister Lydia (Emma Mercier). She does, however, have the quickest wit and tongue, and is not inclined to the losing prospect of marriage- despite the fact that the Bennett family is hemorrhaging money and must marry the daughters off well or risk becoming paupers. Enter a series of suitors of varying levels of appropriateness... and also enter Mr. Darcy (Ryan Garbayo), as little inclined to romance and marriage as Lizzy. The inevitable happens inevitably, but first comes laughter and tears and a series of good and bad parties.
Sound familiar? It's not. American Kate Hamill's Pride and Prejudice is very British, but it's not PBS British. Rather, it's BBC3 British, the kind of joyfully weird, high-camp mix of comedy and pathos that defines the likes of Catherine Tate, Jeremy Dyson and Mark Gatiss. There is cross-dressing, oddball use of props, rapid character changes; moments and minor characters that can genuinely be described as grotesque abound. The Regency setting is played fast and loose- some of the dialogue is Austenesque, much tends more towards Oscar Wilde, and a good bit feels more like something from Frankie Shaw. The motifs of games, warfare and dancing run through the show, to the point that almost every scene or dialogue exchange can be seen through one of those three frames. And yet, despite all this metatheatrical absurdity, the play still takes itself seriously, though never self-seriously. This is not a spoof or a deconstruction of Jane Austen, merely a high-spirited and loving celebration framed in modern theatrical fashion.
Everyone in the cast, except for Recasner and Garbayo, play multiple roles, usually of different genders. Much use of quick-change is employed- some even onstage- though as the play goes on, the boundaries between some of the characters amusingly break down to the point that, rather than a full costume, a mere switch of a hat or facial expression will due to differentiate them. As the two leads, the chemistry between Recasner and Garbayo is palpable, but never in the conventional romantic-comedy way. The two are perfect foils: Recasner gives her Lizzy a perfectly transparent portrayal, saying the first thing that comes to mind in almost all situations, with her emotions playing across her face and posture before they can reach her mouth; Garbayo, on the other hand, quickly allows Darcy's famous aloofness to slip, revealing the awkward, inscrutable fellow underneath. There is much comedy when the two of them initially meet-cute, or meet-not-so-cute given the way the two of them butt heads. (Side note: if Recasner were actually British, rather than American, she'd be a shoe-in for the next Companion on Doctor Who. BBC fans will understand that particular je ne sais quoi.)
The comedy of Lizzy and Darcy is primarily situational. The blunter, wilder, more absurd comedy frequently comes from the diverse characterizations of the rest of the cast. Ashley Bufkin's Jane Bennett is pleasant, sweet and a little bit placid, the perfect girl-next door; this contrasts surprisingly well with her Act 2 turn as Miss Anne, a rich heiress that this production STRONGLY implies to be inbred. Hidden behind a veil and cackling obscenely, you'd hardly believe it was the same actress at all. A similar switcheroo is provided by Andrew William Smith, whose Hugh Grantian portrayal of Mr. Bingley is miles away from his portrayal of Mary Bennett. Mary is one of the first characters we meet, and with her sniveling voice, towering size, chronic coughing and sneezing and peculiar, almost feral mannerisms, "she" quickly sets the stage for the kind of show it's going to be.
Walking a similar line between the normal and the unusual, Chris Richards plays more roles than anyone else. Some, like the seemingly-eligible bachelor Mr. Wickham, are perfectly conventional (more on him later). Others, like Miss Bingley, are somewhat campy, almost less a drag role than a portrayal of a particularly piss-elegant, swishy British gay man. And then there's Mr. Collins, the delightfully unpleasant vicar who courts and believes he can seduce any woman he meets. Hopping with glee and perverse belief in his own charm, you'd have to be blind not to see how much fun Richards is having with this character- and fun, in a show like this, is contagious. Special mention also goes to the cast's one non-Equity performer, Emma Mercier, who provides loopy Lydia and hilariously imperious Lady Catherine with extremely different physicalities and vocal mannerisms (shades of Lauren Lopez in both of them, as fans of the Starkid franchise will recognize).
I'd like to think Jane Austen, who saw the frivolous absurdity in her own era, would adore Chiang's production of Hamill's script. The mix of period-perfect and anachronistic material and sensibilities always gels... except for one point. There is only one moment and one character whose portrayal in the early 1800s no longer sits quite right in the 2010s, and that is Mr. Wickham. When Darcy describes "Wickham's proclivities" for repeatedly seducing (and, we are to understand implicitly, knocking up) fourteen-year-old girls, in the Regency he is describing a disrespectful rogue, a seducer. In 2018, he's clearly telling Lizzy, "he's a pedophile." This modern adaptation seems to be attempting to have it both ways, condemning Wickham from our perspective while viewing him through Austen's, but from the minute Darcy drops the news, the scenes with Wickham aren't as funny as they seem to have been written to be.
But at the play's best moments, the fusion of past and present is seamless, joyous and unexpected. Dancing with mannequins, tossing a rubber ball back and forth as a recurring metaphor for the gameplay implicit in Regency courtship, or dancing at a series of balls that start period-appropriate but gradually grow more and more modern as the show goes on, the element of play is not only a metaphor but a genuine and lively factor in the show itself. Here, I suspect there is something of a debt to Dave Malloy's cult musical Natasha, Pierre and the Great Comet of 1812, with which this production shares its staging in the round, its design aesthetics of costume and set, its colorblind casting, its tendency to allow the actors to wander into the audience and interact in the aisles, and above all its slightly anarchic sense of off-and-on anachronism. The play's final moments build into a final sequence so joyous and unexpected that I won't spoil it here: suffice it to say everyone, even the haters who expected corsets and Colin Firth, left with a smile on their face.