WICKED May Follow Suit After DIRTY DANCING in July
WICKED's 2012 Broadway cast during curtain call (photo by Oliver Oliveros)
Manila, Philippines, March 11, 2013 -- Philippine news portal ABS-CBNNews.com yesterday hinted Lunchbox Theatrical Productions Ltd., live entertainment producers that brought Andrew Lloyd Webber's "The Phantom of the Opera" to Manila last year, and are bringing the screen-to-stage adaptation of "Dirty Dancing" to the Cultural Center of the Philippines in July, has been eyeing Stephen Schwartz's "Wicked: The Untold Story of the Witches of Oz," one of the most popular Broadway musicals of all time, to follow suit after "Dirty Dancing," besides around six other productions.
BroadwayWorld has reached out to Ivy Lisa F. Mendoza, The Manila Bulletin and ABS-CBNNews.com contributor, who interviewed James Cundall, CEO of Lunchbox Theatrical Productions, on Friday, February 1 in Cape Town, South Africa, where "Dirty Dancing" ran from Friday, January 8 to Sunday, March 10. Mendoza told us, "'Wicked' is high on Cundall's priority list."
Mendoza wrote, "He [Cundall] said high on the priority list of what will be served the Manila audience next is 'Wicked' and about six other productions in the next couple of years."
Read full report HERE.
Winner of 35 major awards including a Grammy Award and three Tony Awards, "Wicked" tells the untold story of the Witches of Oz, based on the 1939 film musical, "The Wizard of Oz," and on the 1995 Gregory Maguire novel, "Wicked: The Life and Times of the Wicked Witch of the West," in a grand scale production: Long before Dorothy dropped in the Land of Oz, two other girls forge a heartwarming friendship: Elphaba, born with emerald green skin, is smart, fiery, and misunderstood; Galinda/Glinda, is beautiful, ambitious, and very popular. "Wicked" follows their remarkable odyssey and how these two unlikely friends grow to become the Wicked Witch of the West and the Good Witch.
Playing its 10th year at the Gershwin Theatre on Broadway, "Wicked's" North American and international productions have comulatively grossed over $2.9 billion in ticket sales, and have been seen by nearly 36 million people worldwide.
"Wicked" features music and lyrics by Schwartz -- "Defying Gravity," "Popular," and "For Good" are hit songs from the musical -- and book by Winnie Holzman.
The production, produced by Marc Platt, Universal Pictures, The Araca Group, Jon B. Platt and David Stone, is directed by Joe Mantello with musical staging by Wayne Cilento.
Related Stories
Oliver is a seasoned public relations and digital marketing professional who works with CEOs and young professionals to hone their creativity, stakeholders' engagement strategies, and writing a... (read more about this author)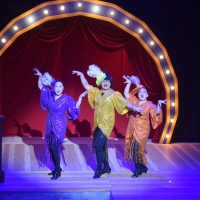 Check Out Performance Photos from PETA's New Musical, WALANG ARAY

November 29, 2022

Before media guests and prospective show investors, Philippine Educational Theater Association has just presented some generous excerpts from the company's newest original musical comedy, 'Walang Aray,' a humorous, entertaining tribute to a classic favorite, Severino Reyes' 19th-century zarzuela 'Walang Sugat.'
---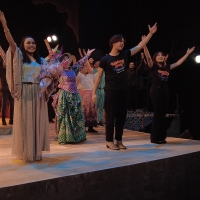 Video: PETA Welcomes KD Estrada and Alexa Ilacad

November 28, 2022

Philippine Educational Theater Association, which produced hit musicals 'Rak of Aegis' and 'Care Divas,' has officially welcomed young stars-singers KD Estrada and Alexa Ilacad to its family. Estrada and Ilacad, both Star Magic contract artists, are set to lead PETA's return to producing original Filipino musicals via 'Walang Aray,' a humorous and entertaining take on Severino Reyes' 1898 zarzuela 'Walang Sugat.'
---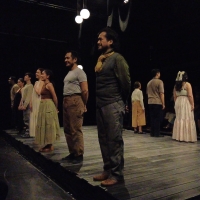 Video: CAROUSEL Cast, Musical Director Take Opening Night Bows

November 27, 2022

Repertory Philippines, one of the country's pioneering theater companies, officially opened its 85th season with a reimagined production of Rodgers and Hammerstein's classic 'Carousel' on November 26.
---
VIDEO: After a Three-Year Wait, Gian Magdangal to Play Billy--Finally

November 23, 2022

Over three years ago (blame the COVID-19 pandemic), actor-singer Gian Magdangal was announced to play the conflicted leading man, Billy Bigelow, in a reimagined take on a classic, 'Carousel.'
---
Carlo Vergara's INDAYUGANG BANAL Streams Online, Now Thru Nov. 27

November 21, 2022

Maiba 18 Productions, Teatro 77, and Benilde Theater Arts present illustrator-playwright Carlo Vergara's newest play with songs, 'Indayugang Banal: Isang Superpowered Komedya.'
---