Latest News on Max Klimavicius
Max Klimavicius News
Photos: Director Alex Timbers Receives Portrait at Sardi's
by Bruce Glikas - Jul 21, 2022
Alex Timbers received his portrait at Sardis last night. Check out photos from the unveiling.
Photos: Alfie Allen Receives Portrait at Sardis
by Bruce Glikas - Jun 16, 2022
Alfie Allen recently received his portrait at Sardi's! Check out the photos here!
Photos: Jennifer Simard Receives Her Portrait at Sardi's
by Bruce Glikas - Jun 13, 2022
Just recently, Jennifer Simard celebrated receiving a coveted portrait at Sardi's. During the unveiling, Simard was surrounded by her friends, including her castmates from Company.
Photos: A STRANGE LOOP Author Michael R. Jackson Celebrates Sardi's Portrait
by Jennifer Broski - Jun 7, 2022
This afternoon, Michael R. Jackson, the Tony-nominated and Pulitzer Prize-winning author of A Stange Loop, celebrated an important milestone as he joined the famous faces among the portrait at theatre institution, Sardi's.
Photos: Tony Award-Winner Aaron Tveit Receives Sardi's Caricature
by Jennifer Broski - Mar 31, 2022
Tony Award-winning actor Aaron Tveit celebrated a milestone this week as iconic Theatre District eatery, Sardi's, honored the star with his very own caricature! Go inside Sardi's as Aaron celebrates the unveiling with his Moulin Rouge! pals Jessica Lee Goldyn, Ricky Rojas, and Tony Award-winner Danny Burstein!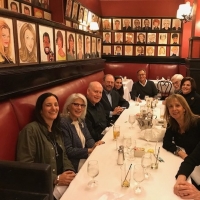 Sardi's Reopens After 648 Days of Closure
by Stephi Wild - Dec 27, 2021
After 648 days of closure, Sardi's has officially reopened! The famed restaurant is among the last of the Broadway institutions to return amidst the COVID-19 pandemic, and at a time when the Omicron variant is surging, causing uncertainty in the industry, and the world as a whole.
Photo Coverage: James Cromwell Receives Portrait at Sardi's
by Jennifer Broski - Feb 28, 2020
James Cromwell is currently starring in Grand Horizons on Broadway. Yesterday, February 27, he was honored with a portrait at Sardi's!
Photo Coverage: AMERICAN UTOPIA's David Byrne Celebrates New Sardi's Portrait
by Nicole Rosky - Jan 30, 2020
David Byrne, currently burning down the house on Broadway in David Byrne's American Utopia, was just honored with one of Sardi's legendary portraits. BroadwayWorld is taking you inside the special event below!
Photo Coverage: Damon Daunno of OKLAHOMA! Receives Sardi's Portrait
by Walter McBride - Jan 16, 2020
Damon Daunno of Oklahoma! is the latest to receive a Sardi's portrait! BroadwayWorld was there for the unveiling of the new addition to the wall at the famous restaurant, and you can check out the photos below!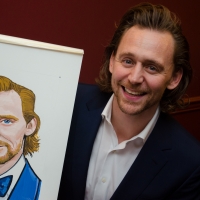 Photo Coverage: Tom Hiddleston Receives Portrait at Sardi's
by Katherine Lee - Dec 6, 2019
Tom Hiddleston was recently honored with a portrait on the legendary wall of caricatures at Sardi's. Hiddleston gathered with the company of Betrayal and other special guests to celebrate the honor, and BroadwayWorld was there!