Photos: First Look at Riverside Theatre's HOW TO SUCCEED IN BUSINESS WITHOUT REALLY TRYING
Riverside Theatre's celebrated 40th Anniversary Season comes to a close with the witty and exuberant How To Succeed in Business Without Really Trying. With a book by Abe Burrows, Jack Weinstock, and Willie Gilbert, and music and lyrics by Frank Loesser, How To Succeed In Business Without Really Trying is based on a best-selling, satirical book of the same name by Shepherd Mead. How To Succeed in Business Without Really Trying performs on the Stark Stage now through April 27, 2014 and is sponsored by Marriott Spring Hill Suites and our Patron Producers. How To Succeed in Business Without Really Trying is a co-production between Riverside Theatre and the Walnut Street Theatre in Philadelphia. BroadwayWorld has a first look at the cast in action below!
Winner of the 1962 Pulitzer Prize for Drama, How To Succeed In Business Without Really Trying is a musical satire of 1960's big business and all it holds sacred.
This blockbuster musical, based on a 1952 book of the same name, follows the adventures and exploits of J. Pierrepont Finch who with the help of a little handbook, climbs the corporate ladder in an inordinately quick fashion. Finch reads the book while employed as a window washer and uses it to secure a job in the mail room of World Wide Wicket Company. Using ingenious tricks in listed the book, Finch refuses a promotion in the mail room while recommending the boss's nephew, which causes Finch to get a much more important job. He also convinces Mr. Biggley, President of company, that he too is an alumnus of Biggley's beloved alma mater. By continuing to heed the book's advice, delivered by the unseen author, Finch continues his meteoric rise.
However, Finch is not all business. He falls in love with a secretary, Rosemary Pilkington, and she stands by his side when his idea for a treasure hunt for the company ends in disaster. But when Finch states that World Wide Wicket is like a family to him, rejecting petty corporate jealousies, espousing unity in the rousing song "Brotherhood of Man," this is his final ticket to the Chairman's office.
From the authors of Guys and Dolls, this delightfully irreverent musical features a score packed with hit standards "I Believe in You," "Happy to Keep His Dinner Warm," "The Company Way," "Been a Long Day," and "Rosemary. "
An incredible success on Broadway when it opened in 1961, How To Succeed in Business Without Really Trying ran for three and half years and 1,417 performances. The original production starred popular actor/musician Rudy Vallee as Mr. Biggley, president of World Wide Wicket Company, and Robert Morse as protagonist, J. Pierrepont Finch. When the show closed in March 6, 1965, it was the fifth most popular musical in Broadway history. In subsequent years, the show has had two popular and acclaimed revivals on Broadway, 1995 starring Matthew Broderick and Megan Mullally and 2011 starring Daniel Radcliff and John Larroquette.
Riverside Theatre's production is directed by Casey Hushion and stars Jeremy Morse as J. Pierrepont Finch, Becky Gulsvig as Rosemary Pilkington, Brian Shepard as Bud Frump, Mark Jacoby as J.B. Biggley, Cary Michele Miller as Smitty, Amy Bodnar as Hedy LaRue, Joliet Harris as Miss Jones, Jeffrey Coon as Bert Bratt, and Ed Romanoff as Mr. Twimble. The ensemble cast includes: Sandy Alvarez, Rachel Beiswenger, Rachel Camp, Drew Franklin, Scott Langdon, Ben Michael, Michael Philip O'Brien, Shannon Rafferty, Tara Tagliaferro, Lilly Tobin, and Michael Warrell.
The design team includes: Michele Lynch (Choreographer), Anne Shuttlesworth (Music Director), Robert Andrew Kovach (Scenic Designer), Lisa Zinni (Costume Designer), Paul Black (Lighting Designer), Craig Beyrooti (Sound Designer) with Kyle Atkins (Stage Manager) and Amy Bertacini (Assistant Stage Manager).
How To Succeed in Business Without Really Trying performs April 8 through 27, 2014 on the Stark Stage at Riverside Theatre. Tickets are $45 - $70. Tickets can be purchased by calling the Box Office at 772-231-6990 or online at www.riversidetheatre.com.
Photo Credit: Holly Porch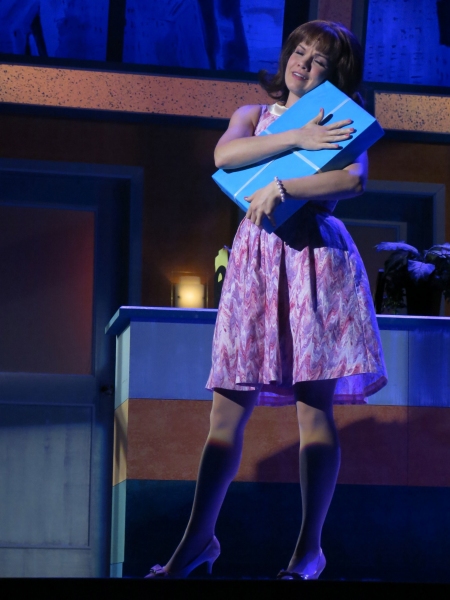 Becky Gulsvig as Rosemary Pilkington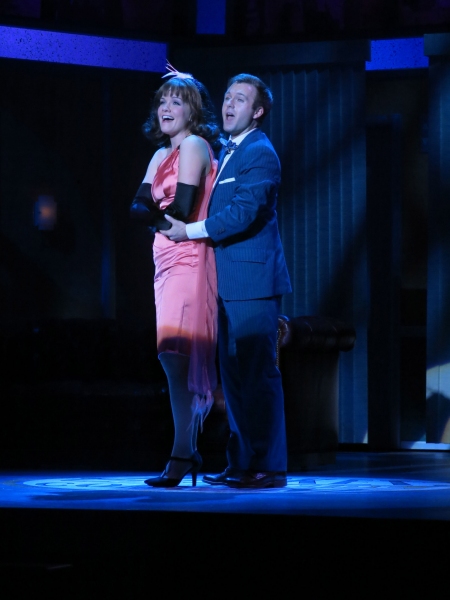 Becky Gulsvig as Rosemary Pilkington and Jeremy Morse as J. Pierrepont Finch

Ed Romanoff as Mr. Twimble, Jeremy Morse as J. Pierrepont Finch and Brian Shepard as Bud Frump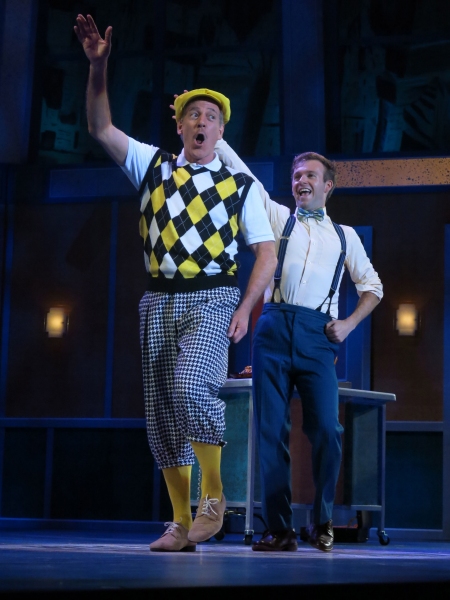 Mark Jacoby as J.B. Biggley and Jeremy Morse as J. Pierrepont Finch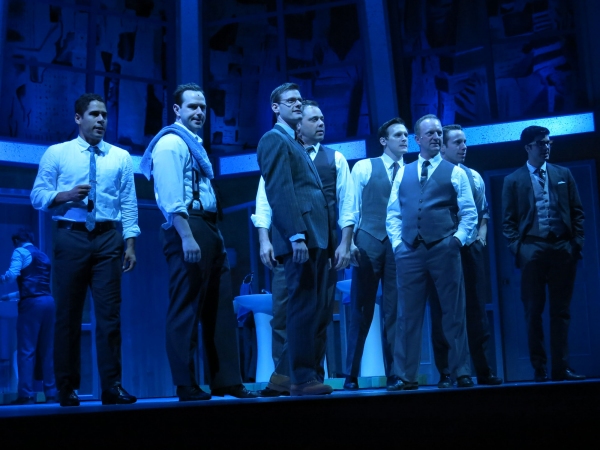 I Believe in You

Amy Bodnar as Hedy LaRue and Mark Jacoby as J.B. Biggley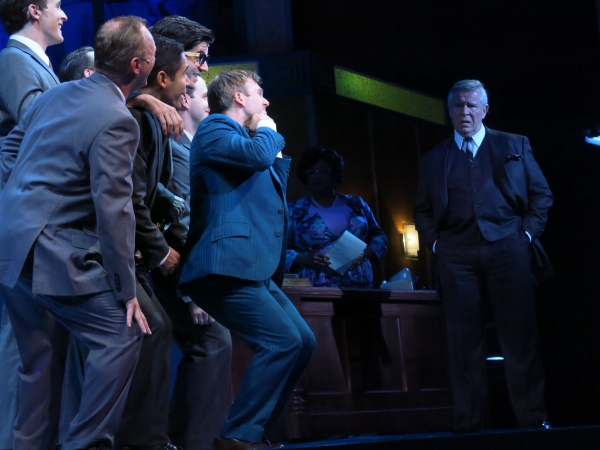 Jeremy Morse as J. Pierrepont Finch, Joliet Harris as Miss Jones and Mr. Womper

Jeremy Morse as J. Pierrepont Finch, Cary Michele Miller as Smitty and Becky Gulsvig as Rosemary Pilkington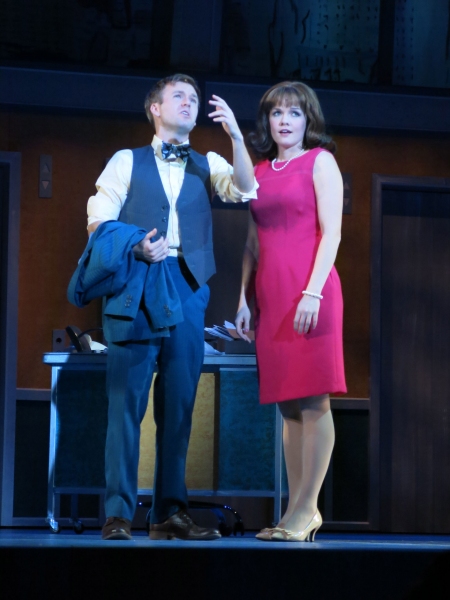 Jeremy Morse as J. Pierrepont Finch and Becky Gulsvig as Rosemary Pilkington

Brian Shepard as Bud Frump

Brotherhood of Man