Orlando Shakes Announces Titles For 31st Season - EVITA, MACBETH, and More!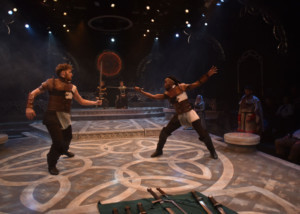 Orlando Shakes in partnership with UCF announces the upcoming productions for their 2019-2020 Season. The theater celebrates classic, contemporary, and children's plays with a season featuring an Andrew Lloyd Webber hit musical, three Shakespearean classics, a new Christmas staple, two new works that shed new light on history, and three children's stories brought to life.
Orlando Shakes' season opens with another stunning musical, Andrew Lloyd Webber's Evita. Set in Argentina between 1934-1952, the seven-time Tony Award winning musical follows Eva Duarte on her journey from poor illegitimate child to ambitious actress to, as wife of military leader-turned-president Juan Peron, the most powerful woman in Latin America. Featuring Don't Cry For Me Argentina , Oh What A Circus , and Another Suitcase in Another Hall , Evita continues Orlando Shakes' tradition of re-imagining bold musicals in an intimate setting.
"Continuing our tradition of producing a show-stopping fall musicals, we bring Evita to the stage," said Jim Helsinger, Orlando Shakes' Artistic Director. "Audiences will be thrilled to see our first Andrew Lloyd Webber production come to life in our intimate setting that puts you at the center of the action."
The Signature Series will continue with a visually striking production of Shakespeare's Macbeth. Just in time for the holidays, Miss Bennet: Christmas at Pemberley brings your favorite Jane Austen characters together in a heartwarming, comical sequel. Next up, America's sex therapist Ruth Westheimer recounts her extraordinary life's journey, from fleeing the Nazis to serving as a sniper in Jerusalem, in Becoming Dr. Ruth. The Fire and Reign series continues with Shakespeare's Henry IV, Part 1, playing in repertory with the swashbuckling classic, The Three Musketeers. Finally, the season ends with My Lord, What a Night, an insightful new script that sheds light on the true story of the unlikely friendship between Albert Einstein and Marian Anderson.
In addition to the seven show series, Orlando Shakes presents special events including their annual fundraising Gala, new play festival PlayFest 2019, and the 12th Annual John R. Hamilton Mock Trial. Additionally, the Theater will introduce a new special event that gives audiences the opportunity to see Shakespeare stripped of modern frills, in the Bare Bard production of Henry IV, Part 2. Actors will tackle this Shakespearean production with less than 40 hours of rehearsal, no designers, and no director just like the acting companies of Shakespeare's time.
In the Fire and Reign series, we see the development of this Game of Thrones style power struggle throughout history, said Helsinger. These rarely performed Shakespeare plays explore the history of a nation in a way that appeals to modern audiences.
The 2019-2020 Children's Series includes three family-friendly productions: this summer go into the woods with a new adaptation of Snow White; in the fall, solve a mystery with the class of Miss Nelson is Missing!; and blast off into space with Interstellar Cinderella in Spring 2020.
These three captivating shows inspired by beloved children's stories combine lessons of empathy and strong sense of self, Anne Hering, Orlando Shakes' Director of Education, said.
Along with their new season, Orlando Shakes unveils a new website to streamline the user experience and introduces a new text messaging feature to keep patrons informed and connected.
Current Orlando Shakes subscribers may renew their subscription now by calling (407) 447-1700 ext. 1 or in person at the Box Office (812 East Rollins Street). New subscriptions will go on sale starting April 25, 2019.
Individual tickets to Snow White will be available for purchase starting May 2, 2019. Group tickets (of 10 or more) are on sale now by calling the Box Office. Tickets to all remaining productions go on sale June 11, 2019. 2019-2020 titles and dates are subject to change; additional information about the season, including creative team and casting, will be announced at a later date.
This project is sponsored in part by the Department of State, Division of Cultural Affairs, the Florida Council on Arts and Culture, and the State of Florida. This project is funded in part by Orange County Government through the Arts & Cultural Affairs Program. Orlando Shakes is supported by United Arts of Central Florida, host of OrlandoAtPlay.com and UAArtsEd.com.
More Hot Stories For You