Click Here for More Articles on NEW YORK CITY
Mira J. Spektor's LADY OF THE CASTLE Coming to Opera America & Scandinavia House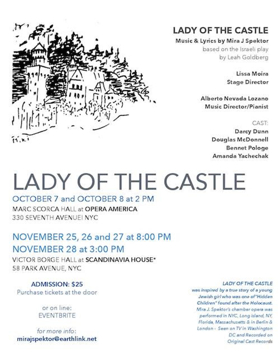 The Aviva Players will present Mira J. Spektor's Lady of The Castle, A Ghostly Post-Holocaust Chamber Opera, based on a true story & an Israeli play by Lea Goldberg.
Directed by Lissa Moira with music direction by Alberto Nevada Lozano, Lady of the Castle will be presented on Saturday, October 7th at 2pm at the Marc A. Scorca Hall at The National Opera Center (330 Seventh Avenue in New York City). Follow this link for tickets.
It will then appear on November 25, 26, & 27 at 8pm and November 28th at 3pm at the Victor Borge Hall at Scandinavia House (58 Park Avenue in New York City). Click here for tickets.
There will also be a performance on Sunday, October 8th at 2pm of "An Indian Summer Cabaret," with songs & duets by Mira J Spektor, piano rags by women composers and Broadway show tune favorites. Starring Karen Jolicoeur, soprano; Lars Woodul, baritone; and Mimi Stern-Wolfe, piano. At the Marc A. Scorca Hall at The National Opera Center (330 Seventh Avenue in New York City). Get tickets here.
Relevant to today's anti-refugee, anti-semitic political climate, Lady of The Castle is set in 1947 after the Holocaust. Is there a young Jewish girl still hidden in the old castle? Based on a true story and Lea Goldberg's Israeli play, Lady of the Castle is a chamber opera about illusion, reality, love, betrayal, death and hope.
Originally commissioned and presented by Theater for the New City in 1982, Lady of The Castle has enjoyed over ten productions internationally. It has been staged in New York off-Broadway and at the JCC, on Long Island and in Massachusetts, in Berlin with support of the Anne Frank Foundation, and in London at Saint Giles Cripplegate Church in the Barbican Center as part of the Festival of Austrian Jewish Culture - produced with the artistic supervision of conductor David Josefowitz. The London concert version is available on Original Cast Recordings. Lady of the Castle was also seen on television in New York and DC.
A three-piece chamber orchestra includes, Piano: Alberto Nevada Lozano; Flute: Michael Laderman; Cello: BrIan Sanders.
Lady of The Castle are presented by The Aviva Players in Association with Opera America and Scandinavia House. Director: Lissa Moira; Music Director: Alberto Nevada Lozano; Choreographer: Amanda Yachechak; Sets and Costume Designer: Lytza Colon.
Tickets are $25 and can be purchased by visiting EventBrite.com. Six performances will be staged October 7th & 8th at 2pm at Marc A. Scorca Hall The National Opera Center, 330 Seventh Avenue; and November 25, 26, & 27th at8pm & November 28th at 3pm at Victor Borge Hall at Scandinavia House, 58 Park Avenue, New York City.
ABOUT THE ARTISTS:
Composer/lyricist/poet Mira J. Spektor has written chamber music, chamber operas & musicals, including The Housewives' Cantata (lyrics by June Siegel), Lady of the Castle (based on Lea Goldberg's Israeli play), The Passion of Lizzie Borden (poems by Ruth Whitman), Villa Diodati (about Mary Shelley, lyrics by Colette Inez, Byron & Shelley) and Giovanni the Fearless (A Commedia del'Arte with book & lyrics by Carolyn Balducci); recital & cabaret songs and music for theater, film and TV; two books of poems, "From Seaside Houses" and "The Road to November". She has recorded for Concert Hall, Westminster and Guilde International du Disque, Original Cast Records, Capstone and AirPlay. Her Chamber Opera, Villa Diodati, is now a Chamber-Opera/Film from Banks Street Films & Albany Records. Her music scores (Georgina Press - BMI) include the feature film Double Edge (Faye Dunaway) and PBS documentaries, Art in Its Soul and Serious Comics. Her CDs include: The Housewives' Cantata, Lady of the Castle, Mira Chante/French Love Songs, and Lullabies & Lovesongs. She is the Founder and has been the Artistic Director of The Aviva Players since 1975. She is also a member of BMI, Dramatist Guild, Opera America, League of Professional Theater Women. She graduated from Sarah Lawrence College and then studied at Mannes College and Juilliard School. Some quotes from The New York Times: "An interesting composer". "Attractive and tonal". "A passionate duet". "A sprightly songfest." Audio samples of Ms. Spektor's music as well as contact information can be found at www.miraspektor.com.
Lissa Moira (director) AEA, SAG, AFTRA is also a playwright, screenwriter, lyricist, poet and artist. She more recently directed Seymour's Barab's In Questionable Taste, The Elephant Pen, Speakeasy: John and Jane's Adventures in the Wonderland, and a 35-person cast in Nicholas Nickleby: A New Musical at Theatre for the New City, an adaptation by the late Robert Sickinger. Out of 5,000 world-wide submissions, Ms. Moira's play TIME IT IS was chosen as a top ten finalist in the prestigious Chesterfield/Paramount screenwriting competition. Ms. Moira's 2007 play Before God Was Invented was an American nominee for the Susan Brownell-Smith International Playwrights Award. Ms. Moira co-wrote "Dead Canaries," a feature film starring Charles Durning, Dan Lauria, Dee Wallace Stone and Joel Higgins. With co-writer Richard West, Lissa's well known for Sexual Psychobabble and The Best S*x of the XX Century Sale. Both ran over a year and each enjoyed critical and popular success. The Moira/West team's DaDa noir musical, Who Murdered Love? featured Broadway's Luba Mason and Tracy McDowell as well as William Broderick. It originated at Theater for the New City and ran at the Players Theatre as part of the 2012 FringeNYC (Ms. Moira directed as well). Other directing/co-writing credits include Sirens Heart: Norma Jeane and Marilyn in Purgatory (which enjoyed a 14-month Off-Broadway run at The Actor's Temple), and Tom Jones a new musical (Bloomberg Radio declared the directing "beautiful, fine and fresh"). Of her directing work on Cocaine Dreams, a play about Freud at The Kraine Theatre, The New York Post raved "inspired."
Alberto Nevada Lozano (music director) music directing/piano credits include: The Gold (NYMF 2016); Godspell, Company, Next to Normal, Avenue Q and Little Shop of Horrors (MJR Theatricals); Little Women, Godspell (A.D. Players); and Orfeo ed Euridice, La tragédie de Carmen and La clemenza di Tito (Opera in the Heights). Jesse also wrote the book, music and lyrics to Hot Diggity!, a musical comedy about the competitive eating world, which was recently workshopped by the Music Box Theater in Houston, Texas.
Darcy Dunn, mezzo, has enjoyed working with Lissa Moira at TNC in several productions including creating the role of Caroline Chrysalides in the musical, Speakeasy (Danny Ashkenasi), Lizbetta in Rappaccini's Daughter (Michael Cohen), and various roles in In Questionable Taste (Seymour Barab). Last spring she appeared with the American Bolero Dance Company, and in Fall 2017 she will be featured with the Mary Armentrout Dance Ensemble at EPac, at RPI. Recent classical premieres include: Sonnets of Pablo Neruda (Robert Manno/Windham Chamber Orchestra); Ballymore (Richard Wargo/Chelsea Opera); and Celebrate Life (Mary Carol Warwick/Downtown Music). She has appeared as Cherubino (Chelsea Opera), Pippo and Hansel (Bronx Opera) and Mrs. Mister (Downtown Music). Last year she recorded Mrs. Edwards in Vernon Duke's Misia for PC Classics, and the title role in Julie Mandel's The Pious Cat. Darcy studies with Ray Evans Harrell and is a member of his MCORE ensemble.
Douglas McDonnell performed with the Metropolitan Opera for 18 years in a wide range of solo, chorus, and acting roles. Recent theatrical credits include: In Questionable Taste, Giovanni (Rappaccini's Daughter), Nicholas Nickleby (Nicholas Nickleby), Beast (Beauty and the Beast), Tom Jones (Tom Jones), Don Juan (The Death of Don Juan), Macheath (The Beggar's Opera - Benjamin Britten), Nate (Blind Date - Seymour Barab), The Perfect Man (The Perfect Man), Howard (The Vine of the Soul), Danilo (Die lustige Witwe), ambrosia (Die Drei Pintos), Sailor (Dido and Aeneas), Strephon (Iolanthe).
Bennett Pologe - TFNA: Appeared as Squire Western in Tom Jones, and as a variety of odd fellows in In Questionable Taste. At Avery Fisher Hall: Barnaby in "Babes in Toyland." Tours and regional: Lt. Cable in South Pacific, Phantom in Phantom of the Opera (Yeston-Kopit), Raul in "Phantom of the Opera" (David Bell), El Dancairo in Carmen (Belleayre Music Festival). New York Musical Theatre Festival: Open the Dark Door. Other recent NYC roles: Chairman in A Little Bit of What You Fancy, Ajax in Ajax, Buckingham and Warwicke in 3 Henry VI"/"Richard III, Polonius in Hamlet, Didi in Waiting For Godot, Barrymore in I Hate Hamlet, Richard in Henry 6 Experiment. Other favorite jobs: the Pirate King in Pirates of Penzance, both Sky Masterson and Nathan Detroit in Guys and Dolls, the King in The King and I, Riff Raff in The Rocky Horror Show, Jake in Jake's Women, Arthur in Camelot, Alan Swann in My Favorite Year. At the Westchester Broadway Theatre he was an elf, a millionaire, and a skeleton. Ben's own cabaret Say It In Song, for which he also orchestrated the music, toured the northeast and ran for 8 months in NYC. He has not appeared on Law and Order.
Amanda Yachechak - Off-Broadway/New York: Pride and Prejudice (Elizabeth Bennet), Nicholas Nickleby starring Luba Mason, Freckleface Strawberry, Angelina Ballerina, Phantom of the Opera (Meg), Three Sisters (Irina), Taming of the Shrew (Kate), A Midsummer Night's Dream (Hermia). Regional: The Pirates of Penzance (Mabel), West Side Story (Maria), The King and I (Tuptim), August: Osage County (Johnna), Nunsense (Sister Leo), Bittersweet starring Siân Phillips. Opera: Hansel and Gretel (Gretel), Rappaccini's Daughter, The Magic Flute (Pamina, Queen of the Night cover), Romeo et Juliette (Juliette), Les Contes D'Hoffman (Olympia), Die Fledermaus (Adele). Film/TV: "Rebecca," "Getting Caught," "Cancer and Cake," "Last Days of Simon," "Glass Ballerinas," "Monumental Mysteries." Voice-overs and commercials for Disney, Kodak, Nickelodeon. www.amandayachechak.com