BECAUSE I COULD NOT STOP: An Encounter With Emily Dickinson Opens This Week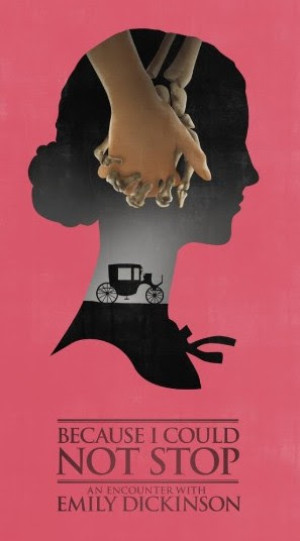 Ensemble for the Romantic Century (Eve Wolf, Executive Artistic Director) is proud to announce the opening of Angelica Page in the title role BECAUSE I COULD NOT STOP: An Encounter with Emily Dickinson. Opening Night is this Thursday, September 27th.
Kicking off the 2018 - '19 season, ERC's 18th, BECAUSE I COULD NOT STOP: An Encounter with Emily Dickinson is written by James Melo and directed by Donald T. Sanders. This limited Off-Broadway engagement runs through October 21st only. Performances are in The Romulus Linney Courtyard Theatre at The Pershing Square Signature Center (480 West 42nd Street between Dyer and 10th Avenues).

Live chamber music is performed by Victoria Lewis (violin), Mélanie Clapiès (violin), Chieh-Fan Yiu (viola), Ari Evan (cello), joined by ERC Co-Artistic Director Max Barros on piano and soprano Kristina Bachrach.

BECAUSE I COULD NOT STOP: An Encounter with Emily Dickinson has scenic and costume design by Vanessa James, lighting design by Beverly Emmons, and projection design by David Bengali. ERC's 2018-'19 Season is cast by Geoff Josselson, CSA.
Emily Dickinson was a woman ahead of her time. While she produced some of the most haunting and visionary poetry in the American cannon, she refused to be confined by the expectations of a 19th century woman. Using her own words, ERC's BECAUSE I COULD NOT STOP explores the inner life of an artist whose intellectual curiosity and emotional intensity are only rivaled by her fierce defiance of literary and social authority. "This is my letter to the world that never wrote back to me." -Emily Dickinson
A native New Yorker who lives in Los Angeles, Angelica Page most recently starred on Broadway in Gore Vidal's The Best Man (Tony nomination for Best Revival) and in Turning Page, a new self penned solo play about her mother, the legendary late actress Geraldine Page. Other theater: As Sylvia Plath in Edge (Outer Critics Circle nomination for Best Solo Performance & New Times Award for Best Actress), Sideman (Tony Award for Best Play, Helen Hayes Award for Best Actress), August: Osage County (Tony Award for Best Play, Helen Hayes Award Nomination for Best Actress), Anna Christie (Tony Award for Best Revival).
Kristina Bachrach (Soprano) has made debuts at Carnegie Hall and St. Patrick's Cathedral recently and performed over fifty recitals across the United States. Ms. Bachrach has fulfilled many prestigious artist residencies, including the Marlboro Music Festival, Tanglewood, Yellow Barn, and the Banff Centre. On the operatic stage, Ms. Bachrach has appeared as Susanna in Le nozze di Figaro, Musetta in La Bohème, La Princesse in L'enfant et les sortilèges, and Clorinda in La Cenerentola with such companies as Gotham Chamber Opera, Opera Philadelphia, Opera Naples, and Nashville Opera. She created the role of Lucinda in the world premiere of Dark Sisters by Nico Muhly. She is the grand prize winner of the American Prize in Vocal Performance and the inaugural Ziering Conlon International Art Song Competition for Recovered Voices.
Victoria Lewis (Violinist) Victoria Wolf Lewis is a New York-based orchestra and chamber musician who has performed with many orchestras in the United States and abroad including New York City Opera, Des Moines Metro Opera, Tel Aviv Soloists, and is currently a violinist with the Sarasota Opera Orchestra. Ms. Lewis has served as the concertmaster of LoftOpera and is currently the concertmaster of Bare Opera in New York City. Past solo appearances include Vivaldi's Winter with Orquestra De Camara Galega in Santiago de Compostella in Spain, as well as performances at the Sale Apollinee of Teatro la Fenice in Venice. Ms. Lewis has performed with the Ensemble for Romantic Music in their April 2016 production of Anna Akhmatova: The Heart Is Not Made of Stone at BAM Fisher Theater, of which the NY Times wrote: "But the real stars are the musicians [...] playing rapturous accounts of Prokofiev, Rachmaninoff and Shostakovich". Ms. Lewis received the Rapaport Fellowship and the Dolan Prize while an undergraduate at Columbia University. At the Cleveland Institute of Music, where she received her Master's degree, Ms. Lewis was selected for the Advanced Piano Trio Program directed by Sharon Robinson and served at the concertmaster of the opera orchestra. Ms. Lewis has also performed at the Medocino Music Festival as part of the Emerging Artists series, Keshet Eilon Violin Mastercourse, Bowdoin International Music Festival, and Banff String and Winds Masterclass. Principle teachers include Laurie Smukler, Joan Kwuon, and Garrett Fischbach. Ms. Lewis plays on a Leandro Bisiach from 1890.
Mélanie Clapiès (Violinist) Born in Paris, Mélanie Clapiès studied at the Conservatoires Nationaux Supérieurs de Musique of Lyon and Paris where she received her B.A. in violin and chamber music respectively. After moving to the U.S., she received her M.M. in 2014 and her A.D. in 2015 from the Yale School of Music where she studied with Syoko Aki. She is currently completing a Doctoral degree at the Manhattan School of Music where she studies with Mark Steinberg while pursuing an active performing career. The album "Pierrots Lunaires" that she recorded with cellist Yan Levionnois grew out of her interest in exploring unusual repertoire and her commitment to throwing new light on fascinating, but forgotten pieces. The CD contains 20th and 21st century duos for violin and cello and was released by Fondamenta in 2014 and is distributed by Sony in the US. She is the co-founder of the chamber music festival "En attendant..." in Semur en Brionnais, France. A Zonta Club laureate, she received the Broadus Erle Prize, the Yale School of Music Alumni Association Prize, and the Philip Francis Nelson Prize. She was the winner of the Woolsey Concerto Competition in 2015 at Yale.
Chieh-Fan Yiu (Viola) Triple-prized winner of the Lionel Tertis Competition, including Yuri Bashmet's President Of The Jury Prize, Taiwanese-born Canadian Chieh-Fan Yiu has established himself as one of the most exciting young violists on the international stage today. His engagements as a soloist have included Aspen Festival Orchestra, Art Symphony Orchestra of New York, New York Classical Players, Vancouver Academy of Music Symphony, Vancouver Metropolitan Orchestra, Stony Brook Symphony, and UBC Chamber Orchestra. As a recipient of the coveted Jerome L. Greene Fellowship, Mr. Yiu completed his Bachelor's and Master's degrees from The Juilliard School, followed by Doctorate of Music degree from Stony Brook University, having been under the tutelage of mentors like Toby Appel, Heidi Castleman, Hsin-Yun Huang, Kim Kashkashian, as well as the great Emerson Quartet. Artist-in-residence in New Asia Chamber Music Society as well as PhiloSonia concert series in New York City, Mr. Yiu's chamber music has taken him around the world in festivals such as Sounds of Lyons, Music@Menlo, Moritzburg, Verbier, Aspen, and Sarasota Music Festivals. Mr. Yiu is also a founding member of the Ben Feng Music Festival in Taiwan, a chamber music series currently in its third season that has been recently hailed as "a classical music gem" by Liberty Times. He has collaborated with such esteemed artists as Thomas Bergen, Colin Carr, David Cohen, Nicholas Cords, Pedro R. Díaz, Alan Kay, Tessa Lark, Frank Morelli, Paul Neubauer, Sasha Sitkovetsky, Josu De Solaun, Carol Wincenc, as well as the Volta Piano Trio and the Emerson Quartet, in venues including Alice Tully, Avery Fisher/David Geffen, and Carnegie Hall. Media coverage of Mr. Yiu's performances and interviews include Music@Menlo Live, medici.tv broadcast from Switzerland, and BBC News in the UK. Mr. Yiu's live recording of Nataliya Medvedovskaya's Fantasy for Viola and Piano can be heard on WQXR Radio and ArkivMusic.
Ari Evan (Cellist) is a recent Masters graduate of the Juilliard School, where he studied with Timothy Eddy. His studies were made possible by Juilliard's generous J. Victor Monke Scholarship and the Irene Diamond Graduate Fellowship. As a member of the Bordone Quartet, Ari performed recitals at WQXR's Greene Space, Alice Tully Hall, and the Harvard Club of New York. A versatile chamber musician, Ari has also performed with Atar Arad, Colin Carr, Ara Gregorian, Hsin-Yun Huang, and Ani Kavafian, and Itzhak Perlman. Festivals attended include Ravinia's Steans Music Institute, the Olympic Music Festival, IMS' Prussia Cove, the Perlman Music Program Chamber Music Workshop, East Carolina University's Four Seasons festival, Kneisel Hall, and the Sarasota Music Festival. In the Fall of 2018, Ari will begin his two-year residence at Carnegie Hall as an Ensemble Connect Fellow.
Max Barros (Piano) has won wide acclaim as one of South America's foremost pianists. Born in California and raised in Brazil, Mr. Barros was presented with the "Soloist of the Year" Award (1985) by the São Paulo Music Critics Association for his performance of Brahms' Piano Concerto in D minor with the São Paulo Symphony Orchestra. A dedicated champion of Brazilian music, Mr. Barros has premiered and recorded several works by the nation's foremost composers, including the North American premiere of Ronaldo Miranda's Concertino for Piano and Strings. He recorded Amaral Vieira's Piano Quintet with the Ensemble Capriccio and has recorded for Naxos the complete piano concertos by Camargo Guarnieri with conductor Thomas Conlin and the Warsaw Philharmonic, which won the "Discovery Award" from the Diapason magazine in France. Mr. Barros has toured South America with the Virtuosi di Praga and has been a guest artist with the American String Quartet, Enso String Quartet, Quartetto di Venezia, Biava String Quartet, Esher String Quartet, and the St. Luke's Chamber Ensemble. He is well known for his stylistic and historically informed interpretations, and his extensive research into the performance practice of early keyboard instruments has allowed him to bring fresh insights to his performances on the modern piano. Together with Stephanie Chase he recorded the complete trios of Boccherini and Stephen Storace on period instruments. In 2008 Mr. Barros made his debut at the Caramoor Festival performing Guarnieri's Concertino for piano and orchestra with the St. Luke's Orchestra under Michael Barrett. He has recently recorded Guarnieri's complete Ponteios for Naxos and is in the process of recording the composer's complete solo piano music in six volumes. The first volume of the series was chosen "CD of the Week" by the KDFC Classical Music Station in San Francisco. For the past fifteen seasons, Mr. Barros has been the co-artistic director of the Ensemble for the Romantic Century, an organization that creates unique productions merging dramatic and fully staged scripts with music. His most recent performances with ERC were Jules Verne: From the Earth to the Moon and Akhmatova: The Heart is not Made of Stone (BAM, 2015 and 2016), both of which were critic's pick for The New York Times, where Mr. Barros was praised for his "rapturous" performance of Rachmaninoff's music. For his performance in The Sorrows of Young Werther (Symphony Space, 2015), Opera Today remarked, "Mr. Barros... made the piano drip with beauty and elegance, with an incomparable grace in his legato." Mr. Barros can be heard on ERC's DVD "The Young Arthur Rubinstein." Max Barros is a Steinway artist.
James Melo has written extensively for scholarly journals and music magazines in Brazil, Uruguay, the United States, and Austria, and has been invited to participate as a panel discussant in conferences in Indiana, New York, and Canada. He has written program notes for several concerts at Carnegie Hall and Lincoln Center, and for over 70 recordings on the Chesky, Naxos, Paulus, and Musikus labels, among others. He is the New York correspondent for the magazine Sinfónica in Uruguay, reviewer of music iconography for the journal Music in Art, and a Senior Supervising Editor at RILM (Répertoire International de Littérature Musicale) at CUNY. In March 2005, he chaired a session in the conference Music and Intellectual History, organized by the Barry Brook Center for Music Research and Documentation (CUNY), and presented a paper on the history of musicological research in Brazil. He received a grant from the Paul Sacher Stiftung in Basel, Switzerland, where he conducted research on the manuscripts of Anton Webern. Mr. Melo is the program annotator for the recording of the complete piano music of Villa-Lobos and Camargo Guarnieri on Naxos. In 2006 and 2007 he collaborated with the Montréal Chamber Music Festival as musicologist and program notes writer. In March 2008, he chaired a session on music iconography in Brazil and Portugal in the conference Music, Body, and Stage: The Iconography of Music Theater and Opera at CUNY Graduate Center. He was the scriptwriter for Seduction, Smoke and Music, performed at The Tuscan Sun Festival in Cortona in the summer of 2011, with Jeremy Irons as Chopin and Sinéad Cusack as George Sand. He has written scripts for ERC on subjects including Oscar Wilde, Emily Dickinson, Nietzsche, Dracula, Schubert, Satie, Werther, Proust, and Rimbaud, among others. Mr. Melo is the director of the "ERC Seminar Series" at the CUNY Graduate Center, the program annotator for The National Philharmonic in Strathmore, MD, and is on the piano and musicianship faculty at the Diller-Quaile School of Music in New York City.
Donald T. Sanders is ERC Director of Theatrical Production. Recent ERC productions directed include: Tchaikovsky: None but the Lonely Heart, Mary Shelley's Frankenstein starring Robert Fairchild, Van Gogh's Ear, Pershing Square Signature Center (New York Times Critics Pick); The Dreyfus Affair; Anna Akhmatova, The Heart is Not Made of Stone (NY Times Critics Pick), Jules Verne, From the Earth to the Moon (NY Times Critics Pick), all at BAM Fisher Theatre; Seduction, Smoke and Music starring Jeremy Irons and Sinéad Cusack with Irina Dvorovenko and Maxim Beloserkovsky at the Tuscan Sun Festival; Toscanini: Nel Mio Cuore Troppo di Assoluto at Venice's Teatro La Fenice Sale Apollinee. Other productions. For the New York Shakespeare Festival/Public Theater: The American Pig, an Anti-Imperialist Vaudeville; Naked Lunch by William S. Burroughs; 33 Scenes on the Possibility of Human Happiness and Thomas Cole, a Waking Dream (both with scores by Henry Threadgill); Edith Wharton's Old New York. Off-Broadway: The Party by Arnold Weinstein; The Red Robins and The New Diana by Kenneth Koch; Aesop's Fables and The Shepherds' Christmas by Jon Swan & William Russo; The Seven Deadly Sins by Brecht/Weill. For New York Art Theatre Institute: The Torrents of Spring; The Basil & Josephine Stories and site specific events at New York City's Port Authority, Historic Houses (Mostly Wolfgang), Museums and places of historic interest. Graduate of the Yale School of Drama, The University of Pennsylvania (President of the Penn Players) and The University of Bristol, England. Recipient of grants from the NEA, NYSCA and DCA. In 2002 he was made a Chevalier of Arts and Letters of the Republic of France, and is currently also Executive Artistic Director of The Massachusetts International Festival of the Arts (MIFA), where he is reopening the historic Victory Theatre in Holyoke, MA.
The critically acclaimed Ensemble for the Romantic Century, now in its 18th Season, conjures the past with original multimedia productions that fuse chamber music, drama, and history. The subject matters span across centuries, from Tolstoy to Toscanini, from Verne to Van Gogh, all brought to life through the fusion of drama and sound. We believe that one can understand Freud more deeply by listening to the erotic cabaret music of fin de siècle Vienna, that one can appreciate Beethoven's "Moonlight Sonata" more profoundly by listening to him speak of his tortured love life and his debilitating deafness. By illuminating the interplay between literature, biography and music we have transformed the concert experience.
ERC was founded by pianist Eve Wolf in 2001 with the intention of creating an engaging and innovative approach to chamber music concerts. ERC's theatrical concerts interweave letters, memoirs, diaries, poems, and other literature with chamber and vocal music; the music's historical context is reinforced through its connections with history, politics, philosophy, psychology, and the other arts to create a compelling new performance experience. These unique productions merge dramatic and fully staged scripts with music, recapturing the past with a sense of immediacy that transports, illuminates, and captivates. The scripts, drawn from historical material that includes letters, diaries, memoirs, newspaper articles, poetry, and literature create an intricate counterpoint to the musical program. The subject matters span across centuries, from Tolstoy to Toscanini, from Verne to Van Gogh, all brought to life through the fusion of drama and music. By illuminating the interplay between literature, biography and music ERC has transformed the concert experience. The Romantic Century was about imagination and experimentation. Elevating the human condition through art: that is the spirit we hope to summon.
ERC has created over 40 original theatrical concerts at such institutions as Brooklyn Academy Of Music; Shakespeare & Company in Lenox, MA; The Jewish Museum of New York; the Archivio Fano of Venice, Italy; the Festival de Musique de Chambre Montréal; the Massachusetts International Festival of the Arts/MIFA; the French Institute-Alliance Française/FIAF, New York; the Italian Academy for Advanced Studies at Columbia University; the Italian Cultural Institute of New York; and the City University of New York (CUNY). ERC's programs are distinguished by their artistic excellence, breadth of repertoire, and variety of subject matter. In its relatively short history, the Ensemble for the Romantic Century has enriched the music scene with highly innovative productions that are also historically informed, aesthetically exquisite, and emotionally transporting.
The three-play season also includes:
Maestro brings to life the story of conductor Arturo Toscanini who bravely opposed Fascism in Italy and America. Through his trips to Palestine to conduct an orchestra made up of Jewish refugees, Toscanini clashes with Mussolini and Hitler showing the world that artists can raise their voices against totalitarianism. A moving theatrical experience drawing from his passionate personal letters along with music of his contemporaries, audiences enter into the mind of a Maestro.
Hans Christian Andersen - Tales Real & Imagined - Hans Christian Andersen is known as one of the most prolific authors of fairy tales, having written over 3300, some of which are so infused to our culture it's hard to imagine a world without them. This piece explores beyond just the magic taking a deeper look at the inner life of Andersen and how some of his most memorable tales, transcend age and nationality.
Eve Wolf is Founder and Executive Artistic Director of ERC as well as playwright. Recent credits include Van Gogh's Ear (Pershing Square Signature Center, 2017; New York Times Critic's Pick); Anna Akhmatova: The Heart Is Not Made of Stone (BAM, 2016; New York Times Critic's Pick); and Jules Verne: From the Earth to The Moon (BAM, 2015; also a New York Times Critic's Pick). Ms. Wolf founded Ensemble for the Romantic Century in 2001 with the mission of creating an innovative and dramatic concert format in which the emotions revealed in memoirs, letters, diaries, and literature are dramatically interwoven with music, thus bringing to life the sensations and passions of a bygone era. For the past sixteen seasons, Ms. Wolf has written scripts for more than twenty-five of ERC's theatrical concerts and has performed in most of the ensemble's forty-plus original productions. Some highlights include Ms. Wolf's scripts for Tchaikovsky: None but the Lonely Heart, which was performed at Shakespeare & Company in Lenox, MA (2013) and at BAM (2014); Van Gogh's Ear at the Festival de Musique de Chambre de Montréal; Fanny Mendelssohn: Out of her Brother's Shadow commissioned by the Jewish Museum of New York; and The Dreyfus Affair and Peggy Guggenheim Stripped Bare by her Bachelors. In 2009, she performed before a sold-out audience at the Sale Apollinee of the Teatro La Fenice in Venice in the Italian production of her script, Toscanini: Nel mio cuore troppo di assoluto.
The Pershing Square Signature Center, the permanent home of Signature Theatre, is a three-theatre facility on West 42nd Street designed by Frank Gehry Architects to host Signature's three distinct playwrights' residencies and foster a cultural community. The Center is a major contribution to New York City's cultural landscape and provides a venue for cultural organizations that supports and encourages collaboration among the artists throughout the space. In addition to its three intimate theatres, the Center features a Studio Theatre, rehearsal studio, a bookstore, and the Signature Café + Bar, open to the public from noon-midnight Tuesdays - Sundays. For more information on renting the Center please visit www.signaturetheatre.org/rentals.
Season subscriptions, from $149 offering tickets for all three shows, are now available for purchase at romanticcentury.org.
Individual tickets which are now on sale as well, are $39 to $149. Tickets for BECAUSE I COULD NOT STOP: An Encounter with Emily Dickinson can be purchased online at TicketCentral.com; by phone at 212-279-4200; or in person at 416 West 42nd Street (12 noon to 8pm daily).
For more information, visit romanticcentury.org.
Related Articles View More Off-Broadway

Stories

Shows
More Hot Stories For You