South Camden Theatre Co Opens CRUMBS FROM THE TABLE OF JOY November 2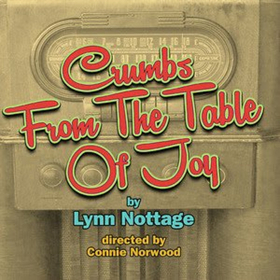 "Our season, Celebrating Female Playwrights concludes with Lynn Nottage's play, "Crumbs From The Table Of Joy" states Artistic Director, Ray Croce. "This show is being directed by well-known actor and director, Ms. Connie Norwood of Philadelphia. She has directed multiple times at the Waterfront South Theatre. Her directing credits include plays by Tennessee Williams including "Suddenly Last Summer", "Kingdom Of Earth" and "A LovelySunday For Creve Couer". She also directed August Wilson's plays including "Radio Golf"and "King Hedley ll" along with Eugene O'Neill's drama "The Emperor Jones". Connie was most recently seen on stage in this season's "The Savannah Sipping Society."
Board President, Robert Bingaman is happy that Ms. Norwood is directing this excellent play and historical drama by Lynn Nottage. "Watching Connie direct a piece written by such an intelligent playwright gives me great joy. She understands the significance of the plays historical perspective and works to bring out the best in every cast member."
Recently widowed Godfrey, and his daughters Ernestine and Ermina, move from Florida to Brooklyn for a better life. Not knowing how to parent, Godfrey turns to religion, and especially to Father Divine, for answers. The girls absorb their new surroundings, but not necessarily religion. Lily, Godfrey's sister-in-law, shows up from Harlem, having promised her sister that if anything ever happened, she'd look out for the girls. Lily, while fascinating to her nieces, she stands for everything Godfrey dislikes: communism, sexual freedom and the fight against racial discrimination.
As the racial and social issues of the late 1950s escalate, personal issues between Godfrey and Lily explode, prompting him to walk out. A few days later, he returns, with a new wife-a white, German immigrant, Gerte. With Godfrey immersed in religion, Lily claiming to be a part of the new revolution, and quiet, stoic Gerte coming from the horrors of Germany, life in the household gets heated. Ultimately, Lily must leave, seeing as she's neither Godfrey's wife nor the girls' mother. Godfrey and Gerte keep the family together as best they can - but nothing lasts forever.
This is the final production of our 13th season, Celebrating Female Playwrights, which opens November 2 and runs through November 18. Our shows are Friday and Saturday nights at 8pm and Sunday afternoons at 2pm. Tickets are available online www.southcamdentheatre.org over the phone (866) 811-4111 or at the box office one hour before showtime.
The South Camden Theatre Company is the professional resident theatre company of the Waterfront South Theatre. Camden's "Off-Broadway" Theatre was opened in 2010 as the only new, free-standing theatre built in Camden in more than 100 years. The intimate theatre space seats 100 and is completely handicap accessible.