NJ Classical Guitar Graduate Student Becomes First American Honored In International Competition In Albania
The "Marku Guitar Competition" is a virtual competition open for professional classical guitar players regardless of their nationality.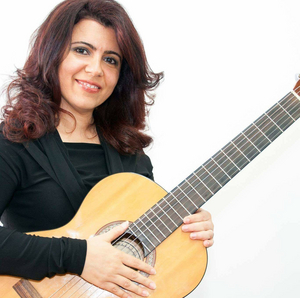 New Jersey City University (NJCU)'s Music, Dance and Theatre (MDT) program continues to produce award-winning students.
Lazara Luisa Diaz, a graduate student pursuing a Masters in Music in Classical Guitar Performance at NJCU, has become the first American to win a prize at the "Marku Guitar Competition" based in Albania. The international competition was held May 10-15, 2022.
The "Marku Guitar Competition" is a virtual competition open for professional classical guitar players regardless of their nationality. Diaz scored 86.79 points to collect Third Prize in Category V (no age limit). She competed against performers from multiple countries.
Diaz is a native of Havana, Cuba and she graduated from Universidad de las Artes in Cuba in 2013. At NJCU she studies with Dr. Celil Refik Kaya - an international performer, composer, educator, and Naxos Recording Artist - who is the Coordinator of Guitar Studies at NJCU, in the university's highly-regarded Music, Dance, and Theatre Department.
"The Guitar Studies Program at NJCU - renowned throughout the United States since the 1990s - is training young musicians to excel in the fields of performance, music education, and music industry leadership," said Amparo Fabra, Ph.D., Chair of the MDT Department at NJCU. "Under the supervision of concert guitarist Dr. Celil Refik Kaya, this program mentors a diverse and very successful cohort of students. We celebrate the accomplishments of our students - like Lazara, who we are so proud of. The excellence of our program continues to be demonstrated in the students that it produces."
Diaz' performance can be viewed here: https://youtu.be/QWVrPiUWOXU
New Jersey City University is an institution of higher learning with an audacious goal: the development of our students, our city, our communities, our state, and the world beyond. We are a game-changing force for our students and their families. Whether our students are enrolled in one of our 50 undergraduate, 30 graduate or three doctoral programs at our three locations - our main campus in Jersey City, our School of Business located in the heart of the Jersey City Financial District, or our newest location at NJCU @ Fort Monmouth which expands bachelor's and master's degree offerings along the Jersey Shore, NJCU provides an affordable, diverse environment, and an exceptionally supportive faculty-all of which prepares them to be critical thinkers in a global landscape.
We're also changing the game for our city, our communities, and our state. As the educational anchor institution in Jersey City, we've established partnerships to ensure the area's growth directly benefits our students and community members. We seek to improve the lives of everyone in the Garden State, whether creating a home for the arts, bringing educational programs to K-12 students, offering bachelor's degrees in partnership with community colleges, or providing professional development opportunities for adults.
At NJCU, we're not just educating minds, we're nourishing souls and lifting communities. We're changing the game.
Learn more at www.NJCU.edu.