BWW Review: InterACT Theatre Productions presents LEGALLY BLONDE THE MUSICAL at The Baird Theatre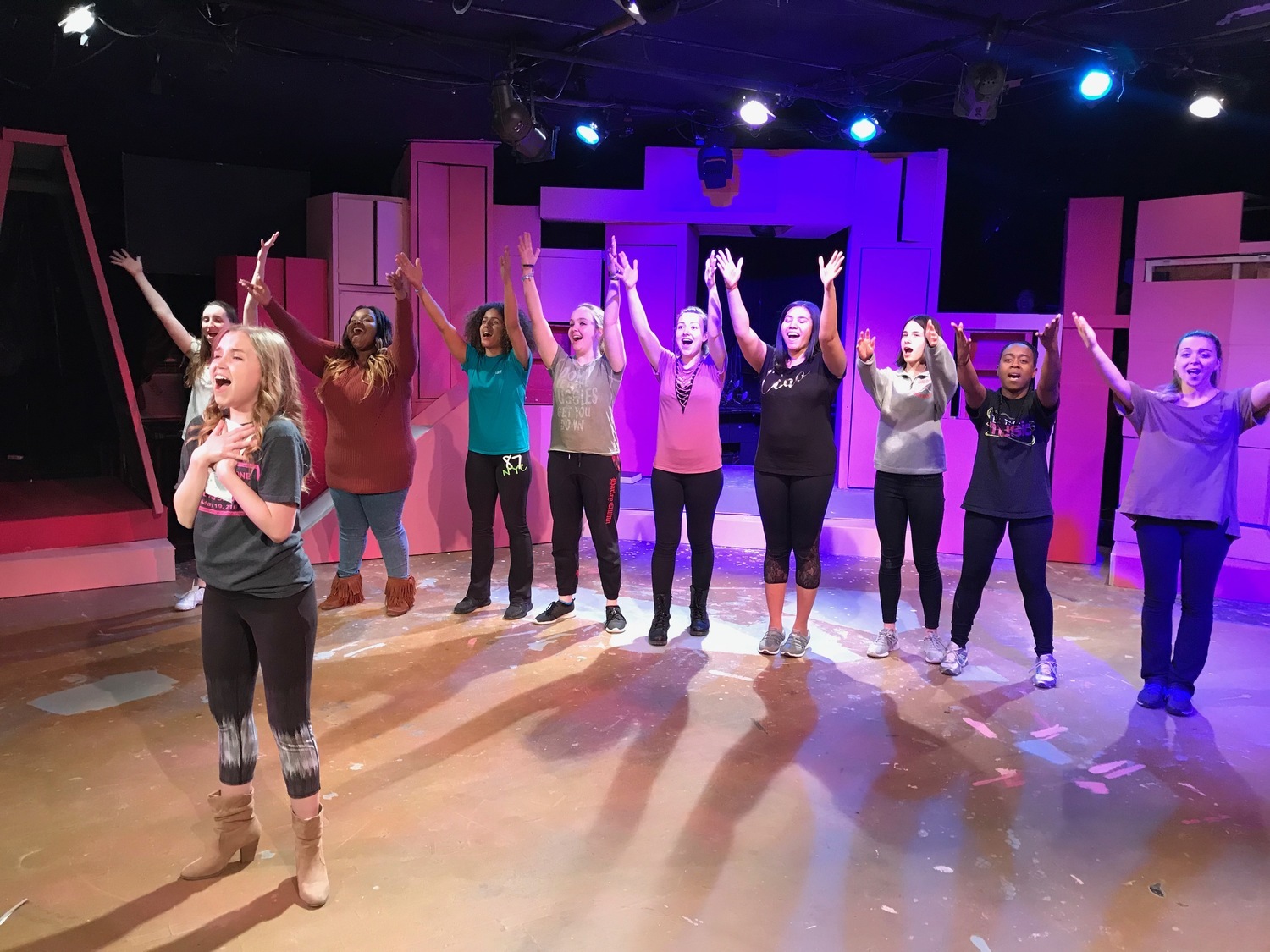 InterAct Theatre Productions is now presenting 'Legally Blonde the Musical' at the Baird Theatre. Based on the novel by Amanda Brown and the 2001 film, the musical features music and lyrics by Laurence O'Keefe and Nell Benjamin with a book by Heather Hach.
The musical follows Elle Woods, who appears to have it all. Her life is turned upside down when her boyfriend, Warner Huntington III, dumps her so he can 'get serious' about his life and attend Harvard Law. Determined to get him back, Elle uses her charm to get into Harvard. At school, she struggles with peers, professors and Warner. With the help of Paulette and Emmett, though, Elle quickly realizes her potential and sets out to prove herself to the world. Vivienne Kensington sums up our heroine's journey during her graduation speech in the last song of the musical, "William Shakespeare wrote 'To thine own self be true, and it must follow as the night the day, though canst not then be false to any man.' I think this wise statement applies to a woman - a blonde woman. Over the past three years, she has taught me and showed us all that being true to yourself never goes out of style."
Directed by Nicholas J. Clarey, this fun and hilarious musical also tackles a few serious issues such as bullying and even sexual assault. There are a few important lessons to be learned throughout this show such as speaking up for yourself, staying true to who you are, women empowerment and more. If you need a night out with friends, are in a need of a pick me up or just want to see some really well done, fun theater, this show is for you!
The cast of this production were all extremely talented and professional. They sustained high energy throughout the entire show and had the audience captivated in every scene. Megan Kalberer plays our beloved, bubbly Elle Woods. Kalberer does a terrific job in making us fall in love with her and we easily become invested in her journey as she attempts to get her boyfriend back, while also trying to prove herself to those around her. Kalberer has it all when it comes to her acting ability, her beautiful voice and even the look in order to bring Elle Woods to life. Michael Patrick Damato breaks Elle Woods' heart as Warner Huntington III. Although Damato's character has the audience turned against him from the start, the actor does a great job of revealing his inner conflict of what he wants in life versus what is expected of him and why he makes the choices he makes. Audience favorite, the adorable, Emmett Forrest is portrayed by Christopher Learn. Learn easily won our hearts over in his portrayal of this character and the audience was rooting for him as soon as we were introduced. He and Kalberer's chemistry was both cute and believable which is key! Elle's newfound best friend, hair stylist, Paulette Buonafonte (Nieklia Haines), reminds us of our best friend who always has our back and always knows what to say when we are feeling down. Haines' treats us to a fun portrayal of this loveable, vibrant character with her amazing, hysterical personality and strong vocal ability. Vivienne Kensington (Crystal Ann Bennett) is Warner's new love interest, giving Elle yet another challenge to overcome. Bennett portrays the mean girl, turned Elle Woods' fan by the end. We see Vivienne's character arc change from doing whatever it takes to get what she wants, to learning the lesson that women should empower other women. Bennett really delivered and showed her characters redeeming qualities when singing 'Legally Blonde (Remix)' with her powerful voice. Emily Strigl, who portrays Exercise queen Brooke Wyndham, deserves praise for singing while exercising for almost an entire song! We can't forget the true villain of this show, Professor Callahan, played by Richard J. Colonna. As soon as Colonna stepped onstage, his demeanor and appearance demanded attention as the very straight forward, no nonsense Professor. This role could not have been more perfectly cast... and the same goes for every other character in this production as well!
The set, designed by Clarey, was made up of larger than life books and magazines such as 'Cosmopolitan,' 'Town and Country,' various law books and even Amanda Brown's 'Legally Blonde.' Within the magazines and books, there were doorways for entrances and exits as well as various sections that opened up where the actors could pop out during certain numbers and even a hideaway bed for Elle's dorm room scene. This very innovative set transformed into each scene easily and even had retractable benches that were needed for the classroom and court scenes. Clarey did a wonderful job in making great use of the limited space within the Baird Theatre so much that we as the audience were never overwhelmed, even with the large cast that is involved in this production. The set alone acts as its own character, adding to the musical's plot and personality.
The talented cast includes: Heather Mueger (Margot), Molly Polk (Serena), Amber Brown (Pilar), Shannon Rose O'Grady (Kate/ Blondesemble), Alyssa Enid Gonzalez (Gaelen/Courtney/Dana/ Blondesemble), Ruby Sigmund (Leilani/H&H Salesgirl/ Blondesemble), Megan Kalberer (Elle Woods), Leila Tai Brown (Store Manager/Chutney Wyndham/ Blondesemble), Michael Patrick Damato (Warner Huntington III), Silas Silverman-Stoloff (Waiter/Aaron Schultz/ Blondesemble), Dustin Damonte (Mr. Woods/Nikos Argitakos/Dewey), Dorothy Wallace (Mrs. Woods/Irish Voice/Asst. DA/ Blondesemble), Niassim Williams (Grandmaster Chad/Kiki The Colorist/Asst. DA /Blondesemble), Ruth Rocky (Winthrop/D.A. Joyce Riley/ Blondesemble), Joseph Rothschild (Pforzheimer/Robert Coleman/Carlos/ Blondesemble), Alex Martynez (Lowell), Stephen Sigmund (Jet Blue Pilot/Kyle B. O'Boyle/ Blondesemble), Christopher Learn (Emmett Forest), Levil Shawn DaCosta (Sundeep Agrawal Padamadan/ Blondesemble), Sally Jayne (Enid Hoopes), Crystal Ann Bennett (Vivienne Kensington/ Blondesemble), Kayla Lanshe (Whitney), Richard J. Colonna (Professor Callahan), Nikelia Haines (Paulette Buonafonte), Serena Marie Williams (Bernadette/Guard/Bailiff/ Blondesemble), Emily Strigl (Brooke Wyndham/ Blondesemble), Janet Painter (Bookish Client/Court Stenographer/ Blondesemble), Dana P. Hawkins (Dana), Tahphanese Braswell (Judge/ Blondesemble), Danielle Bouie (TV Reporter/Blondesemble), Jessica Noss (Blondesemble), Kayla Lanshe (Blondesemble), Alex Martynetz (Blondesemble), Junior Rivera (Bruiser Woods) and Paris Janclarey (Rufus Buonafonte).
The production staff who made this production possible are Director/Set Designer/Set Construction Manager Nicholas J. Clarey, Musical Director Holland J. Jancaitis, Asst. Musical Director Jake Ezzo, Choreographer Dana P. Hawkins, Asst. to the Choreographer Molly Polk, Stage Manager Amanda Wingo, Asst. Stage Manager Felicity D. Selby, Costume Designer Lynne Lewis, Asst. Costumer Marlo Avidon, Dance Captains Amber Brown and Shannon Rose O'Grady, Producers Sabrina Santoro and Jerry Narciso, Lighting Designer David Heguy, Publicity and Social Media Producer Sabrina Santoro, Asst. Publicity and Social Media Producer Mark J. Parker, Lightboard Operator Aaliyah Arroyo, Run Crew Felicity Selby and Julia Vitale, Company Photographer Greg Clements and House Manager Dawilla Madsen.
The Pit Band consists of Music Director Holland J. Jancaitis on Keyboard 1, Asst. Music Director Jake Ezzo on Keyboard 3, Marisa W. Green on Keyboard 2, Devin McGuire and Jake Sachs on Bass, Matt Delavan on Percussion and Keyboard Programmer Kevin Roland.
Remaining performances are May 11-13th & 18th. Fridays and Saturdays at 7:30 PM, Sundays at 4:00 PM. Additional performances on Thursday May 17th at 7:30 PM and May 19th at 3:00 PM.
For Tickets, please visit http://www.interactproductions.org
Tickets online are $22-$28 for Adults, $17-$23 for Students (18 and under or w/ college ID) and Seniors (60+). Tickets at the box office are $30.
The Baird Theatre is located at 5 Mead Street South Orange, NJ.
Photo Credit: Greg Clements

Related Articles View More New Jersey

Stories

Shows