BWW Review: GREASE at The Chatham Playhouse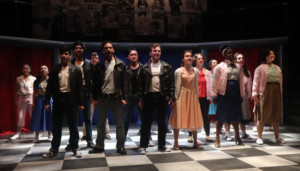 In their 96th season, The Chatham Players presents 'Grease' with Book, Music and Lyrics by Jim Jacobs and Warren Casey. Directed by James Mosser and Produced by Bob Lukasik, this musical includes some of the songs that we all know and love from the 1978 film, with a few added songs in the mix.
Although the story of the staged musical is very similar to the film, there are some differences within the plot. The set and costumes transported us back into the 1950's. The stage was easily transformed into the Rydell High grounds, the mechanics shop, the drive-in movie theater, a bedroom and several more locations with simple lighting designs and set piece changes to help emphasize where the audience needed to focus next. During each set change, the audience was treated with short dance numbers to keep us entertained as other cast members helped transform the stage for the next scene.
The cast was full of energy and talent. They had a fun chemistry that made the audience want to get out of their seats and join them on stage, singing and dancing. Grace Petersen, who plays Sandy, brought the character to life with her sweet demeanor and her delicate, but beautiful voice. Portraying Danny Zuko, Richie Carchia made our hearts break when singing 'Sandy.' Kylie Francis (Rizzo), Crystal Wright (Marty), Leanne Marie Laurino (Jan) and Taylor Eccles (Frenchy) portrayed the popular group 'The Pink Ladies.' All three women had incredible voices and had the audience captivated with their characters' unique personalities. Rounding out Danny's posse is Ronin Ruste (Kenickie), Cameron Brito (Doody), Evan Caban (Sonny LaTierri) and Pranav Chawla (Roger) who kept us all laughing with their comedic timing. Patricia Carbonell and Nico Vasquez, who play Patty Simcox and Eugene respectively, continuously wowed the crowd with their back flips and dance moves. This show is not to be missed!
The cast includes: Grace Petersen (Sandy), Richie Carchia (Danny), Kylie Francis (Rizzo), Ronin Ruste (Kenickie), Crystal Wright (Marty), Leanne Marie Laurino (Jan), Taylor Eccles (Frenchy/Radio Voice), Cameron Brito (Doody), Pranav Chawla (Roger), Evan Caban (Sonny LaTierri), Patricia Fallon (Miss Lynch), Alyssa Carbonell (Patty Simcox/Dance Captain), Nico Vasquez (Eugene), Scott Faranda (Vince Fontaine), Jason Yanto (Johnny Casino/Ensemble), Alexis Orallo (Cha-Cha DiGregorio/Ensemble), Khadija Sankoh (Teen Angel), Rachel Mendoza (Ensemble), Anna Paskalides (Ensemble).
The crew consists of Jennifer Mosser as Choreographer, Set Designers Roy Pancirov and Bob Lukasik, Sound Designer Joe DeVico, Stage Manager Caroline Courtney and Assistant Stage Manager Sarah Court, Costumer Designers Cheryl Galante, Christina Kirk and Mike Patierno, Set Decoration by Kate Pierce and Tish Lum, Lighting Designer Richard Hennessy, Scenic Artist Carol Saso and Production Coordinator Maybelle Cowan-Lincoln.
The show runs from May 4th-19 at The Chatham Playhouse located at 23 North Passaic Avenue in Chatham, New Jersey.
For Tickets and Subscription Information please visit www.chathamplayers.org or call 973-635-7363. Tickets are $25 for adults and $23 for youth (18 & under)/senior (65+).

Related Articles View More New Jersey

Stories

Shows