BWW REVIEW: I LOVE YOU, YOU'RE PERFECT, NOW CHANGE at GSP is the Finest Musical Comedy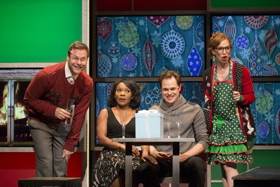 You'll laugh and laugh some more. I Love You, You're Perfect, Now Change kicks off the inviting season ahead at George Street Playhouse (GSP). This updated version of the hit musical that premiered Off-Broadway in 1996 is now being performed through November 12 at the Playhouse's interim location on College Farm Road in New Brunswick. The production enjoys inspired direction by the GSP's Artistic Director, David Saint and features a multi-talented cast who will thrill you with their character portrayals and vocals. The book and lyrics are by Joe DiPietro with music by Jimmy Roberts. The show's captivating themes and clever staging will surely delight metro area theatergoers.
I Love You, You're Perfect, Now Change consists of a series of vignettes accompanied by musical numbers. Scenes portray the complexity of human relationships with relatable subjects like online dating, first dates, texting, marriage, childrearing, and dating in the golden years. Act One is all about people meeting and going out. Skits include "Not Tonight, I'm Busy, Busy, Busy," "A Stud and a Babe," "Tear Jerk," "The Lasagna Incident," and "Scared Straight." Act Two takes on a different tone as the parodies explore situations after marriage like "Whatever Happened to Baby's Parents," "Sex and the Married Couple," and "Shouldn't I be Less in Love with You?" Sketches are highlighted by well-crafted dialogue, fantastic songs, and exciting visual media touches. This is musical comedy as it should be, funny and entertaining, yet meaningful.
The four-person cast is in complete command of their roles in this fast-paced show. The troupe includes Karen Burthwright as Woman 2, Lindsay Nicole Chambers as Woman 1, Mitchell Jarvis as Man 1, and George Merrick as Man 2. Each member of the company assumes multiple parts so deftly that you'll be amazed by the variety of people they play.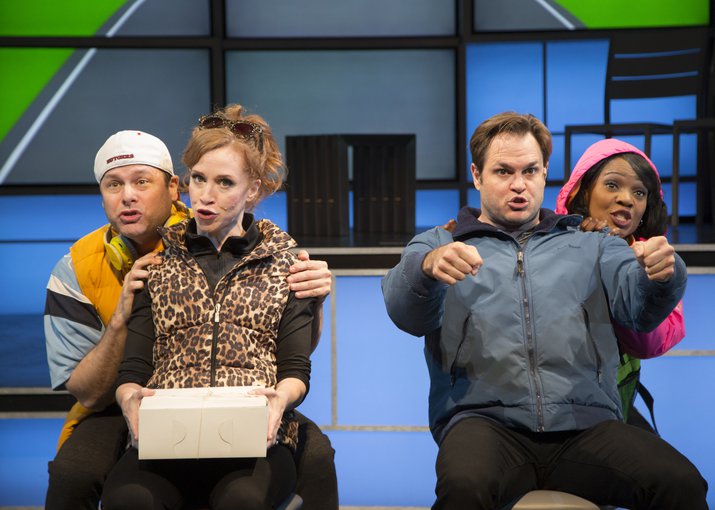 The Creative Team has brought I Love You, You're Perfect, Now Change to life on the New Brunswick Stage. They include choreography by Charlie Williams; musical direction by Joshua Zecher-Ross; scenic and media design by Jim Youmans; costume design by Michael McDonald; lighting design by Joe Saint; sound design by Shannon Slaton; arrangements and new orchestrations by Doug Katsaros. The Production Manager is Christopher J. Bailey and the Production Stage Manager is Nicole Kuker. Casting is by McCorkle Casting, Ltd.
See I Love You, You're Perfect, Now Change at George Street Playhouse. It is one of the finest pieces of musical comedy that modern theatre has to offer and George Street Playhouse gets it just right. You'll be smiling all the way home.
I Love You, You're Perfect, Now Change will be performed through November 12. It has a run time of approximately 1 hour and 45 minutes with one intermission. The interim location for George Street Playhouse is located right off Route 1 South on the Cook Campus of Rutgers University. The venue features expansive lobby spaces, an outdoor patio and free nearby parking. The entrance to the building and to all areas of the theatre are barrier-free. Visit the Playhouse website www.gsponline.org and click Directions on the homepage. Tickets for I Love You, You're Perfect, Now Change and the entire season of the Playhouse's shows are available by calling the George Street Playhouse Box Office at 732.246.7717 and by visiting www.gsponline.org.
Photo Credit: T. Charles Erickson