Interview: Rob Evan and ROCKTOPIA at Bergen Performing Arts Center on 10/18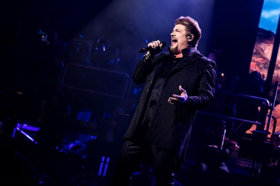 Direct from its smash-hit run on Broadway, the international music sensation ROCKTOPIA launches a national tour this fall that includes a stop at Bergen Performing Arts Center for one night only on Thursday, October 18 at 7:30 pm. The fall performance features special guest vocalist, Dee Snider from Twisted Sister and the world premiere of two new musical movements not heard previously on Broadway. ROCKTOPIA is created through the unique vision of vocalist and recording artist, Rob Evan whose impressive credits include performances on Broadway in Les Miserables, Jekyll & Hyde and others.
ROCKTOPIA is an explosive musical concert event that fuses the most iconic 20th-century rock with world-renowned classical masterpieces and features the works of musical innovators across centuries including Journey, Mozart, Queen, Beethoven, Aerosmith, Handel, Led Zeppelin, Tchaikovsky, U2, Heart, Puccini, The Who, and more that will be performed by an elite lineup of vocalists, a five-piece rock band, a thirty-person choir, and a twenty-piece orchestra.
Broadwayworld.com had the pleasure of interviewing Rob Evan about his career and ROCKTOPIA.
Evan is a highly accomplished actor, singer, and producer with more than 20 years of professional experience in the entertainment industry. He has performed in seven leading roles on New York stages including the original Broadway cast of Jekyll & Hyde, playing the title roles more than 1,000 times over three years. His rendition of "This Is the Moment" was performed at numerous prestigious events, including the 2001 Inaugural Gala for President George W. Bush, the Millennium Independence Day US Naval Revue aboard the USS JFK for President Clinton, the Millennium World Forum Conference with speaker Mikhail Gorbachev, and the New York City Mayor's Inaugural Gala. Rob also appeared on Broadway as Jean Valjean in Les Miserables, Kerchak in Disney's Tarzan, The Dentist inLittle Shop of Horrors, and Count von Krolock in Jim Steinman's Dance of the Vampires. Off-Broadway, Rob created the roles of The Dancin' Kid in Johnny Guitar and the hero Miles Hendon in The Prince and the Pauper. Rob is a member of the multi-platinum-selling band, Trans-Siberian Orchestra. He can be heard on TSO's The Lost Christmas Eve and Night Castle, which debuted at #5 on Billboard's Top 100. He was also the lead vocalist for Jim Steinman's The Dream Engine, and recently released the debut album from his progressive rock band, Menrva Realm. Rob has also been a regularly featured soloist for over 40 symphonies around the world, including appearances in San Francisco, San Diego, Atlanta, Chicago, Hong Kong, and the Czech Republic.
What was your earliest interest in music and musical performance?
Music has ALWAYS been a part of my life. I grew up in a small town in Georgia and my grandmother was the high school music teacher. When I was very young, she would sit at the piano and play a melody and I could sing it right back to her. I began singing in church, (like most) and then created my first rock band in the 6th grade. We were called ON THE RUN hence McCartney's Wings.
Who are some performers you admire?
Well, Dee Snider for one! He is an AMAZING performer and an amazing human! And there so many that have influenced me and I have also been very lucky to meet and work with. I will say that Luciano Pavarotti is definitely my gold standard for my operatic influence. And the entire set list of Rocktopia reflects nostalgic moments in my life.
Did you have any important mentors or people who have inspired your career?
Frank Wildhorn really gave me my first real leading man role on Broadway in Jekyll & Hyde and he has become one of my closest friends to this day. I was also mentored by Jim Steinman and got the opportunity to work with him as well in the famous studio The Hit Factory many times. Paul O'Neill, founder of Trans-Siberian Orchestra, was also a dear friend and I enabled me to perform in front of millions over 16 years and have several multi-platinum records on my wall. I'm very blessed.
Tell us a little about your professional training.
As a high school student, my teachers encouraged me to pursue an operatic vocal career, but the football coaches fought them all the way. I studied briefly in a music conservatory but ended up playing football for the University of Georgia and majoring in Business/Finance. After college, I fell in love with a show called Les Miserables and was obsessed. I waited 9 hours to sing 16 bars in an open call in Nashville and was noticed by the producers. I moved to NYC and three months later, I was on tour with Les Mis. I continued to train with some of the best vocal teachers in the city and worked my way up. I found that my "wheel house" was straddling the line between opera and rock, hence most of the shows and bands I have been in. That also was some of the inspiration to create Rocktopia.
Why is ROCKTOPIA such a unique show?
We are definitely not the first to take classical themes and incorporate it into the Rock genre. That said, we believe that we have taken the idea a step further using the actual arrangements that the masters of classical and opera created, fusing it with iconic classic rock songs and then having it performed by very diverse artists. We are in no way a "tribute band". We believe that if Beethoven or Mozart were alive today, they would be our rock stars. And conversely, if Freddie Mercury or Robert Plant and Jimmy Paige lived hundreds of years ago, they would be the classical masters.
What do you want metro area audiences to know about ROCKTOPIA?
The show is a roller coaster ride of amazing music, performances and nostalgia. It is so much fun to stand on stage and watch the audiences reaction to our treatment of songs they know and love. It is also the perfect show for all families. Classic rock has become so "retro" to the young and a childhood memory to older audiences. We see Rocktopia as a party and celebration of some of the greatest music ever written.
Tell us a little about your fellow performers.
We are so privileged too have some of the best musicians and vocalists in the world. 5 lead singers. A RockStar. 5 rock musicians. A symphony orchestra and a choir. I would encourage ALL to go and read their bios at https://rocktopia.com/.
For the future! Can you share with us some of your plans?
Rocktopia is a project that can go on and on. That is our hope and our intention. Because we have access to the world's greatest catalogues, we can continue to update and change the show every tour. We actually have new arrangements to add to the show for our October dates and are very excited about the audience reactions. We would also like to come back to the Broadway stage next year.
ROCKTOPIA is produced by John Scher/Metropolitan Entertainment and Bergen Performing Arts Center. For more information, visit: https://www.bergenpac.org/.
Photo Credit: Courtesy of Rob Evan