BWW Review: ALADDIN Finds Gold With its Own Cave of Wonders at Orpheum Theater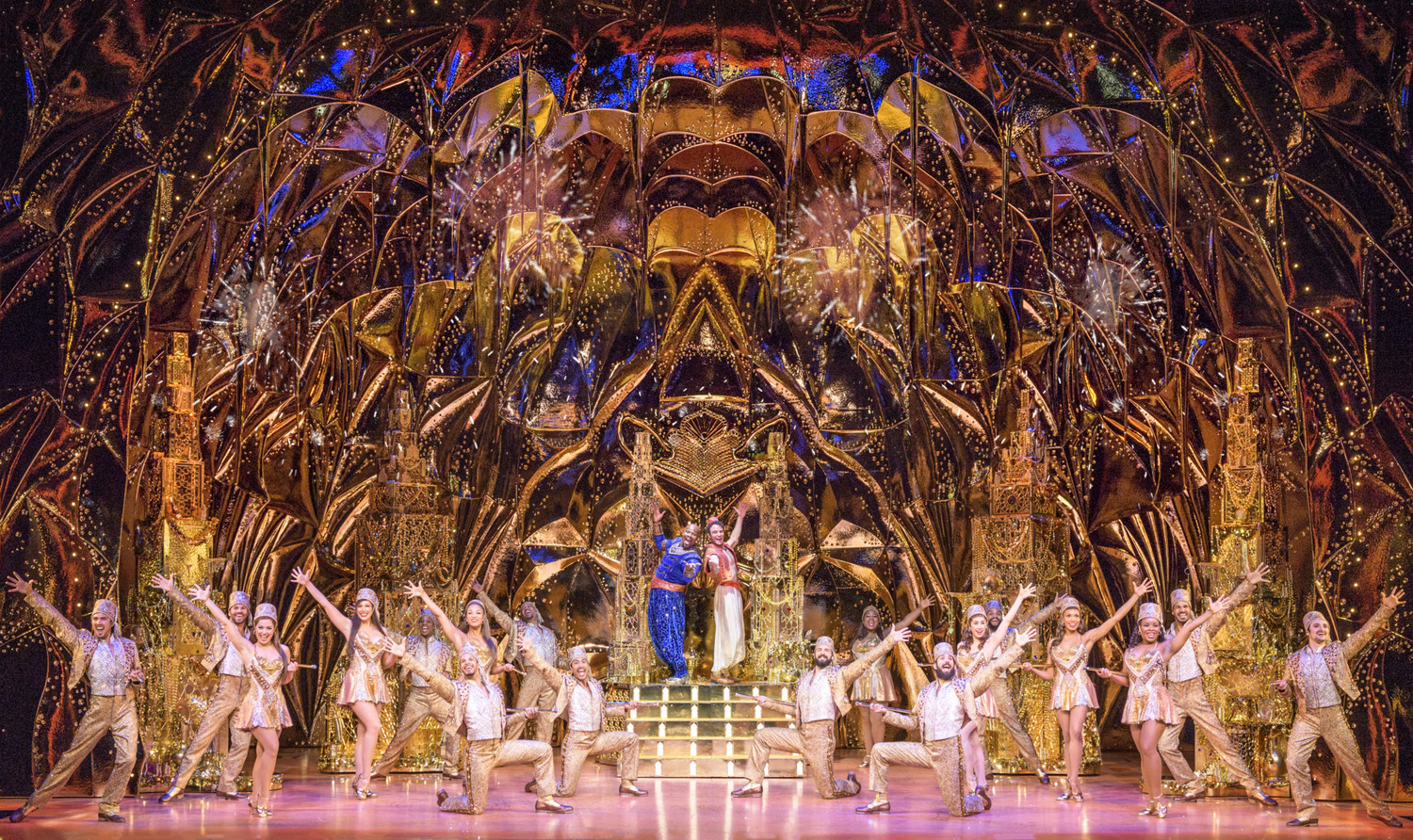 Disney's ALADDIN burst onto the Orpheum stage this week with a flash of brilliance.
This record-breaking musical spectacle adapted from the Academy Award-winning Disney film of 1992 is based on the collection of Arabian folktales "One Thousand and One Nights" dating back to the 1700s. This show is completely satisfying as a theater experience because it has it all: great music, extravagant sets and lighting, gorgeous costumes, enchanting choreography, solid actors, and humor.
Aladdin the musical was built in its own cave of wonders by a remarkable creative team. Alan Menken (music) has won a Tony Award, Drama Desk Award, 8 Oscars, 11 Grammy Awards, 7 Golden Globes, and a host of others, plus his own star on the Hollywood Walk of Fame. Tim Rice (lyrics) who claims he's won awards for "either the wrong thing or for just showing up," has rightfully earned three Tonys and an equal number of Oscars, and five Grammys. Chad Beguelin (book and lyrics) has four Tony nominations to his credit with an assortment of other accolades. Howard Ashman (lyrics) claimed two Oscars and four Grammys, and was credited with the creative genius behind THE LITTLE MERMAID and BEAUTY AND THE BEAST as well as a burgeoning idea for a musical based on Aladdin.
Casey Nicholaw (Director and Choreographer) scored a Tony along with an Olivier and a host of others, and has the distinction of having co-directed and choreographed the phenomenally successful BOOK OF MORMON. Bob Crowley (Scenic Design) has an astounding seven Tony Awards, Gregg Barnes (Costume Design) won two Tonys for his fabulous designs, and Natasha Katz (Lighting Design) pulled in six Tony Awards.
Whew! Why do I expend so many words itemizing awards? Because this is a stacked team, folks. There is no conceivable way that a musical can NOT be incredible with this group of power hitters behind it. These are the Olympic gold winners of musical theatre.
And yet, this team did not rest on its laurels. They sent a research team to Morocco to study the culture. An authentic Moroccan influence pervades the production---the curvature of wall designs, the conical shape of the lamps, the plethora of rugs and scarves, and things that just FLOW.
Colors are alive with every color of the rainbow, but Barnes is careful to spotlight the main characters. Aladdin's set apart in white pants and Jasmine in crystal encrusted teal. The Sulton (Jerald Vincent) is robed in light while his Grand Vizier Jafar (Jonathan Weir) is cloaked in dark, oppressive colors. Genie (Michael James Scott) shines (literally) in jeweled costumes and at one point, a blue Zoot suit, a nod to the jazzy "Friend Like Me." Along with the rich garments, there is considerable skin on display, but it is tastefully done. Crystals accent everything. A very toned Jasmine (Lissa deGuzman) even sports a crystal jewel in her belly button.
Barnes and Crowley exhausted all superlatives with their designs. The Cave of Wonders is mesmerizing. The curving and jagged pieces coming down from the ceiling and jutting out from the walls create a whole new world, complete with pillars that look a lot like skyscrapers topped with dollar signs and dripping in golden and crystal jewels. Offsetting this staggering opulence is a pair of green eyes staring out from the back wall and daring young Aladdin to take from the treasure. The magic carpet scene is black sky shot with stars, some of them streaking through the night. The moon is full, illuminating the young couple falling in love on the magic carpet soaring above the palace.
There is so much for your eyes to feast on, but your ears are treated to dessert: For starters, there are five songs from the original Aladdin soundtrack. I am betting that many in the audience would be able to sing along. Twenty-four years ago, my four year old son could sing "A Whole New World," (okay, the chorus...and not all the words made sense.) But now that I mentioned it, is the melody running through your mind?
The cast is superb. Clinton Greenspan (Aladdin) stole my heart with his beautiful voice. I was proud of that boy. DeGuzman's lovely voice was matched by her lovely presence on stage. She may have intended to come across as strong and independent, but she did it without sacrificing her feminine beauty. Michael James Scott (Genie) stole the audience with his showstopper "Friend Like Me." The audience was soaking in every second. Scott's powerful voice, quick feet, and keen comedic timing make him the perfect nucleus for this wonderful cast.
The visuals and the auditory gifts of this production would be enough to carry the show. But there is one more thing. It is funny. It is hilarious. There are one liners (many uttered by the very funny Jay Paranada who plays Iago in human form). There are more puns that you can shake a stick at. There are crazy antics and mishaps and all sorts of shenanigans going on. You actually face a dilemma...do you keep laughing and risk missing the next joke or the next song? Or do you stifle it until you can't breathe? Aladdin's sidekicks, Babkak (Zach Bencal), Omar (Philippe Arroyo), and Kassim (Jed Feder) are such a delight! Always up to something, they not only provoke laughs, they produce some pretty fabulous harmony. "High Adventure" was one of my favorite moments. Incidentally, my teen companion told me that her favorite person in the show was Kassim. Another of my favorites was Olivia Donaldson as the Fortune Teller.
Jasmine's royal father, the Sultan (Jerald Vincent), and the conniving Jafar (Jonathan Weir) epitomize polar opposite personalities. They play their parts well. Innocence meets sinister.
Everything about this show is carefully thought out with a reason for every detail. There are no loose ends. This diamond in the rough has been polished until it shines. Judging by audience reaction, you may want to get one jump ahead and grab tickets while they are available.
Related Articles View More NationalTours

Stories

Shows