WoodSongs To Present The Farm Hands And Grant Maloy Smith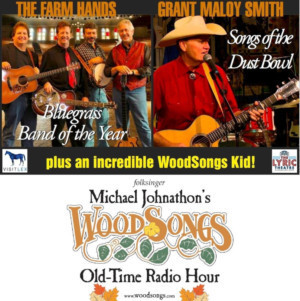 Country-roots recording artist Grant Maloy Smith and multi-award-winning bluegrass quartet The Farm Hands will share the stage at Lexington's Lyric Theatre on Monday, August 6, when they tape an episode of the internationally syndicated radio and television show "WoodSongs Old-Time Radio Hour."
Smith has been attracting national attention since the release of his critically acclaimed album, "Dust Bowl - American Stories," last year, which rose to the top 10 on Billboard's Folk/Americana Album sales chart for eleven weeks. The album is based on the history of the Dust Bowl, the series of massive dust storms that devastated several Southwestern states during the Great Depression, forcing hundreds of thousands of people to flee their farms, ranches and towns in search of jobs.
"My main goal in writing this album was to capture the hardy nature of people who endured so much, set against the backdrop of the real-life drama of the Dust Bowl," Smith said. "My album is a cautionary tale, but it's also about the triumph of the human spirit in the face of great adversity."
Since its release last year, "Dust Bowl - American Stories" has attracted attention from Americana music fans, music critics and history buffs. The album was in the top 10 on Billboard's Folk/Americana Album Sales chart for 11 consecutive weeks. One of his songs, "I Come From America," was selected for a movie that was recently filmed in Bakersfield, California.
(See the music video for "I Come From America" here.)
Lately, Smith has been working on a children's Christmas book and song titled "Fly Possum Fly," which is scheduled to be released this fall. He is also working on a new country album.
The Farm Hands, meanwhile, are one of the most critically acclaimed bands in bluegrass, having been named Band of the Year at the 2018 Bluegrass Music Awards. Individual band members have also won numerous awards, including a Grammy for dobro player Tim Graves, Songwriter of the Year for Daryl Mosely, Guitar Player of the Year (as well as other, multiple nominations) for Keith Tew, multiple banjo-player awards for Don Hill, and many more accolades.
(See The Farm Hands perform "They Don't Make Men Like Daddy Anymore" here.)
"WoodSongs Old-Time Radio Hour" is a syndicated radio and television program airing on more than 500 radio stations around the world and on PBS television affiliates throughout the United States.
Grant Maloy Smith and The Farm Hands will perform at The Lyric Theatre, 300 E. Third Street, Lexington, Kentucky, on Monday, August 6, at 7:00 p.m. Doors open at 6:45. Tickets are $10 and can be purchases at www.woodsongs.com or by calling 859-256-0322.
Information about The Farm Hands is available at www.FarmHandsQuartet.com. Information about Grant Maloy Smith is available at www.GrantMaloySmith.com.