NKU Announces 2018-19 Theatre Season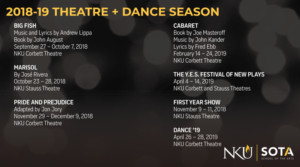 Northern Kentucky University | School of the Arts | Program of Theatre and Dance is excited to announce our 2018-19 academic season. An exact schedule of performances will be released in August 2018.
BIG FISH
Music and Lyrics by Andrew Lippa
Book by John August
September 27 - October 7, 2018
NKU Corbett Theatre
Based on the celebrated novel by Daniel Wallace and the acclaimed film directed by Tim Burton, BIG FISH tells the larger-than-life tale of Edward Bloom, a man who leads a full and fantastical life - according to the stories he tells his family. His adult son, Will, who is getting married and expecting a child of his own, is no longer amused by his father's extravagant tales and is determined to find his father's "true" life story, once and for all. Overflowing with heart, humor and beautiful music, BIG FISH is a powerful and magical musical about fathers, sons, and the stories that we use to define our identities.
MARISOL
By José Rivera
October 23 - 28, 2018
NKU Stauss Theatre
Winner of the 1993 Obie Playwriting Award, MARISOL follows a young, book-smart woman named Marisol Perez, who works in Manhattan as a copy editor. After narrowly escaping a vicious attack, she is visited by her guardian angel who informs her that she can no longer serve as Marisol's protector since she has been called to lead an angelic campaign to dethrone and kill an old and senile God - a struggle which throws the human world into complete chaos. MARISOL is a poetry-infused dark fantasia that grapples with a combination of surreal situations, spiritual and social issues, and political consciousness - a fascinating mix of the gritty and the sublime.
PRIDE AND PREJUDICE
Adapted by Jon Jory
November 29 - December 9, 2018
NKU Corbett Theatre
PRIDE AND PREJUDICE is a refreshingly fast-paced and engaging new adaptation of Jane Austen's classic novel involving manners, courtship and relationships. When the independent-minded Elizabeth Bennet meets the handsome but enigmatic Mr. Darcy, all feelings of attraction are muted by his pride and her prejudice. As their worlds keep colliding, their attraction increases and the sparks begin to fly in directions no one could have predicted.
CABARET
Book by Joe Masteroff
Music by John Kander
Lyrics by Fred Ebb
February 14 - 24, 2019
NKU Corbett Theatre
CABARET turns pre-war Berlin of 1931 into a sexually charged haven of decadence. At the seedy Kit Kat Club, a struggling American writer, Cliff Bradshaw, wanders into the club overseen by a garish and gender-bending Master of Ceremonies. There he meets Sally Bowles, a talented cabaret performer who holds her male admirers at a distance, keeping her from developing genuinely deep emotions. They're all living in a morally ambiguous vacuum of desperate anxiety, determined to keep up appearances as the real world - the world outside the comfortable sanctuary of the cabaret - prepares for the nightmarish chaos of war. CABARET is a finely tuned combination of devastating drama and ebullient entertainment, and the result is one of the most substantial musicals ever made.
THE Y.E.S. FESTIVAL OF NEW PLAYS
April 4 - 14, 2019
NKU Corbett and Stauss Theatres
Be the first to see world-premiere plays in our 19th Biennial YEAR END SERIES (YES) FESTIVAL. Titles will be announced in January 2019.
SEASON EXTRAS
FIRST YEAR SHOW
November 9 - 11, 2018
NKU Stauss Theatre
This production shows off our talented freshman and transfer students.
DANCE '19
April 26 - 28, 2019
NKU Corbett Theatre
Not to be missed, DANCE '19 features a company of our best young dance artists. Full of new and innovative works created by faculty, guest artists, and nationally renowned choreographers in creative expressions including theatre dance, contemporary and classical ballet, tap, modern, jazz, and world dance, DANCE '18 features something for everyone!
For more information, call the NKU School of the Arts Box Office at (859) 572-5464 or visit nku.edu/sotatickets. Tickets will go on sale in September 2018.