Kentucky Shakespeare Kicks Off 2018 Festival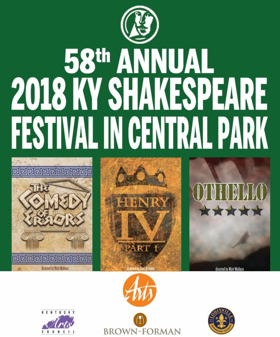 Kentucky Shakespeare kicks off its 58th annual free Kentucky Shakespeare Festival in Central Park with a comedy, a history, and a tragedy. The season begins with their professional productions of The Comedy of Errors on May 30th, then Henry IV, Part I on June 14th, followed by Othello on July 28th. Each production will run for two weeks, followed by all three productions in rotating repertory July 10th-22nd. An addition to this year's schedule are Bard-A-Thon Double Feature Saturdays. On July 14th A Comedy of Errors and Othello will be performed and Othello and Henry IV, Part I will be performed on July 21st.
The Comedy of Errors was last performed professionally on the Kentucky Shakespeare stage 24 years ago. The early Shakespeare comedy, directed by Producing Artistic Director Matt Wallace, is set in ancient Greece. The comedy is classic farce following two sets of identical twins separated at birth.
Set in the politically unstable and violent world of 1400s England, Henry IV, Part Iexplores honor, nobility, loyalty and power in the royal court and in the low-class taverns of London. The play is the second installment in the "Game of Kings" series, also known as the Henriad. Kentucky Shakespeare will present two more plays over the next two years in the series - with Henry IV, Part 2 in 2019, and Henry V in 2020, the Festival's 60th season. The production is directed by Associate Artistic Director Amy Attaway.
Rounding out the main stage is Shakespeare's classic tragedy Othello. Set in a contemporary military world, the iconic story of love, jealousy and deceit, stars Kentucky Shakespeare veterans Jon Huffman as Iago and Dathan Hooper as Othello.
"It's our favorite time of year, as we return to our roots in Central Park for the summer. This season features a company of 18 actors and an array of 55 community pre-shows, with 7 productions and 60 performances over the 10-week summer season," says Producing Artistic Director Matt Wallace. "From the time students get out of school to when they go back in August, we'll be there for you with free programming all summer long. Following our sound system upgrade, addition of new benches and restrooms, this summer we continue with more improvements including a wider variety of 28 rotating food trucks through the Louisville Food Truck Association. If you haven't been lately, you haven't been!"
The Louisville Improvisors return with Late Night Shakes on select Saturdays with late night improvised Shakespeare shows, June 2nd, 16th, 30th and August 4th.
Kentucky Shakespeare's Globe Players Professional Training Program for high school students will present Romeo & Juliet, directed by Kentucky Shakespeare's Director of Education Kyle Ware, running July 25th - 28th.
Cincinnati Shakespeare Company returns to the Kentucky Shakespeare Festival StageJuly 29th and 31st to present their touring production of A Midsummer Night's Dreamdirected by Caitlin McWethy.
The Louisville Ballet also returns to the Festival stage with another world premiere, their version of The Tempest. Created by Roger Creel and Scott Moore, the production features performers from the Louisville Ballet and original music and choreography by Creel and Moore. The production runs August 1st-5th, closing out the season.
The Festival will again feature nightly pre-show entertainment, the Brown-Forman bar, gift shop, and rotating food trucks from the Louisville Food Truck Association.
Nightly Schedule
6:30pm Food Trucks
7:00pm Will's Tavern
7:15pm Nightly Pre-Show
8:00pm Main Stage Production
DIRECTORS
Amy Attaway (Associate Artistic Director - Henry IV, Part I)
Matt Wallace (Producing Artistic Director, Director - The Comedy of Errors andOthello)
DESIGNERS
Paul Owen (Scenic Designer)
Donna Lawrence-Downs (Costume Designer)
Casey Clark (Lighting Designer)
Laura Ellis (Sound Designer)
Eric Frantz (Fight Choreographer)
Barbara F. Cullen (Choreographer)
ACTING COMPANY
Zachary Burrell
Shaleen Cholera
J. Barrett Cooper
Will DeVary
Hallie Dizdarevic
Dathan Hooper
Jon Huffman
Tom Luce
Gregory Maupin
Abigail Bailey Maupin
Tony Milder
Jon Patrick O'Brien
Jennifer Pennington
Monte Priddy
Neill Robertson
Kyle Ware
ABOUT KENTUCKY SHAKESPEARE
Designated the Official Shakespeare Company of the Commonwealth by the Kentucky legislature, Kentucky Shakespeare is a professional theatre company and not-for-profit charitable organization. Grounded in the works of Shakespeare, our mission is to enrich our community by presenting accessible, professional theatre experiences that educate, inspire and entertain people of all ages. We believe Shakespeare belongs to everyone, regardless of age, geography, or socioeconomic background. The universal power of Shakespeare and the transformative power of the arts can create positive change in our community.