SkyPilot Delivers Its Newest Runway Project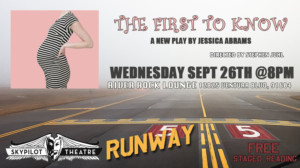 The award-winning SkyPilot Theatre Company continues its acclaimed and entertaining Runway staged reading series with The First to Know on Wednesday, Sept. 26 at 8pm at River Rock Lounge, 12825 Ventura Blvd., Studio City. Admission is free.
Written by local playwright/actress/comedienne Jessica Abrams (www.jessicaabrams.com), The First to Know is comprised of several short pregnancy-themed stories or a longer play about a choice. Directed by Steven Juhl, the cast includes Tina Walsch, Catherine Cox, Laura Walker, Mary Burkin, Albert Garnica, Ian Nemser, and Marla Cotovsky.
For more information please visit www.facebook.com/skypilottheatre or www.skypilottheatre.com.
SkyPilot's Runway is a play reading series that helps to develop new plays in the early drafts stage. The readings are rehearsed, staged, on their feet, script in hand, in partnership with an LA based playwright. After the reading there is a focused feedback session with a moderator, the playwright, and the audience.
SkyPilot's upcoming production, "SkyPilot One Act Festival 2018", includes a dual evening of one-act plays based on the #MeToo Movement, Black Lives Matter and/or March For Our Lives.
About SkyPilot Theatre Company
Founded in 2004, SkyPilot is a non-profit ensemble company of resident playwrights, actors, directors and designers producing provocative, compelling and challenging new works for the Los Angeles theatre-going audience. In 2010 SkyPilot moved away from producing revivals and began writing and producing only original plays. Notable productions have included Samantha Macher's To The New Girl and War Bride, Adam Hahn's Kong: A Goddamn Thirty-Foot Gorilla, Nathan Wellman's Inhale Harmonica, Liz Shannon Miller's Light's Off, Eyes Closed, Jeff Goode's The Emancipation Of Alabaster Mcgill, Greg Machlin's Keith Haring: Pieces of a Life, and Earthbound: An Electronica Musical by Adam Hahn (book), Jonathan Price (music), and Chana Wise (lyrics). In 2017 SkyPilot launched its SkyPilot Runway development track, beginning with Daniel Rover Singer's newest work, The Cave, along with its most recent double bill Absence Makes the Heart/Comb Your Hair or You'll Look Like a Slave.
Related Articles View More Los Angeles

Stories

Shows
More Hot Stories For You