Review: THE TONY MARTINI VARIETY HOUR Takes You Hysterically Back to the Heyday of Rat-Pack Era Las Vegas Lounge Acts

For those too young to remember the vaudevillian style lounge shows popular in the 50s and 60s in Las Vegas, where an iconic and often talented performer in their own right hosted other acts to keep gamblers entertained as they visited the lounge bar for a drink, looked for a companion for the night, or needed time to recover from a huge loss at the tables, you can now experience a little bit of old Vegas, right here in Hollywood.
And I can tell you, I don't remember laughing as hard as I did the night I attended THE TONY MARTINI VARIETY HOUR at Three Clubs Cocktail Lounge, rumored to be the exact same place where Frank Sinatra would hang out with his assorted Rat Pack buddies, friends, and lovers during their own Las Vegas heyday. And that vibe still exists in the room where those great entertainers wowed the crowds so many years ago.
Taking place on the 4th Thursday every month at 8pm, THE TONY MARTINI VARIETY HOUR brings the best comedians, burlesque dancers, magicians, ventriloquists, jugglers, live music, and more to the stage in a celebration guaranteed to amaze and dazzle every audience member. But be forewarned, if you are lucky enough to sit in the front row,
there is a good chance you will be approached to participate in a few of the acts.
Created by Steven Espinosa (at left with singer Janet Klein), directed by R.A. White, written by Espinosa and Fite, and produced by Victor Garcia and Espinosa, THE TONY MARTINI VARIETY HOUR expertly channels the atmosphere of the exact type of cheesy lounge act so popular in the days before You Tube took their skits online or "America's Got Talent" gave them a place to entertain millions on television.
And who is Tony Martini you ask? The politically incorrect 50s lounge host is brilliantly portrayed by Mark Fite, who reminded me of a young Elvis-type with greasy hair, sequined shirts, and a thin moustache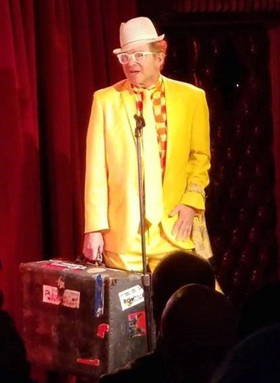 that would put Errol Flynn to shame. We learn more about him when his yellow-suit clad manager (Jim Turner, resembling Elton John during his outrageous colorful costume days) informs us Tony began his career as Tony Martin, a failing entertainer until he added an "I" at the end the end of his name, giving him the Italian lounge entertainer vibe of his idol, the one and only Dean Martin (no relation!).
But tonight, his manager has visited Martini to let him know that despite his entertaining stage presence, his lack of real talent has led to the cancellation of his management contract. Martini begs him to change his mind, asking the audience to take his side and prove his Variety Hour deserves to be continued. And at the end of the comically entertaining hour, I guarantee you will vote in his favor!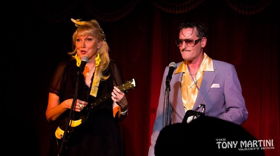 Martini also informed the crowd a major Hollywood studio is planning to make a movie about his life, featuring major stars - which I hope is really true!
Along with Tony Martini and his talented wife, Renee Albert (aka Bananas Foster), one of the two musicians playing several instruments during the show, also a talented singer whose hysterical duet with her errant hubby in which she describes his many faults ending with "Eat Me!" nearly had me rolling on the floor with symbiotic relationship laughter,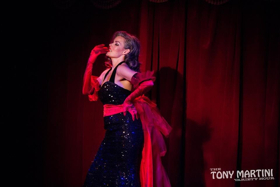 the monthly Variety Hour features a rotating roster of classic Vegas acts including comedians, burlesque dancers, magicians, ventriloquists, jugglers, live music, and more.
On the evening I attended, the Specialty Acts and Guest Performers included (in order of appearance) burlesque dancer April Showers who created the best tassel circles I have ever witnessed at the end of her classy act,
incredibly talented ventriloquist Karl Herlinger who had us almost believing he and his puppet really were two different people, the aforementioned duet with his wife Bananas Galore, then the show's other talented musician Marquis Howell accompanied Janet Klein, a 40s style singer dressed like Betty Boop who sang "I Don't Know Enough About You" in which Little Red Riding Hood's suggestive lyrics and antics with the Woof caused the song to be banned in 1926.
Next up as Martini returned to the stage in much-too-short short shorts, and accompanying him during the entire evening as his act assistants who often carried and set up props during the performance, were "Shaken and Stirred" both talented entertainers in their own right
who accompanied Martini during his solo song "Hard Times." A photo from that number is featured earlier in this review.
Then get ready for more laughs when puppeteer Pam Severns' two sock puppets meet on their first date and wind up in bed together, probably one of the best, sexiest and funniest puppetry scenes since "Avenue Q."
After taking a short break, Act 2 featured the evening's regular finale, Juggler/Balancer
Michael Rayner who wowed the crowd juggling an old-fashioned wooden tennis racket between two sticks. His antics were eye-catching and often caused me to catch my breath in anticipation of never-happening miss! And given Rayner's expertise with lounge comedy, be prepared to laugh as much as I did when he called upon Martha, a sprite 93-year-old sitting in the front row, to play an important part in his big finale - balancing an In and Out burger on a twirling parasol.
As I said, I have not laughed so hard in forever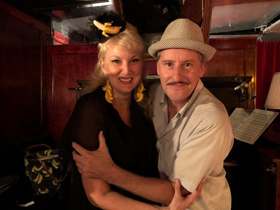 and encourage you to leave your cares behind and go enjoy THE TONY MARTINI VARIETY HOUR on the 4th Thursday of each month as 8pm at Three Clubs Lounge, 1123 N. Vine Street in Hollywood 90038. Chances are I will be in the audience again too. Get your $20 admission ticket (reservations are required at www.tonymartinihour.com), then grab a drink at the bar and get ready for one of the most entertaining evenings you will ever experience! Running time is approximately 75 minutes, but stay around afterwards to thank each of the entertainers for such a great evening!
Photos courtesy of THE TONY MARTINI VARIETY HOUR