Review: BUGABOO AND THE SILENT ONE Offers an Intimate Look at the Power of Female Friendship Despite Devastating Circumstances
Fans of Orange is the New Black certainly enjoy watching the escapades of female inmates stuck together in prison as they attempt to understand each other and either try to get along or attempt to murder each other. Marja-Lewis Ryan's fourth original production at The Lounge, entitled BUGABOO & THE SILENT ONE, centers on just such a tale based in the women's block of Henderson County Jail in West Virginia in the present day, centered around two female inmates faced with life in prison. Presented by producer Chris Bender (American Pie, History of Violence, Mulan), Marja-Lewis Ryan's timely new drama is an intimate look at the power of female friendship despite devastating circumstances.
After 42 days alone, big mouth Bugaboo, played by LA Drama Critics Circle Award Winning Actress Heidi Sulzman, who carries the play from start to finish with her non-stop and often intense monologues, has recently "come fully to Jesus" and constantly apologizes for her verbal transgressions against him, of which there are many since Bugaboo constantly talks to herself when there is no one else around to listen to her non-sequitur rants. And from Michael Fitzgerald's scenic design, it is very apparent she has made herself right at home in this small cell with bits and pieces of personal memorabilia decorating the walls on her side of the tiny living space. It is her final domain and no one would ever try to take it from her.
So when Peterson, the cell block guard (Michelle Gardner), brings in her new roommate, the stage is set for Bugaboo to talk a stand and do her best to save the soul of The Silent One (Jacqueline Toboni), whom she comes to call her "silent little sinner." And just why does she remain silent when no doubt Bugaboo annoys her so much with her constant babbling, causing The Silent One to roll herself into a tight ball and cower in the corner of her bunk? It will have you wondering just that for much of the 75-minute play.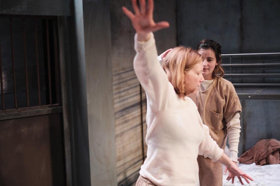 But eventually, as Bugaboo keeps rambling on and on, we learn why these two women were both incarcerated for their third infractions, each now serving 25 years to life for their crimes. It's a sad tale of woe for The Silent One, while Bugaboo seems to really enjoy being boastful about her attempt to better her life at the cost of others. But as the play unfolds, it becomes clear that they are both desperate for something outside of themselves as they explore complex social truths through their intimate and very personal discussions after finally learning to trust each other.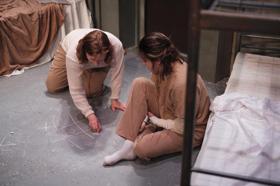 Heidi Sulzman and Jacqueline Toboni certainly play very different types of women, two that no doubt would ever speak to each other if they met at a local coffee shop. But as these two remarkable actresses allow us to get to know their character's deeply marred souls, it is easy to see how they finally can get past their differences through recognizing their similarities and the need for a close friend to talk to when darkness envelops your being.
BUGABOO & THE SILENT ONE continues through February 24. 2018 on Thursdays, Fridays and Saturdays at 8 p.m. and Sundays at 2 p.m. Also plays Sunday at 7 p.m. on January 21. Sold out on Thursday, January 25. Performances at the Lounge Theater, located at 6201 Santa Monica Blvd., Los Angeles, CA 90038. General admission is $34. For information and to purchase tickets, go to batso.brownpapertickets.com or call toll-free, (800) 838-3006. This world premiere production is presented by Chris Bender, written and directed by Marja-Lewis Ryan, produced by Leah Couvelier, Allie Romano and Marja-Lewis Ryan, and associate produced by Racquel Lehrman of Theatre Planners.
Photo credit: Billy Baque