Review: BARK! The Musical is a Fabulous, Episodic Song Fest to the Glory of DOG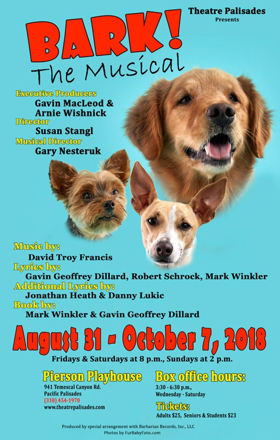 Anyone who has had a loving dog as their companion will certainly understand the glory of waking up next to the best friend you could possibly ever have. No doubt among those people are the men who created BARK! The Musical, composer David Troy Francis; book by Mark Winkler and Gavin Geoffrey Dillard, with lyrics by Gavin Geoffrey Dillard, Mark Winkler, Robert Schlock, Jonathan Heath and Danny Lukic, when they created such a fabulous, episodic song fest to the glory of dog, musically communicated from six very different types of pooches.
Now being presented as Theatre Palisades' first musical of the 2018 season, directed with great canine passion by dog lover Susan Stangl, BARK! The Musical is a tuneful tribute to dogs and their intrepidly human hearts hidden beneath all that fur and loving gazes. Beginning at a doggy day care center in Act 1, we meet six very different dogs all bemoaning being separated from their respective masters who they just want to be with 24/7. We soon learn about their pampered, lonely, and often co-dependent lives as each awaits a happy reunion with their master at the end of the day.
Musically directed by Gary Nesternuk with cute and cuddly canine choreography and costumes by Heidi Dotson, featured in the cast are
Greg Abbott as King, the older, wiser, and often ready-for-a-nap Labrador who will remind you why even dogs were great fans of the classic TV show "Lassie" when he sings about his overwhelming love of the lovely lass, or break your heart during "A Grassy Field," his ode to crossing the Rainbow Bridge where he will wait to be reunited and run free with the little boy who raised him; Elena Coleman as Boo, a co-dependent motherly Cocker Spaniel who becomes a raging sock-a-holic when not "Guarding Janie;" and Ben Fuligni as the energetic Jack Russell puppy Rocks (short for Rachmaninoff)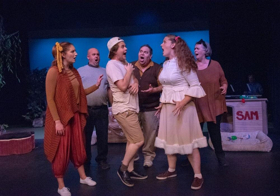 who brags about "Whizzin' on Stuff" when he is finally let outside when his master returns home, and then admits he has not yet learned how to "Bark!" which the other five dogs comically try to teach him to do. No doubt one of them will offer a sound that matches your own dog, and feel free to bark back at them at the appropriate time during both renditions of the title song.
Julie Hinton portrays the lovely diva-like Afghan Hound Chanel who is being raised by two dads named Steve, one of whom spends his Saturday mornings dressing himself and his incredibly talented canine duet partner in appropriate costumes to sing one of their favorite operas together,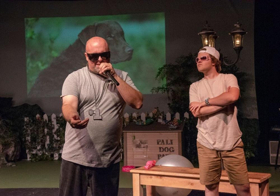 with Hinton's marvelous operatic soprano describing the experience to perfection in "Il Cane Dell'Opera" and her vocal ode to firetrucks everywhere in "Siren Symphony;" Peter Miller as Sam, the tongue-waging, macho street tough Mutt who manages to break free of his dog house chain as the "Mighty Mutt from Mars" and later at the Dog Park in Act 2 as he names off every dog breed you could possibly ever think of at an incredibly rapid pace during "M-U-T-T Rap" as Stangl's perfectly-timed photo of each breed appears on the back wall; and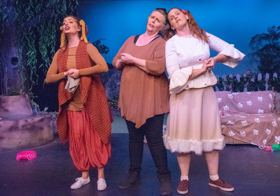 Marina Curtis Tidwell as the Yiddish-speaking and incredibly pampered Golde, a brassy and sassy Boxer who we first meet along with Boo and Chanel and they sing to the glory of being "Three Bitches" in a 40s harmonic trio-style reminiscent of The Andrews Sisters. Tidwell later displays her bluesy chops during "Howling Just to Scare Away the Blues" at the opening of Act 2.
In speaking with these talented actors after the performance, each noted how difficult it was at first to learn songs in so many different styles,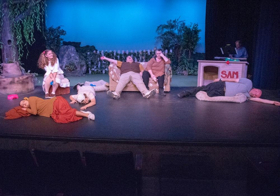 requiring six-part harmonies while executing complicated choreography. But you will never know that while watching their performances in which they never missed a move, beat or a note at the matinee I attended. Stangl certainly knew what to look when casting each of the dog roles as all six portray each breed to perfection, making each personality stand out on their own four paws as they navigate their way through doggy day care, the dog park and a dog's life in general via a total of 22 entertaining and often comically engaging tunes.
Howlingly funny and sweetly touching, BARK! believably lets us see into the minds and hearts of man's best friend while learning what that head tilt or ear twitch really means. No doubt you will leave the theater wanting to adopt all six of them!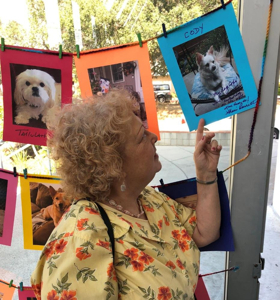 And speaking of cute canines, many of whom were adopted into loving homes, be sure to look at all the headshots around the lobby of dogs entered into the BARK! poster contest, with any of their human companions who attend the show invited to add their canine's name to the appropriate photo. Be sure to look for Cody, my adorable Pomeranian/Long-haired Chihuahua mix, next to the lobby entrance door! And in case you are wondering, his bark sounds like "Oeuf" which is the French word for "egg."
Along with everyone mentioned so far, kudos also go out to Gavin MacLeod and Arnie Wishnick at the executive producers and Ria Erlich and Sylvia Grieb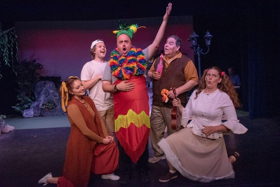 as the producers of the family-friendly BARK! The Musical which continues through October 7 on Fridays and Saturdays at 8 p.m. and Sundays at 2 p.m. at Theatre Palisades Pierson Playhouse, 941 Temescal Canyon Dr. (just south of Sunset) in Pacific Palisades 90272. Tickets are $25 for adults and $23 for seniors and students. And be sure to take a fellow dog lover or two along with you!
Photo credit: Joy Daunis
Shari Barrett, a Los Angeles native, has been active in the theater world since the age of six - acting, singing, and dancing her way (read more about this author...)