Pop Up Theater Presents SEMINAR By Theresa Rebeck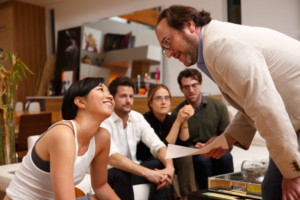 POP UP THEATER, INC.is thrilled to present the third and final show in its inaugural 2017-2018 season, SEMINAR, written by Theresa Rebeck (Mauritius, Bad Dates), produced by Grafton Doyle and directed by Melanie Weisner (Pterodactyls, Becky Shaw).
SEMINAR will preview on Tuesday May 8 & Wednesday, May 9 at 8pm; will open on Thursday, May 10 at 8pm and runs through Saturday, June 2 at Thymele Arts Theater, 5481 Santa Monica Blvd. in Hollywood.
In this uniquely site-specific Pop Up production, four aspiring writers, (all in their 20s, acquainted with each other and living in New York City), have just hired world renowned writer, editor and teacher Leonard for a 10 week "seminar" to teach them how to be better writers and help move their careers along. However, they have absolutely no idea what they've gotten themselves into in this funny and provocative play by acclaimed writer Theresa Rebeck!
Theresa Rebeck (Playwright) is a widely produced playwright throughout the United States and abroad. New York productions of her work include Dead Accounts at the Music Box Theatre; Seminar at the Golden Theatre; Mauritius at the Biltmore Theatre in a Manhattan Theater Club Production; The Scene, The Water's Edge, Loose Knit, The Family of Mann and Spike Heels at Second Stage; Bad Dates, The Butterfly Collection and Our House at Playwrights Horizons; The Understudy at the Laura Pels Theater in a Roundabout Theatre Company production; and View of the Dome at New York Theatre Workshop. Omnium Gatherum (co-written, finalist for the Pulitzer Prize in 2003) was featured at the Humana Festival, and had a commercial run at the Variety Arts Theatre. Her newest work, Poor Behavior premiered at the Mark Taper Forum in Los Angeles in 2011. Dead Accounts, commissioned by the Cincinnati Playhouse, premiered January 2012.
MELANIE WEISNER (Director) is a co-creator, producer, and director for Pop Up Theater LA. She most recently directed the Pop Up Theater productions of Pterodactylsby Nicky Silver and Becky Shaw by Gina Gionfriddoboth at The Culver Studios. She graduated from New York University's musical theater program and in addition to her artistic talents is an internationally acclaimed professional poker player.
Grafton Doyle (Producer) is an LA based actor, director, and producer as well as student of Narrative Studies at USC. Originally a co-founder of Epsilon Theater Company with Daniel Korth and Shoshanna Chagall, Grafton spearheaded site-specific performances and immersive performances for clients such as The American Cancer Society, The Actors Fund, and The Palm Springs Art Museum.
Now creator of Pop Up Theater Inc. Grafton is thrilled to produce new and exciting works for Los Angeles. Acting credits include: Becky Shaw (Pop Up Theatre LA), Spike Heels(Epsilon Theater), and Three Days of Rain(Epsilon Theater), The Cottage(Americana Theatre), The Curious Savage(Avery Schreiber), and Almost an Evening(Gennitti's Detroit). Film: "Regionrat," "Tug of War." TV: Disney's "Walk The Prank," "The Chloe & Sage Chronicles." Director: The Woolgatherer(Fringe Festival),Short Play Festival(Avery Schreiber). He is currently an Executive Producer of the feature film "Buck Run" starring James LeGros. The cast of SEMINAR features (in alphabetical order): Tom Gallop, Helena Habes, Tracy S. Lee, Doug Roland and Spencer Weitzel.
SEMINAR will preview on Tuesday May 8 & Wednesday, May 9 at 8pm; will open on Thursday, May 10 at 8pm and run through Saturday, June 2 at Thymele Arts Theater, 5481 Santa Monica Blvd. in Hollywood. Performances are Fridays & Saturdays at 8:00pm; Sundays at 2pm.
There will be no performance on Saturday, May 12; the Saturday, May 19 performance will be at 5pm; and there will be an additional performance on Thursday, May 31 at 8pm. SEMINAR will also perform as part of the Hollywood Fringe Festival. Ticket prices are $25.00 for all performances. Tickets are available online at thepopuptheater.org and popuptheater.eventbrite.com.
More Hot Stories For You