Poignant And Playful Comedy THE CEMETERY CLUB Opens At Little Fish Theatre, 2/21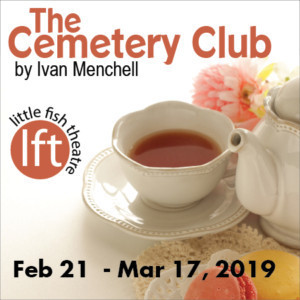 Taking a playful yet poignant look at love and loss through the eyes of three widows and one very eligible bachelor, Little Fish Theatre opens The Cemetery Club on February 21. Written by Ivan Menchell and directed by Little Fish Theatre company member James Rice, The Cemetery Club runs for four weeks and is the second show in LFT's 2019 season.
Ida, Lucille, and Doris are all widows who find friendship and frivolity when they gather once a month for tea before going to the cemetery to visit graves and commiserate about their late husbands' attributes and shortcomings. One fateful day they encounter widower Sam, and later fellow widow Mildred, who touch their lives in unexpected ways. The Cemetery Club explores enduring friendships and the power of love after life.
"I am always excited by human experience plays. The Cemetery Club looks at the experience we all dread -- losing a significant other," says director Rice (Plaza Suite). "How do we deal with memories? The grief? Moving on? This piece explores all of that with pathos and humor."
Susie McCarthy (Provenance) plays the sweet-tempered Ida, who is finally ready to begin a new life when she meets kind local butcher Sam, played by Perry Shields (Pick of the Vine). Feisty Lucille, taken on by Amanda Karr* (The Good Doctor), puts a monkey wrench into the romance when she fears that her friend will be taken away from her. Mary-Margaret Lewis* (Quartet) plays Doris, perhaps the most fearful of the threesome, who isn't quite ready to change their monthly ritual at the cemetery. Diana Mann (The Dixie Swim Club) plays Mildred, a wild card who may change everything for Ida and Sam.
Stage Managing the show is Jacob Severance, with Set Design by Chris Beyries, Lighting Design by Stacey Adams, Costume Design by Diana Mann, Sound Design by Holly Baker-Kreiswirth, with Prop Design and Set Dressing by Amanda Karr.
The Cemetery Club opens on Thursday, February 21 at 8pm, with Friday and Saturday nights at 8pm from February 22 through March 16. There will be two 2pm matinees: Sunday March 3 and Sunday March 17. The March 3 matinee features a special talkback session where audience members can interact with the cast and creative team.
Tickets can be purchased online at www.littlefishtheatre.org, by phone at 310-512-6030 or by text 424-226-6030. Popular subscription packages of Anytime Tickets are available now and can be used at any of Little Fish Theatre's regular season productions, at any time.
Founded in 2002 as an artists' ensemble, Little Fish Theatre presents classic and contemporary plays in an intimate setting on Centre Street in downtown San Pedro.
*This production is presented under the auspices of the Actors' Equity Los Angeles Membership Company Rule.