Photo Flash: 'Pazzazz' in Santa Barbara
Among the many friends and colleagues who sent love and regards for a successful opening night of "PAZZAZZ!" at Santa Barbara's Granada Theatre on Saturday June 21st were June Lockhart, Loni Anderson, Angie Dickinson, Buzz Aldrin, Bruce Vilanch, Florence Henderson, Stefanie Powers, Marion Ross, Michael York, Tippi Hedren, Anne Jeffreys, Lee Meriwether and Sharon Lawrence.
The highly anticipated world premiere of the new original full-scale musical production of "PAZZAZZ!" starred
Dale Kristien
,
Adam Wylie
, Michael Hill, Jamie Snyder, Joe D'Auria, Barbara Hinrichsen, Micheal Lopez, Thomas Sturgeon, Amy Gillette, Christine Capsuto, Juliete Fischer, Danny Michaels, Jason Webb,
Joshua Finkel
and Alan Rachins with words and music by the co-founder of the world famous Magic Castle Milt Larsen and Oscar winning composer
Richard M. Sherman
(
Mary Poppins
, Chitty Chitty Bang Bang) and show stopping costume designs by Arlene Larsen.Imagine "The Producers" meets "Sugar Babies" and you have "PAZZAZZ!" Set in colorful New York during the turn of the last century - Based on real characters, the story depicts a very young George M. Cohan (
Adam Wylie
) before he became the "King of Broadway" and his relationship with two influential vaudeville comedians, whose theatre - The Weber and Fields Broadway Music Hall - was the home to the greatest stars of the day such as Lillian Russell (
Dale Kristien
) and where New York's social elite were to see or be seen.  The success of the Music Hall fused the ruthless syndicate of the time with envy and a desire to put them out of business. With production numbers like "Twentith Century Step," "The Great White Way" and "Little Ole Broadway" as well as the hypnotic voice of
Dale Kristien
singing "Moth in the Flame,"
Richard Sherman
and Milt Larsen offer audiences a nostalgic trip back to Broadway's early days of vaudeville splendor with classic music and dance.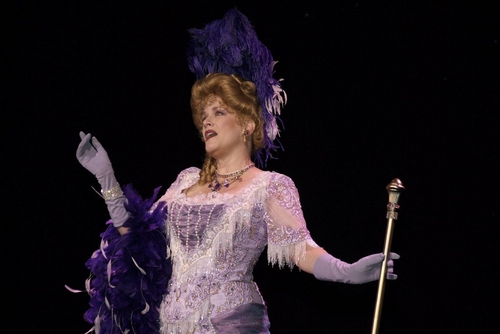 Dale Kristien sings "Moth in a Flame"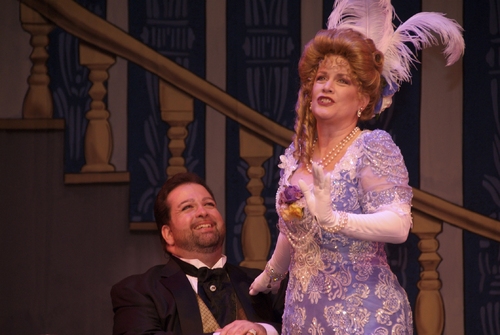 Jamie Snyder (as Diamond Jim Brady) and Dale Kristien (as Lillian Russell)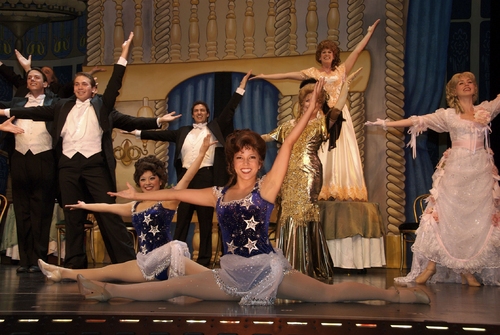 Chorus performs the "Twentith Century Step"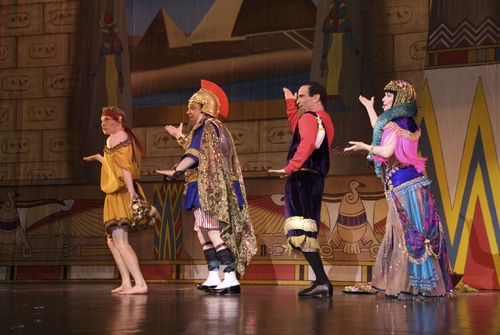 Adam Wylie (Geroge M Cohan), Joe D'Auria (Joe Weber), Joshua Kinkel (Lew Fields) and Dale Kristien (Lillian Russell) perform "Cleo Queen of the Nile"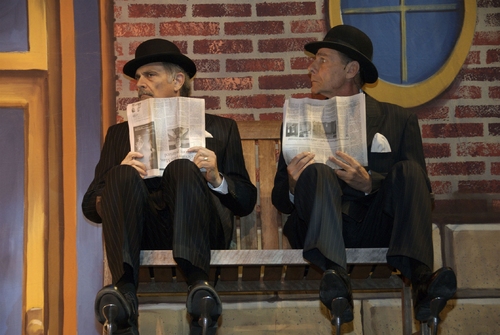 Alan Rachins and Michael Hill as the devious and dasterdly James Skimmer and Manny Kahn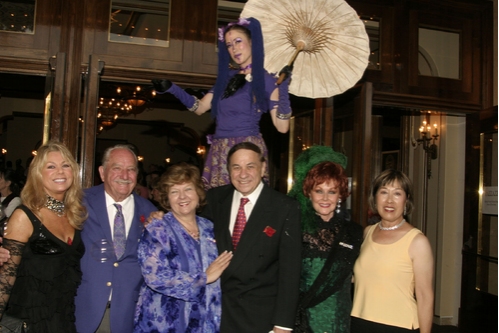 Nina Terzian, Milt Larsen, Arlene Larsen, Richard M Sherman, Joyce Shaar and Hiroko Benko. Behind is Rebecca (stilt walker from TONY TV)
Photos by Nell Campbell and Mark McDonald.