Pasadena Playhouse Announces Spring 2019 New Works Festivals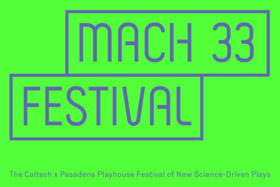 Pasadena Playhouse, State Theatre of California, continues their exciting partnerships with Caltech Theatre and the USC School of Dramatic Arts this Spring, with MACH 33: The Caltech|Pasadena Playhouse Festival of New Science Driven Plays, presented by Caltech Theater and Pasadena Playhouse May 9 -11 and the New Works Festival Year 3 May 17-18, presented by USC School of Dramatic Arts and hosted by Pasadena Playhouse. These plays are part of Playhouse community programming. Danny Feldman is the Producing Artistic Director of Pasadena Playhouse.
MACH 33: The Caltech?
Pasadena Playhouse
Festival of New Science-Driven Plays energizes the conversations about scientific, mathematical, and technological questions by staging readings of new, unpublished, unproduced plays. The readings are open to the public and present a discussion with Caltech/JPL scientific panelists after the show. The casts and crews feature professional actors and directors as well as students and members of the Caltech/JPL community. Festival playwrights have the unique opportunity to work with science advisors from Caltech and JPL and dramaturgs from the around the country. The plays for MACH 33 are Bones of the Sea, written by
James Armstrong
and directed by
Satya Bhabha
, Thursday, May 9 at 7pm; Sizzle, Sizzle, Fly, written by Susan Bernstein and directed by Rhonda, Friday, May 10 at 7pm; and The Surest Person, written by Kristin Idaszak and directed by Randee Trabitz, Saturday, May 11 at 7pm. Tickets are $15;
Pasadena Playhouse
members and students are $10. Tickets for MACH 33 are available at Pasadenaplayhouse.org or by calling 626-356-7529 USC School of Dramatic Arts New Works Festival Year 3 are the thesis plays of the graduating MFA in Dramatic Writing cohort and are presented as concert readings with professional actors and directors. NWF Year 3 is a partnership with
Pasadena Playhouse
's Playworks, a continuation of the theatre's 100-year commitment to cultivating playwrights and original works. The plays for New Works Festival Year 3 are Red Gene, written by Mariana Carrena-King and directed by
Elisa Bocanegra
, Friday, May 17 at 8pm; Journey to Alice, written by Aja Houston and directed by
Jon Lawrence Rivera
, Saturday, May 18 at 2pm; and The Color of Blood, written by Gideon Wabvuta and directed by Stewart J. Zully, Saturday, May 18 at 8pm. Tickets are free, with exclusive access to Members only and are available at Pasadenaplayhouse.org or by calling 626-356-7529. Limit 2 tickets per order. More about MACH 33: The Caltech?
Pasadena Playhouse
Festival of New Science-Driven Plays Bones of the Sea
Bones of the Sea tells the true story of Mary Anning, a working-class woman in Dorset, England, who helped to revolutionize the field of paleontology in the 19th century. In flashbacks, the audience sees various scenes of the self-taught Anning and the wealthy scientist Henry De la Beche as the two forge an unlikely friendship that lasts through fame and glory, disappointment and heartbreak.
James Armstrong
(Playwright): Armstrong's plays have been performed by Detroit Repertory Theatre, Wellfleet Harbor Actors Theater, the Abingdon Theatre Company, and other professional theaters. James wrote the books for the new musicals Ordinary Islandand Keep On Walkin', the latter of which won the Anna Zornio Children's Theatre Playwriting Award. Armstrong has an MFA in Dramatic Writing from the
Carnegie Mellon University
School of Drama and is a member of the
Dramatists Guild
.
Satya Bhabha
(Director): Bhabha is a director and actor born in London and based in LA. His films have played at multiple festivals including Tiff and Palm Springs, with his most recent, Cover Up (starring
Alison Pill
and
Jason Ritter
) being acquired by Conde Nast. He recently made his network TV directing debut on Fox's The Resident, to which he will be returning next season. Bhabha has developed work with
The Public Theater
,
Ars Nova
, and
Center Theatre Group
, and recently directed The Imposter for New Guard Theatre Co. and Authority for Echo Theatre Co. His 48-hour long immersive adventure The Headlands Gamble was featured in the New York Times and likened by Bloomberg to "walking around in the world's most assiduously designed movie." As an actor Bhabha has been seen in films ranging from Scott Pilgrim to
Salman Rushdie
's Midnight's Children, and on TV in many shows including New Girl, Sense8 and Key & Peele. In the theatre Bhabha has performed at The
Signature Theatre
,
The
New Group
, and Shakespeare's Globe in London, among others. He is a graduate of Yale University where he was awarded the prestigious Sudler Prize for the Arts. Sizzle, Sizzle, Fly
Frances "Poppy" Northcutt, a math whiz working at Mission Control as a "computress," finds flaws in some unruly code, is promoted to technical staff - and becomes the first woman to slip on the headset as a NASA engineer. It's December 1968, the cusp of a new world, she's 25 years old, favors mini-skirts, eyeliner, and long blonde hair, Apollo 8 has gone behind the moon, and Poppy Northcutt holds her breath as the world changes faster than her return-to-earth trajectories can splash those dudes back down.
Susan Bernfield
(Playwright): Bernfield's plays include Tania in the Getaway Van (The Pool @ The Flea; New Harmony Project; Huntington Theatre Breaking Ground Festival); Stretch(a fantasia) (People's Light & Theatre; New Georges; Ice Factory Festival; published by Playscripts); Barking Girl (O'Neill National Playwrights Conference; Chrysalis Theatre); the solo musical Tiny Feats of Cowardice, with music by
Rachel Peters
(FringeNYC;
Adirondack Theatre Festival
; HERE); and the solo play My Last Car (performed in living rooms throughout New York City) and have also been developed at Magic Theater,
Playwrights Horizons
, EST, The Lark, and more. She is the founder and artistic director of New Georges, where she has advanced new plays (by women) in NYC since 1992. In this capacity, she is the recipient of Obie and Lilly awards.
Rhonda Kohl
(Director): Kohl is a Los Angeles-based director whose West Coast premiere of For the Love Of (or, the roller derby play) was just remounted at the
Kirk Douglas
as a part of CTG's Block Party. Kohl was the SDCF Traube Fellow on the Broadway debut of In Transit (Circle in the Square) with
Kathleen Marshall
, who she also worked with on Mamma Mia (Hollywood Bowl), Damn Yankees (Roundabout Theatre Benefit Reading), and Sweet Charity (Reprise 2.0). She recently choreographed and assistant directed Native Gardens at
The
Pasadena Playhouse
and is a participating designer in the Rogue Artist Lab. Other LA directing credits include: Around the World in 80 Days (Actors Co-op; LA Times Critic's Choice), Pocket Universe (Hollywood Fringe) Look Back in Anger (LA New Court). She has assistant directed at
The
Pasadena Playhouse
,
Geffen Playhouse
, and A Noise Within. Online: www.rhondakohl.com Social: @RhondaKohl Sizzle, Sizzle Fly is a Rewrite Commission from EST/Sloan Project The Surest Poison
Prohibition is in full swing, but New York City is still celebrating New Year's Eve in style-with a batch of poisoned hooch and an immigrant woman's murder by cyanide. Cue Alexander Gettler, an obsessive chemist whose research helped create the modern field of forensic toxicology. With help from Lipstick, an intrepid flapper and indefatigable reporter who mistakes his laboratory for a speakeasy, Gettler must try to catch a murderer and convince the federal government to stop poisoning alcohol. Inspired by the real life work of Gettler and pioneering journalist
Lois Long
, The Surest Poison chronicles the dark side of the noble experiment. Kristin Idaszak (Playwright): Idaszak, a two-time Playwrights' Center Jerome Fellow, has received the Kennedy Center's
Paula Vogel
Playwriting Award and the
Jean Kennedy Smith
Playwriting Award. She was the Shank Playwright in Residence at
The
Goodman Theatre
and a member of the 2017-2018 Goodman
Playwrights Unit
. She has received commissions from EST/The Sloan Foundation,
Cleveland Play House
, and Shakespeare Festival St. Louis. Idaszak is the Artistic Director of Cloudgate Theatre and previously served as Associate Artistic Director/Literary Manager of Caffeine Theatre and Associate Artistic Director of Collaboraction. MFA: UC San Diego. kristinidaszak.com Randee Trabitz (Director): Trabitz is Los Angeles -based director. She recently remounted the L.A.Times Critics' Choice Friends with Guns at the Road Theatre and the acclaimed Blacktop Highway with long-time collaborator
John Fleck
. Trabitz's work has been seen in Berlin and Greece, New York City, Atlanta, large venues like MOCA'S Geffen Contemporary, California Adventure, Cal Plaza, LA Opera, Disney Cruise Lines and the Performing Arts Center in Santa Clarita, but her heart is in intimate theater, specializing on new plays with writers like Stephanie Allison Walker, Doug Cooney, Julie Hebért,
Bridget Carpenter
, Jamie Brandli,
Jessica Goldberg
, Jennie Webb and Elizabeth Dement (upcoming No Place Like Gandersheim at Inkwell Theater). Her work has garnered some prizes and grants. She also teaches and directs at a variety of universities, most recently Cal-State Los Angeles and Caltech. Randeetrabitz.com The Surest Poison is an EST/The Sloan Foundation commission. Since 2007, Caltech Theater has helped develop exciting new plays such as God Particle Complex by
Chris Bell
and Josh Zeller, Mate by
Lolly Ward
, Tesla by
Dan Duling
, Out of Orbit by
Jennifer Maisel
, The Washing of the Water by Marcus Renner, and the trilogy of plays by
George Morgan
: Rocket Girl, Pasadena Babalon, and Capture the Sun. In 2018, MACH 33 began a new collaboration with
The
Pasadena Playhouse
and launched a new national call for plays.
Brian Brophy
- head of Caltech Theater - is the Artistic Director of MACH 33. Arden Thomas serves as the Associate Artistic Director and Literary Manager;
Danny Feldman
is the Producing Artistic Director of
The
Pasadena Playhouse
. More About USC School of Dramatic Arts New Works Festival Year 3 Red Gene
Leticia fails conversion therapy and is locked up in her mother's basement. Rose, a government representative, gets accidentally locked up with her. By the time Bruno comes for a visit, a revolution might be brewing outside. Will anyone be able to escape? Journey to Alice
While flying cross-country with her mother to a wedding, Lynè has encounters with the unexpected and inexplicable, which threaten Lynè's struggle to hold her world together. The Color of Blood
In war-torn 1978 colonial Rhodesia, Chegidi, a 19-year-old guerilla fighter struggles to find her space and assert herself amongst a squadron of man on a mission to cripple and sabotage the Rhodesian government. The Master of Fine Arts in Dramatic Writing (MFADW) is an intensive, intimate, mentor-based, practicing literary arts program for today's dramatic writer. The MFADW, centrally housed in the School of Dramatic Arts at USC, an elite research university, is designed to mine the literary potential of the artist, and prepare the artist to engage meaningfully in global society and the profession. About The USC School of Dramatic Arts -- The USC School of Dramatic Arts is a national leader in dramatic arts training, offering an unprecedented range of creative experiences on multiple platforms. Under the leadership of Dean
David Bridel
, the faculty and administration of the School have begun to reimagine and redefine what it means to train dramatic artists in the 21st Century without losing the rigorous foundational training that has been a hallmark of the School for over 70 years. This flexible and contemporary approach responds to today's rapidly changing media climate, and provides the versatile and cutting-edge skills essential to the contemporary actor, writer, stage manager and designer. About
Pasadena Playhouse
Pasadena Playhouse
is a place where people have gathered for 100 years to experience bold and important theater. It is one of the most prolific theaters in American history with a legacy of profound theatrical impact and courageous new work. In 1937, the Playhouse was officially recognized as the State Theater of California for its contribution and commitment to the dramatic arts. Today it continues that tradition of excellence under the helm of producing artistic director
Danny Feldman
. Dedicated to enriching lives through theater, community programs and learning initiatives,
Pasadena Playhouse
is a living force in the community. For more information please visit
www.pasadenaplayhouse.org/