Details Announced for 9th Annual WICKED LIT 2017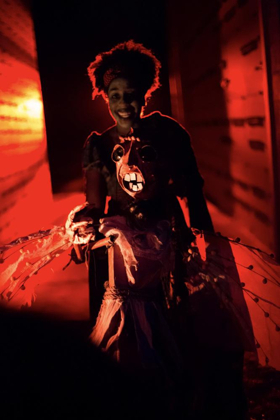 Unbound Productions Executive Director Jonathan Josephson, Artistic Director Paul Millet, and Producing Artistic Director Jeff G. Rack have announced the details for WICKED LIT 2017, the company's 9th annual immersive theatre event that will for the 8th year take place at Mountain View Mausoleum and Cemetery in Altadena, California. Tickets will go on sale this week.

The production will run from September 29-November 11, 2017 and feature world premiere adaptations of Ambrose Bierce's The Damned Thing, adapted by Jeff G. Rack (The Monkey's Paw, The Unammable), directed by Sebastian Munoz (Force of Nature Productions); Thoth's Labyrinth, adapted by Jonathan Josephson (Anansi and the Demons, Humana Festival), Directed by Darin Anthony (The Grove of Rashomon, Moving Arts); and Margaret Oliphant's The Open Door, Adapted by Kirsten Brandt (The Snow Queen, Berzerkergäng), Directed by Paul Millet (Holmes, Sherlock and The Consulting Detective; Smoke and Mirrors). The frame for Wicked Lit 2017: Liliom, by Kerry Kazmierowicztrimm (O'Neill Finalist), Directed by James Castle Stevens (From Beyond enhanced staged reading in 2015, Glendale Center Theatre).
Time Out Los Angeles called Wicked Lit "One of the best Los Angeles theater productions for fall 2016!" WL15 was recognized as "Ovation Recommended" by LA
Stage Alliance
, WL14 and WL15 won four Ovation Awards - twice for "Best Sound Design" and additional Awards for Costumes and Lighting, all in the "Large Venue" category. Both WL13 and WL14 were named the "Best Halloween Event of the Year" by Hollywood Gothique. The Damned Thing, Thoth's Labyrinth and The Open Door, are the 32nd, 33rd and 34th plays to receive their world premiere from Unbound Productions. Several of these plays have been produced by schools and theatre companies across the country and around the world including England, Scotland and Cameroon.

For the past four years, WICKED LIT has played to 100% capacity drawing over 13,000 patrons to Altadena during that time. The immersive event has been named one of the best Halloween events of the year by LA Magazine, NBC Locals (Los Angeles). Thrillist and Theme Park Adventure, and listed as the best in immersive/outdoor theatre in Southern California by Time Out Los Angeles and Culture Spot LA. Terry Morgan of Stage Raw called WICKED LIT "An autumnal treat! For those who want to celebrate Halloween in an unusually theatrical way, this event won't disappoint." Pasadena Weekly said "I think of WICKED LIT as a treasure to start the holiday season. You should too."

WICKED LIT 2017 will run seven weeks and feature the popular behind-the-scenes "Backstage Experience" for an additional fee. This fundraising initiative allows a small number of guests to receive insight from the creators of the show while touring the Mausoleum.

WICKED LIT audiences will experience three short plays as they are led through the grounds of the mausoleum and cemetery by Storyguides. WICKED LIT is a walking show - patrons must be able to comfortably walk a minimum of 2,000 steps and climb stairs in order to experience this production. WICKED LIT 2017 may contain mature themes, theatrical violence, and sexual situations - the production is recommended for audiences ages 16+. The running time will be approximately 3 hours including two intervals.
The cast for WICKED LIT 2017 includes
Todd Andrew Ball
,
Bradley Bundlie
, Joe Camareno,
Jennifer Novak
Chun, John
Patrick Daly
, Eric DeLoretta,
Kevin Dulude
, Sawyer Fuller, Alec Gaylord, Jena Hunt, LizAnne Keigley,
Eric Keitel
,
Richard Large
, Meghan Lewis, Tosca Minotto,
Michael Perl
,
Brian David Pope
, Michael Prichard, David TY-Reza, Tessa Willshire &
Morgan Zenith
.

The design team for WICKED LIT 2017 includes Kurtis Bedford (Production Builder), Christine Cover Ferro (Costume Designer), Robin Lynn (Asst. Costume Designer/Wardrobe Mistress), Drew Dalzell (Sound Designer), Noelle Hoffman (Sound Designer), Julie Pound (Resident Make-Up Designer), Judi Lewin (Co- Make-up Designer/ Wig & Hair Design), Hilda Kane (Lighting Designer), Darrell Clark (Lighting Designer), Joe Seely (Lead Puppeteer), McKenzie R. Eckels (Props Designer). The production team includes TaShaunna Peterman (Production Manager), Julie Ouellette (Production Stage Manager ~ Lilliom), David Patrick (Master Electrician), Paolo Greco (Sound Master), and Benjamin Scuglia (Stage Manager ~ Thoth's Labyrinth).

The mission of Unbound Productions, the theatre company that produces WICKED LIT, is to reimagine timeless stories for new audiences by creating immersive, theatrical adaptations of literature.
Visit
wickedlit.org
for complete pricing and scheduling details. WICKED LIT is also on Facebook.
THE PLAYS
The Damned Thing
Adapted by Jeff G. Rack
Directed by Sebastian Munoz
From the short story of the same name by Ambrose Bierce Hugh finds himself inside a mysterious church where he discovers super-natural abilities... and his own mangled dead body. When his best friend is identified as a suspect in his murder, Hugh must find a way to manipulate the investigation to discover who - or what - actually caused his death.
Featuring Eric DeLoretta, Eric Keitel and Michael Prichard.
Thoth's Labyrinth
By
Jonathan Josephson
Directed by Darin Anthony
Inspired by the Egyptian legend "The Book of Thoth" Three adventurers and their sidekicks and on the hunt for one of the most sought after artifacts of ancient history - The Book of Thoth. The Book is said to grant the reader magical abilities and endless life. As the adventuring pairs pursue the Book, deeply kept secrets and painful lies are revealed as an offbeat archaeological expedition becomes a race between life and death.
Featuring Joe Camareno, Kevin Dulude, Sawyer Fuller, LizAnne Keigley, David TY-Reza and Morgan Zenith.
The Open Door
Adapted by
Kirsten Brandt
Directed by Paul Millet
From the short story of the same name by Margaret Oliphant There are dark things in the in the old ruins - no one goes back there, and for good reason. But with a child's life at state, reason has nothing to do with it. Featuring
Bradley Bundlie
, John
Patrick Daly
, Jena Hunt,
Richard Large
,
Michael Perl
,
Brian David Pope
and Tessa Willshire

The frame for Wicked Lit 2017:

Liliom
By Kerry Kazmierowicztrimm
Directed by James Castle Stevens
Inspired by the play of the same name by Ferenc Molnár

Welcome to Liliom - the first stop after death, on your way to either Heaven or Hell. Though for some, Liliom is the final destination.
Featuring Todd Andrew Ball, Jennifer Novak Chun, Alec Gaylord and Tosca Minotto

PERFORMANCES AND TICKETS:
September 29 - November 11, 2017, Limited engagement!
September 28 (preview)
Saturday-Sunday, September 30-October 1
Thursday-Sunday, Oct 5-8
Thursday-Sunday, Oct 12-15
Wednesday-Sunday, Oct 18-22
Wednesday-Sunday, Oct 25-Oct 29
Thursday-Sunday, Nov 2-5
Thursday-Saturday, Nov 9-11
All performances will begin promptly at 7:30 p.m.
Tickets range from $40-80, see website for details.
Backstage Experience passes will be available for an additional $25.
For more information go to wickedlit.org or call (323) 332-2065.
Mountain View Mausoleum & Cemetery
2300 N. Marengo Ave. Altadena CA 91001
AMPLE FREE PARKING ON THE GROUNDS
Please consult a map before driving to the Mausoleum

PLEASE NOTE:
DO NOT ENTER FROM FAIR OAKS AVE ~ YOU MAY GET LOST - PLEASE PLAN AHEAD
THIS IS A WALKING PRODUCTION THAT TAKES PLACE AT NIGHT
PLEASE WEAR COMFORTABLE, SOFT-SOLED SHOES
SOME SCENES STAGED OUTSIDE ~ PLEASE DRESS ACCORDINGLY
THIS PRODUCTION IS MEANT FOR MATURE AUDIENCES AND WILL BE SCARY!
PLEASE INQUIRE ABOUT TRIGGER WARNINGS -
SEATING IS LIMITED - THESE SHOWS WILL SELL OUT!
ABOUT UNBOUND PRODUCTIONS
Founded in 2008 by Jonathan Josephson, Paul Millet and Jeff G. Rack, Unbound Productions is a nonprofit theatre company whose mission is to create immersive, theatrical adaptations of classic stories for new audiences. Over 25,000 patrons have enjoyed our Wicked Lit, Mystery Lit, and History Lit theatre events at venues including Mountain View Mausoleum and Cemetery, the Los Angeles County Arboretum, Pasadena Museum of History, ScareLA, and Barney's Beanery in West Hollywood. Unbound has also presented staged readings at Huntington Library and Botanical Gardens, Midsummer Scream, Long Beach Comic Con, Pasadena Art Walk, the West Hollywood Book Fair, NoHo Lit Crawl, The Chance Theatre, The Echo Theatre Company, and many other venues and events. Unbound has produced 39 world premiere plays throughout its history, some of which have gone on to be produced at venues across the country as well as Scotland, England and Cameroon.
ABOUT WICKED LIT
The scope of Wicked Lit is to create dynamic new adaptations of classic horror stories and produce them as immersive theatre events. Over 20,000 patrons have enjoyed Wicked Lit productions and installations since Wicked Lit 2009 at the haunted Greystone Mansion in Beverly Hills. From 2010-2017, Wicked Lit has been staged at Mountain View Mausoleum and Cemetery in Altadena where audiences walk through the hallways of the mausoleum and among the headstones in the cemetery as our plays are staged all around. Since 2008, Unbound has also mounted over 120 free staged readings of Wicked Lit plays at libraries, schools, festivals, and special events all over Southern California including the Huntington Library and Botanical Gardens, NoHo LitWalk, Pasadena ArtWalk, West Hollywood Book Fair, Long Beach Comic Con and theaters such as The Chance Theatre, The Antaeus Company, The Blank Theatre Company, High Street Performing Arts Center, and many others. Wicked Lit: Volume I is published by Steele Spring Stage Rights.
PHOTO: Ariel Brown in 'Anansi and the Demons.' Photo by Daniel Kitayama. Wicked Lit 2016
Related Articles View More Los Angeles

Stories

Shows
More Hot Stories For You