Latest News on Judi Lewin
Judi Lewin News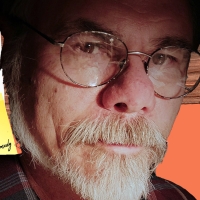 BWW Interview: Playwright John Strysik's Pendant For DEATH, VILLAINY & True Noir
by Gil Kaan - Jan 22, 2022
Theatre 40 world premieres John Strysik's DEATH, WITH BENEFITS January 27, 2022. Jeff G. Rack directs this dark comedy cast of Susan Damante, Cheryl David, Kevin Dulude, Larry Eisenberg and Philip Sokoloff. I had the opportunity to interrogate John on the reasons behind his DEATH.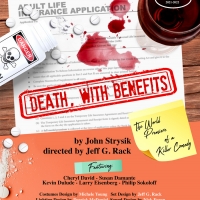 DEATH, WITH BENEFITS Opens January 27 At Theatre 40
by A.A. Cristi - Dec 14, 2021
Theatre 40 presents Death, with Benefits. This world premiere engagement of a dark comedy, by John Strysik is directed by Jeff G. Rack.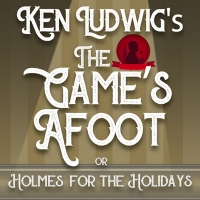 The Group Rep Presents Ken Ludwig's THE GAME'S AFOOT (or HOLMES FOR THE HOLIDAYS)
by A.A. Cristi - Nov 4, 2021
The Group Rep presents Ken Ludwig's THE GAME'S AFOOT (or HOLMES FOR THE HOLIDAYS), a holiday mystery farce directed by Larry Eisenberg, produced by Lloyd Pedersen.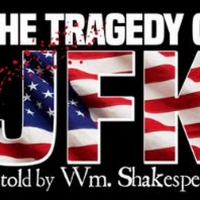 The Blank Theatre Presents THE TRAGEDY OF JFK Streaming Now
by A.A. Cristi - Nov 25, 2019
The two-time Telly Award-winning film version of The Blank Theatre's production of The Tragedy of JFK (as told by Wm. Shakespeare) is now available for free streaming on YouTube (https://youtu.be/jhnBy9fKvHk). Conceived, adapted, and directed by Daniel Henning, the play had its world premiere in Los Angeles on October 1, 2016.
DAMES AT SEA Opens June 15 At Sierra Madre Playhouse
by Julie Musbach - May 8, 2019
Ruby gets off the bus from Utah with 'nothing but tap shoes in her suitcase and a prayer in her heart.' As fate would have it, she is immediately cast in the chorus of a Broadway show. When the theatre is forced to close, Ruby's songwriting sailor boyfriend persuades the Captain of his ship to allow the show to move on deck. Voila! Dames at sea! When the show's lead gets seasick, Ruby may have to go on for her. Will Ruby come back a star? Do you need to ask?
Review: THE SOUND OF MURDER Echoes Within the Walls of Theatre 40
by Shari Barrett - Mar 22, 2019
THE SOUND OF MURDER by William Fairchild premiered in London in 1959, making the plot somewhat predictable now, given the abundance of murder mysteries written and being produced on local stages. But this one set play is exactly the kind of British murder mystery that Theatre 40 audiences enjoy, especially with the company's designers onboard who always create a visually stunning production. Skillfully directed by Adrian Cohen to keep the action interesting and a lot more than just a lot of talking heads with British accents, the cast of THE SOUND OF MURDER includes Roslyn Cohn, Gabriel Olivas, David Hunt Stafford, Peter Trencher, David Westbay and Kate Whitney. And why that title? There's some audio equipment involved that turns out to be a pivotal prop in the investigation!

BRUSHES: A COMEDY OF HAIRS to Receive World Premiere At Whitefire Theatre
by Julie Musbach - Mar 22, 2019
MB Artists and the Whitefire Theatre present the world premiere of BRUSHES: A Comedy of Hairs, written by Cathy Hamilton and Carol Starr Schneider, directed by Kevin Bailey. BRUSHES untangles the hysterically complicated relationship between women and their hair since time immemorial. This smart, sassy, shiny new play deals with disaster, vanity, envy,    self-doubt, sex, death - even the law - are explored in hilarious and poignant style. In a series of vignettes, the follicular follies flow from the Bad Hair Days Inn to a new salon on the block called Blow Me Now. 

BAR MITZVAH BOY Opens March 23 At Miles Memorial Playhouse
by A.A. Cristi - Mar 20, 2019
Bar Mitzvah Boy. Southern California Premiere engagement of a new play.
BWW Review: Unbound Productions Rouses the Dead with WICKED LIT: THE CHIMES AND THE CORPSE
by Ellen Dostal - Oct 15, 2018
For eight of the last ten years, Wicked Lit has created theatre among the dead - quite literally - at Mountain View Mausoleum in Altadena. Three stories adapted from classic literature have been the norm most recently, with a fourth story functioning as a framing device to connect the pieces and bring a sense of camaraderie to the crowd. The result is an exceedingly entertaining evening of indoor-outdoor theatre in one of the spookiest venues in Southern California.
Cast Announced For Wicked Lit: THE CHIMES & THE CORPSE
by A.A. Cristi - Aug 29, 2018
Unbound Productions Executive Director Jonathan Josephson and Artistic Director Paul Millet have announced the details for Wicked Lit: The Chimes and The Corpse, the company's 10th annual immersive theatre event that will for the 9th consecutive year take place at Mountain View Mausoleum in Altadena, California.
Judi Lewin Videos
BWW TV: Sneak Peek at Rehearsals and Behind-the-Scenes of I ONLY HAVE EYES FOR YOU
by BroadwayWorld TV - May 11, 2016
Producer Corky Hale's I ONLY HAVE EYES FOR YOU - The Life and Lyrics of Al Dubin, features lyrics by Al Dubin, most music by Harry Warren, a book by Jerry Leichtling and Arlene Sarner, and musical direction by Gerald Sternbach.  The production is directed and choreographed by  Kay Cole.  BroadwayWorld TV's own LA on-air Host Michael Sterling was invited to take a sneak peek at rehearsals last week and interview some of the show's stars and creative team.