BWW Review: THE JACKIE WILSON STORY Brings Mr. Excitement Back to Life Using Cutting Edge Holographic 3D Technology
Since 2003, Hologram USA has delivered more than 700 successful projects, making groundbreaking strides in how people experience live events and communicate with each other using dynamic, cutting edge Holographic 3D technology which allows audience members to sit in a theater and feel as if they are attending a live three-dimensional concert or nightclub performance right in front of their eyes.
Earlier this year, I was mesmerized while experiencing Billie Holiday Alive! in which the legendary jazz singer was brought back to life inside the Hologram USA Theater on Hollywood Blvd., the only dedicated hologram theater presenting life-like 1.9 mm hologram shows in the world. So when I heard THE Jackie Wilson STORY was being added to the line-up of daily shows there, with both playing in tandem throughout the day from noon until 8PM, I knew I had to see it.
Both shows, from the leader of hologram technology founded by Greek billionaire Alki David, were created with the cooperation of the artists' estates and present both song and theatrical story telling about their lives. In fact, the two actors taking on the major roles in THE Jackie Wilson STORY are one of his sons, of which there are many, and one of his grandsons. You see, as I learned in the interview format production, Jackie Wilson was first married at 16, a father at 17, and went on to father at least 14 children in his future marriages and relationships.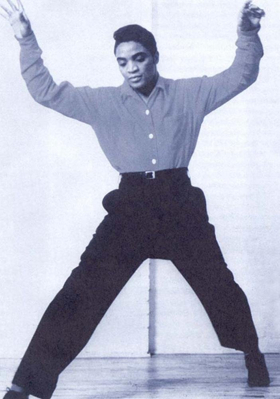 Jackie Wilson's rags to riches journey through life began as an early bandmate of Motown founder Berry Gordy, then going on to be at the heart of the creation of modern pop music in America in the 1950's. His electrifying stage presence and explosive talent caused riots wherever he appeared, especially after his classics "Lonely Teardrops" and "(Your Love Keeps Lifting Me) Higher and Higher" went to the top of the charts. In fact, his energic stage presence created many of the moves that gave James Brown, Michael Jackson and Elvis their careers. And it is easy to see how those moves evolved when watching this holographic re-enactment of the major developments during his cigarette-infused live performances.
Due to Wilson's fervor when performing, with his dynamic dance moves, impassioned singing and impeccable dress, he was soon christened "Mr. Excitement," a title Wilson would keep for the remainder of his career.
His live performances consisted of knee-drops, splits, spins, back-flips, one-footed across-the-floor slides, removing his tie and jacket and throwing them off the stage, and a great deal of basic boxing steps, advance and retreat shuffling, and one of his favorite routines, getting women in the audience to come up to the stage and kiss him. In fact, the only thing Wilson loved more than music, it seems, was women, many of whom you will meet during several interviews about his life included in THE Jackie Wilson STORY.
While I could not wait to get up and dance during Billie Holiday Alive!, this time I found myself more interested in sitting in my comfortable, over-sized seat and listening to the accomplishments achieved by this incredible tenor with a four-octave vocal range who dropped out of high school at 15, having already been sentenced to detention in the Lansing Corrections system for juveniles twice where he trained to begin his boxing career.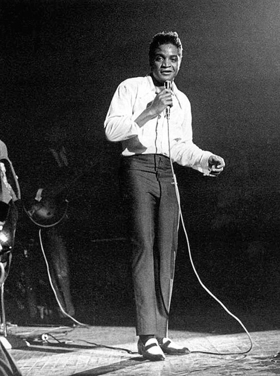 Forced to give that dream up when he became a first-time father at 17, Wilson then went on to sing at local clubs, joined many groups, went through several managers, and created many hits until September 29, 1975, when he suffered a heart attack on stage which forced him to live in a coma until his death on January 21, 1984, at age 49.
As a personal note, like many others I remember watching Jackie Wilson's incredible performances on TV during his regular appearances on The Ed Sullivan Show, American Bandstand, Shindig!, Shivaree and Hullabaloo where he continued to electrify the audience. And while I wish there had been more singing and less interviews during the Hologram USA Theater's THE Jackie Wilson STORY, I know you will find the facts shared about his life almost as interesting as stepping back in time to again watch "Mr. Excitement" command the stage.
The Hologram USA Theater is at 6566 Hollywood Boulevard, LA, CA 90018. Tickets and showtimes at hologramusa.com